Lincoln Statue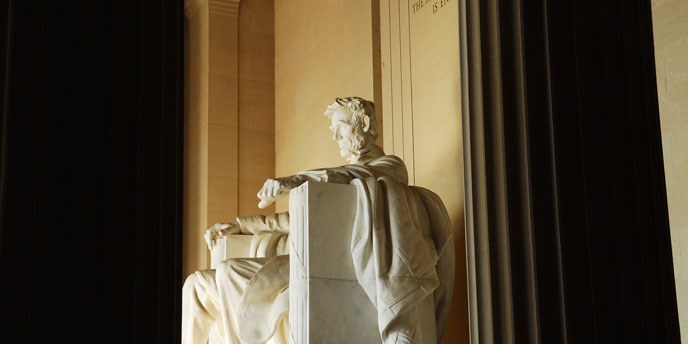 Design and Symbolism
Lying between the north and south chambers is the central hall containing the solitary figure of Lincoln sitting in contemplation. The statue was carved by the Piccirilli brothers under the supervision of the sculptor, Daniel Chester French, and took four years to complete. Daniel Chester French devoted several years to researching Abraham Lincoln and studying photographs of him. French decided that the special qualities found in the sixteenth president were his strength combined with his compassionate nature. In what ways did French portray these characteristics in his statue? French depicted the president as a worn but strong individual who had endured many hardships. He positioned Lincoln's hands in a manner that displayed his two leading qualities. One of the president's hands is clenched, representing his strength and determination to see the war through to a successful conclusion. The other hand is a more open, slightly more relaxed hand representing his compassionate, warm nature.
By The Numbers


The statue, originally intended to be only 10 feet tall, was on further consideration enlarged so that it finally stood 19 feet tall from head to foot, the scale being such that if Lincoln were standing he would be 28 feet tall. The extreme width of the statue is the same as its height, 19 feet. The Georgia white marble sculpture weighs 175 tons and had to be shipped in 28 separate pieces. The statue rests upon an oblong pedestal of Tennessee marble 10 feet high, 16 feet wide, and 17 feet deep. Directly beneath this lies a platform of Tennessee marble 34 feet 5 inches long, 28 feet 1 inch wide, and 6 inches high. The statue is subtly bordered by two pilasters, one on each side. Between these pilasters and above Lincoln's head lies an engraved
inscription.
Ranger Reflections: The Statue

Be awe-struck by Daniel Chester French's enormous marble carving of our nation's sixteenth president as Park Ranger Jerry Hawn wants to share some thoughts on the grand statue of Lincoln.
Last updated: March 29, 2021