Frequently Asked Questions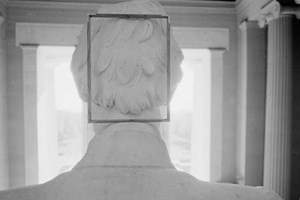 Is Robert E. Lee's profile carved into the back of Lincoln's head?
No, the only intentional shapes to be found are the waves and tufts of Lincoln's hair. To see anything else requires some imagination.
This photo from a 1995 historic buildings survey shows the truth: it's just hair. The rectangular frame was used during the survey to capture the scale of certain features of the statue.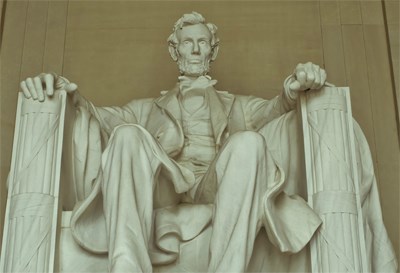 Is Lincoln making the American Sign Language (ASL) signs for his initials?
Not really, but that doesn't stop people from wondering. The sculptor Daniel Chester French intended to show Lincoln's "physical and mental strength" and his "confidence" through the sculpture's posture and features. Lincoln's left hand is clenched, while his right hand curled around the end of the armrest, his index finger slightly lifted from the chair. The fist echos themes of strength and power found elsewhere in the memorial as fasces, lions, and oak leaves, and the gentle right hand echos themes of charity, compassion, and fertility found in the memorial's paintings. The comparison to ASL likely stems from the knowledge that French's prior work includes a sculpture of Thomas Hopkins Gallaudet, founder of Gallaudet University, in which French overtly included sign language. In the Gallaudet sculpture, Gallaudet is teaching a young girl the letter "A," which they are signing to one another. It takes some imagination to see signs in Lincoln's hands.
How many steps are there?
There are 58 steps from the chamber to the plaza level, and 87 steps from the chamber to the reflecting pool.
Is there an elevator to the chamber?
Yes, the elevator is located in the lower lobby in the southeast corner of the building.
Where is the nearest bathroom?
The restroom is located in the lower lobby in the southeast corner of the building.
Is there a bookstore?
The bookstore is located in the northeast corner of the chamber level.
Can I tour the basement?
No, the basement is not accessible to the public.
What type of stone is in the Lincoln Memorial?
The exterior is Colorado white marble, interior walls and columns Indiana limestone, sculpture Georgia white marble, chamber floor Tennessee pink marble, and skylights Alabama marble.

Last updated: April 10, 2015