Lincoln Memorial Inscriptions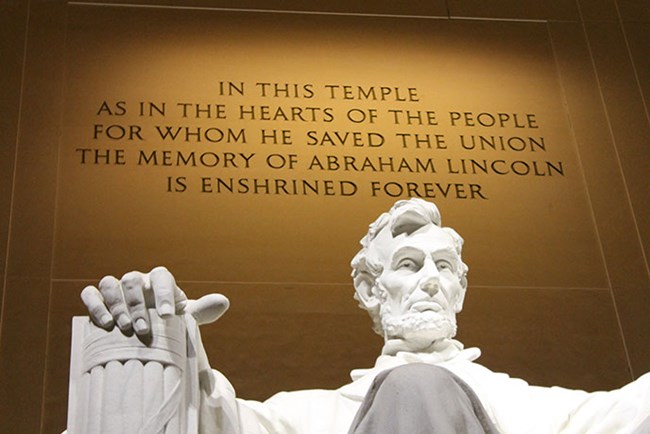 Directly behind the statue of Abraham Lincoln inside the memorial chamber an inscription reads:

AS IN THE
HEARTS OF THE PEOPLE
FOR WHOM HE SAVED THE UNION
THE MEMORY OF ABRAHAM LINCOLN
The Speeches
In addition to the inscription behind the Lincoln statue, two of Lincolns most famous speeches are inscribed on the north and south walls of the Lincoln Memorial.
South Chamber: The Gettysburg Address
Lincoln delivered the
Gettysburg Address
on November 19, 1863 during the dedication ceremony for the Soldiers' National Cemetery. This address was selected for its familiarity to many, but also because it displayed the president's strength and determination to see a successful conclusion to the American Civil War. That successful conclusion meant not just reuniting the nation, but finishing what our founders had started. This nation must be one in which all were "…created equal" was the rule of law and of practice.
Ranger Reflections: The Gettysburg Address

Listen to a brief reflection on the famous speech by Park Ranger Michael Kelly.
The Gettysburg Address

The address delivered by President Abraham Lincoln at the dedication of the Soldiers National Cemetery, Gettysburg, Pa. on November 19, 1863. This recording was narrated by Lincoln actor Jim Getty.
North Chamber: Second Inaugural Address
Lincoln's March 4, 1865 Second Inaugural Address was selected for the north chamber of the memorial. This speech, delivered just one month before the conclusion of the Civil War, creates the policy for reuniting the divided states. The reelected president firmly believed that the northern states should welcome their southern sisters and brothers back into the Union with open arms. But the feeling among many northerners at the end of the Civil War was anger toward the South for having left the Union. Lincoln's willingness to show compassion to the southern people, "…with malice towards none; charity for all," helped quell the hostility among northerners.
Ranger Reflections: The Second Inaugural Address

Listen to a brief reflection on Lincoln's Second Inaugural Address and be reminded of how Lincoln concludes the address by asking the people of the Union to put aside their bitterness and to be compassionate in order that the nation might heal and have lasting peace.
The Second Inaugural

On March 4, 1865, Abraham Lincoln took his second oath of office as president of the United States. The address he gave on the occasion is engraved on the north wall of the Lincoln Memorial. The version is recorded by Lincoln actor Jim Getty.
Last updated: May 18, 2021