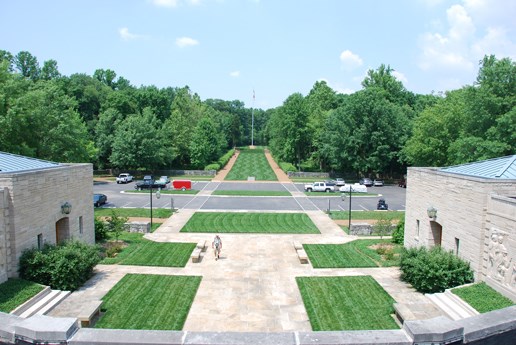 Begin at the Memorial Visitor Center. This building is a memorial to Abraham Lincoln and his family and was designed with two halls and a connecting cloister. On the outside of the building there are five sculptured panels marking significant periods in the life of Abraham Lincoln. Visit the Abraham Lincoln Hall, the Nancy Hanks Lincoln Hall, and walk through the newly renovated museum. In the visitor center auditorium enjoy the park's 15 minute orientation film, "Forging Greatness-Lincoln in Indiana". The film is close-captioned. A printed version of the museum display text is currently available. An audio description of the museum will be available soon.
The Allee is the trail from the Visitor Center to the Pioneer Cemetery where Abraham Lincoln's mother, Nancy Hanks Lincoln, is buried. Nancy died of milk sickness in 1818 when Abraham was just nine years old.
Walk the Lincoln Boyhood Trail to the Cabin Site Memorial, the site of what is believed to have been the third Lincoln cabin. The Lincoln Living Historical Farm is a re-created pioneer homestead with a cabin, outbuildings, split rail fences, farm animals, vegetable and herb gardens and field crops. Rangers in period clothing perform a variety of activities typical of the 1820 era.
Ask the ranger at the front desk for assistance with accessibility needs.