Fort Programs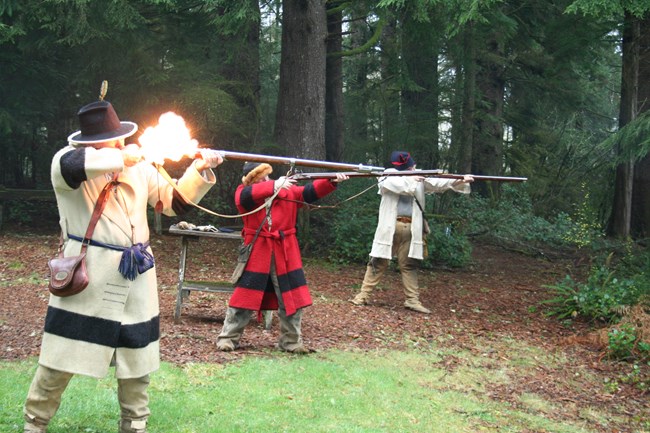 Summer Programs
June 19th 2020 through September 7th 2020
Program Descriptions
Due to COVID - guided walks and schedule programs will not be given. However there will be rangers at the fort to answer questions, tell stories and demonstrate the skills of the era.

Netul Trail Guided Walks:
Take an approximately 1 mile walk along the Netul River, and learn about the historical, cultural, and natural resources of the area around Fort Clatsop.
Raising the Colors/Lowering of the Flag:
A short presentation on the flag of the expedition, with the opportunity to help raise or lower the flag.
Flintlocks: Tools of Survival:
Presentation on flintlock muzzle loaders that may include stories, historical information, and audience participation followed by the ranger loading and firing the muzzle loader.
Talk:
Twenty to thirty minute presentation about topics related to the Lewis and Clark Expedition and may include topics such as preparations for the journey, survival of the Expedition and unsung heros of the expedition.
Historical Demonstration:
Ongoing programs that allows participants to gain a better understanding of a specific aspect of the expedition, and have the opportunity to touch replica items that they expedition would have used, or try an activity commonly completed by the Corps of Discovery. Examples of demonstrations include quill pen wirting, flint and steel fire starting, candle making, hides and furs, and more!
Winter Break Programs
December 27, 2020 through January 2nd, 2021
Fort Ranger Programs
9:30 Raising the Colors
10:30-11:30 Demonstartion (ongoing)
11:30 Talk
12:00 Flintlocks: Tools of Survival
1:30 - 2:30 Demonstration (ongoing)
2:30 Talk
3:00 Flintlocks: Tools of Survival
4:30 Lowering of the Colors

Netul Trail Guided Walks
The 1 mile walk is offered daily at 12:20 p.m. & 3:20 p.m.
Last updated: August 30, 2020