Lewis and Clark River Paddle Tours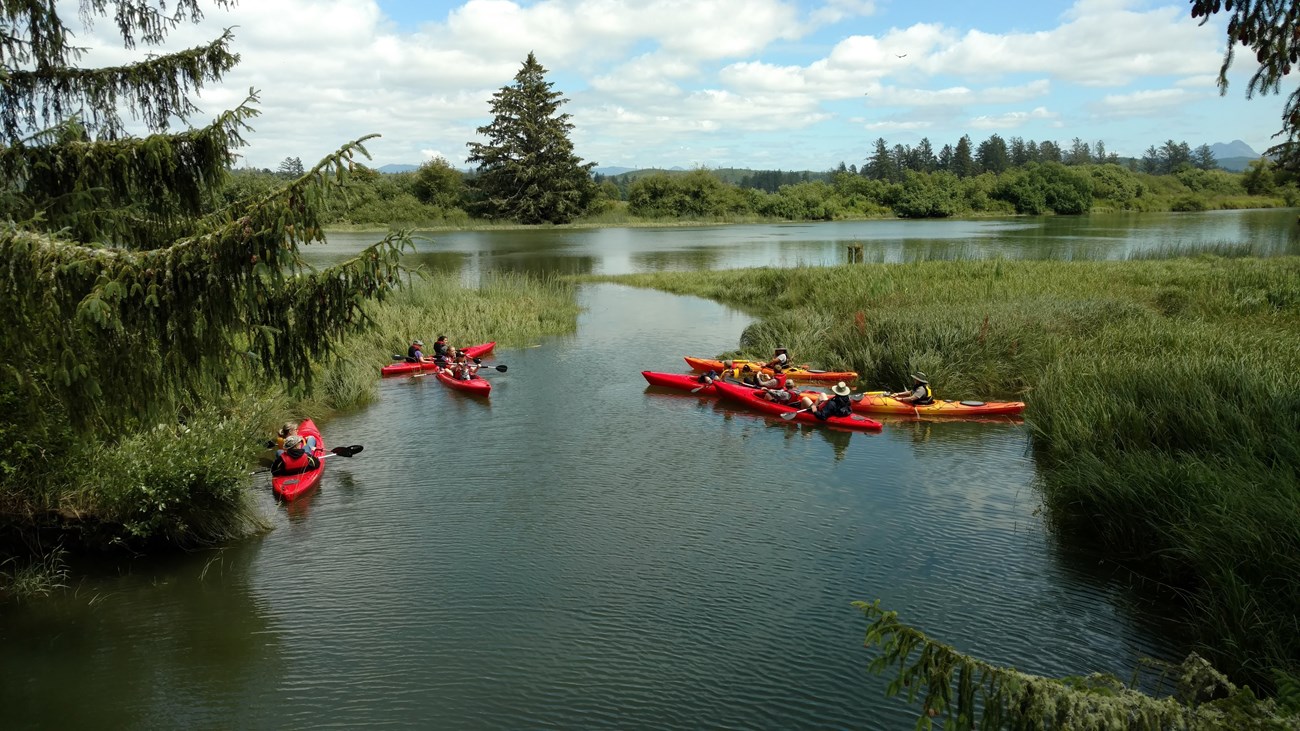 Hop in a watercraft and paddle along the lush riverbanks of the Lewis and Clark River. See bald eagles soar while you calmly float through history and hear a unique perspective of Lewis and Clark National Historical Park. The themes of these three hour ranger-led paddles will include various natural and cultural topics geared for all interests. Park-maintained kayaks, paddles, and life jackets come with your reservation.

Tours last up to three hours and will run daily Thursdays through Sundays from July through early September. For the 2023 season, tours will begin on July 1st and run through September 3rd. As the Lewis and Clark River is tidal-influenced, tour times vary to match high tide times.

The Park reserves the right to cancel and/or limit the size and length of the tours. Thank you for your patience and understanding.

The tour is free with park admission. Park entrance fees must be paid before tour time at the Fort Clatsop Visitor Center. See Fees & Passes - Lewis and Clark National Historical Park (U.S. National Park Service) (nps.gov) for additional information.
How to Reserve Tickets
As of the 2023 season, tickets for paddle tours will be available for advanced reservation solely through Recreation.gov or by calling 1-877-444-6777. Each participant must obtain an individual reservation. A non-refundable service charge of $1.00 will apply to each ticket.

Tickets for the first tours of the 2023 season will become available for booking on June 5th at 7:00 am Pacific Time (PT). Tickets for tours addtional tour dates will become available 30 days in advance of the desired tour date at 7:00 am PT (for example, tickets for the September 4th paddle tour will be on sale at 7:00 am PT on August 4th). Seven days before each tour date, additional tickets for that date and time will become bookable.

There is no waitlist for sold-out tours; however, if tickets are canceled, they will be immediately available on Recreation.gov.
Know Before You Reserve
Participants must have basic swimming skills and not be afraid of falling into the water. Participants must be able to complete a three-hour paddle without assistance. If you have any specific accessibility concerns, please call (503) 861-4425 at the time of reservation.
Each participant must be age 13 and above. For liability reasons, each teen under the age of 18 must be accompanied by a parent/guardian (one teen per parent/guardian). Please call the park at the time of reservation with any age-related questions.
Weight limits are 400 pounds total capacity for tandem (2 seat) kayaks and 275 pounds for single kayaks. Use of personal watercraft is limited and must be preapproved.
Maximum tour numbers are set and strictly enforced to ensure participant and ranger safety as well as availability of park-provided equipment (kayaks, paddles, and life jackets). Ultimately, attendance is at the discretion of park staff. Individual liability forms will be signed upon arrival.
If you are unable to attend your scheduled tour, please cancel your reservation as soon as possible to open space for other participants. Park staff cancel tours for unsafe conditions, including but not limited to insufficient staffing, extreme or inclement weather, and low visibility due to smoke. Although there can be no guarantees, efforts will be made to accommodate cancelled reservations.
Know Before You Go
Please arrive at least 15 minutes before the scheduled start time. The first 30 minutes will be a safety and boat use orientation. Your reservation will be canceled if you miss this orientation.
Although watercraft, paddles, and life jackets are provided, if you have specific requirements, you may bring your own Coast Guard-approved life jacket. Life jackets must be always worn properly and may only be removed when on land.
Footwear must attach to the front of the foot and around the heel and must be worn at all times. Please do not wear flip flops or high heels, as they can fall off while paddling and provide no support. Water shoes are preferred.
Dress for the expected weather. Wear clothing that can get wet, as well as layers, including protective outerwear such as a windbreaker. Consider bringing an extra set of clothes and/or towels in your vehicle.
Bring water and snacks for each person. Hats, sunglasses, sunscreen, and insect repellant are all recommended. If you choose to bring electronic devices such as your camera or phone, also consider a protective dry bag.
Participants exhibiting intoxicated or inappropriate behavior will be asked to leave. Please do not bring your pets or comfort animals.
Last updated: May 29, 2023