Guest Speakers
Nature Matters: Where Nature and Culture Meet
A lively monthly conversation about the intersection of nature and culture, takes place on the fourth Thursdays of the month at 7:00pm, October through May, at the Fort George Brewery + Public House in Astoria, Oregon. Doors open at 6 p.m. to purchase dinner or beverages at the George before the event. The series delves into the many ways that human beings look to the natural world for inspiration, sustenance and survival - the intersection of nature and culture. The collaborative series is hosted by Lewis and Clark National Historical Park, Lewis & Clark National Park Association and the North Coast Watershed Association in partnership with the Fort George Brewery + Public House and is free to the public.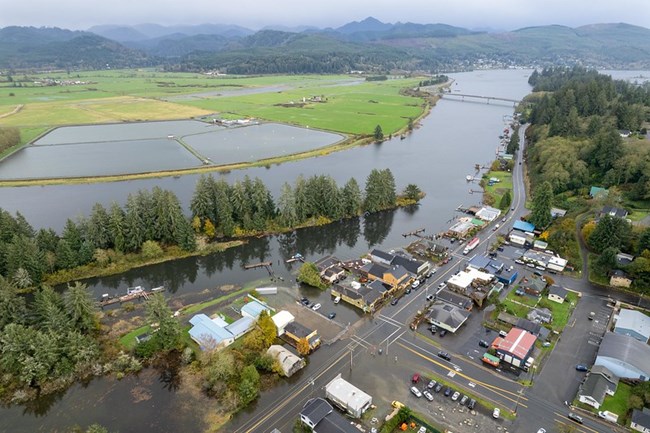 Sea Level Rise on the Oregon Coast:
Community Science and Resilience Discussion

7 PM on Thursday, Decmeber 22, 2022
Pacific Northwest coastal communities are at risk from earthquakes, including "The Really Big One," tsunamis, sea level rise, landslides, erosion, and increased precipitation. During this talk, Alessandra Burgos, program manager at Cascadia CoPes Hub, will share how the Hub is responding directly to the call for increased coastal community adaptive capacity. Understanding and documenting the extent and impacts of especially high tide events is one way to highlight the need to prepare for the effects of future climate conditions. Jesse Jones, co-coordinator of the Oregon King Tides Project, an initiative now in its 13th year, will engage the public to document the effect that extreme tide events have on our beaches, coastal waterways, private property, and public infrastructure. The King Tides Project generates information that coastal communities can use to reduce vulnerabilities to rising sea levels.
Burgos is a meteorologist and oceanographer and the program manager for the Cascadia CoPes Hub, which is helping Pacific NW coastal communities prepare and adapt to coastal hazards through research and community engagement. Jones is the program manager for CoastWatch, a program of the Oregon Shores Conservation Coalition. She connects volunteers from Astoria to the California border with scientists and researchers for data collection and coordinates the CoastWatch in the Schools program
Upcoming Nature Matters Discussions:
November - No Nature Matters program - Thanksgiving day
December 22, 2022 - Sea Level Rise on the Oregon Coast: Community Science and Resilience
January 26, 2023 - TBA
Februray 23, 2023 - 10th Anniversary of Oregon's Marine Reserves: What have we learned?
March 23, 2023 - PNW Heat Dome: What caused it & what's in store for the future?
April 27, 2023 -TBA
May 25, 2023 - Migratory Birds
Last updated: November 22, 2022