Fishing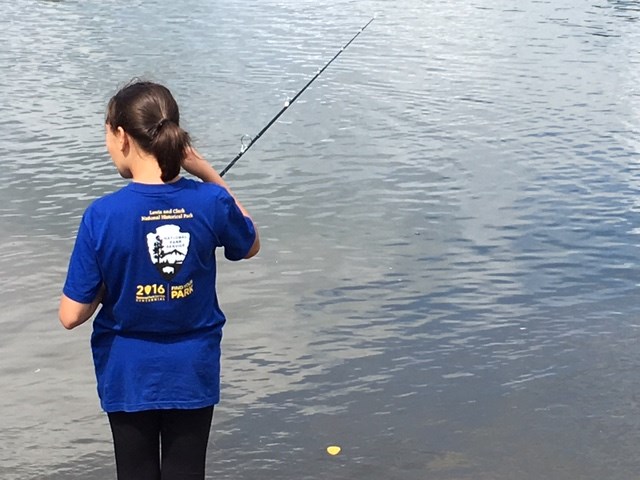 All of the streams and rivers in Lewis and Clark National Historical Park are open to sport fishing. However, anglers will have the easiest access and most success at Netul Landing, located one mile south of the Fort Clatsop Visitor Center along the Lewis and Clark River.

Regulations and Licensing
Fishing in the Lewis and Clark River is regulated by
36 CFR 2.3
and Oregon and Washington State Laws. Please visit the
Oregon State Sport Fishing page
and
Washington State Fishing Page
before planning your fishing trip to Lewis and Clark. Other information and updates on regulations can be found on the
Oregon Fish and Wildlife Service Fishing page.
Everyone twelve years of age and older fishing in Oregon must have a fishing license. In Washington, the age is fifteen years or older.
Fishing Safety
Check out the
NPS Fishing Safety page
to ensure you are safe and prepared for a day of fishing.
Specific to the Lewis and Clark River, if you are fishing from a boat, make sure to check the tides, as the river is influenced by the tide.
Fish Consumption Advisories in National Park Waters
The Environmental Protection Agency, states, territories, and tribes provide advice on fish and shellfish caught in the waters in their jurisdiction to help people make informed decisions about eating fish. Advisories are recommendations to limit your consumption of, or avoid eating entirely, certain species of fish from specific bodies of water due to chemical or biological contamination.

Fish is part of a healthy balanced diet, but eating wild fish caught in park waters is not risk free. Parks are "islands", but the much larger "ocean" that surrounds them affects the natural resources inside a park. Other aquatic toxins are the result of natural biological processes. Also, chemical contaminants that originate outside of park boundaries can come into parks.

Mercury is an example of a toxin originating outside a park that can find its way into a park. Mercury exists naturally in some rocks, including coal. When power plants burn coal, mercury can travel in the air long distances before falling to the ground, usually in low concentrations. Once on the ground, microorganisms can change this elemental mercury to methyl mercury. This type of mercury can build up in animal tissues, and it can increase in concentration to harmful levels. This high concentration can occur in large predatory fish - those often pursued and eaten by anglers. Studies have shown that fish in some National Park System waters have mercury levels that may be a concern to people who regularly eat a lot of fish.
Know Your Fish

Sport fish present in the L&C River include Northern Pikeminnow, Cutthroat Trout, Salmon, and Steelhead. For a complete list of all of the fish known or suspected to be present in park waters, visit NPSpecies .
Protect the Aquatic Habitat From Aquatic Invasive Species
Fish are vulnerable to several invasive organisms such as tiny New Zealand Mudsnails that can be carried on boats, boots, waders and other gear.
To minimize the potential spread of invasives, follow these simple steps:
CHECK all recreational gear and clothing that has come in contact with water for any visible signs of sand, mud, or plant fragments which may indicate a tiny hitchhiker.

CLEAN all gear before leaving a site by scrubbing with a brush and rinsing with water.

DRAIN: all of the water from your boat (including the bilge, live well, motor), trailer, tackle and gear before leaving the area.

DISINFECT your gear (especially waders and boots) before traveling to a different water body. Freeze your gear for a minimum of 6 hours (< 26°F), soak gear in a hot water bath for 5 minutes (≥ 120°F) (not recommended for Gortex), or soak gear in undiluted Formula 409 for at least 10 minutes.

DRY your gear completely (at least 48 hours) after each use.

NEVER transport live fish or any other aquatic plant or animal from one water body to another – it is illegal!
Fishing Throughout the National Park Service
We invite you to visit the NPS Fish and Fishing website for more information about fish and fishing in the National Park Service. You will learn about conservation, different fish species, and parks that offer fishing.
Junior Ranger Let's Go Fishing Program
Are you ready to earn your Junior Ranger Angler Badge?
Follow these easy steps:
Download the booklet or pick it up at the Fort Clatsop Visitor Center and complete as many activities in the book as you can.
Bring your completed book to the front desk of the Fort Clatsop Visitor Center and show it to a ranger.
Get your Junior Angler Badge!
Last updated: November 10, 2021