Finch Historic Tool Collection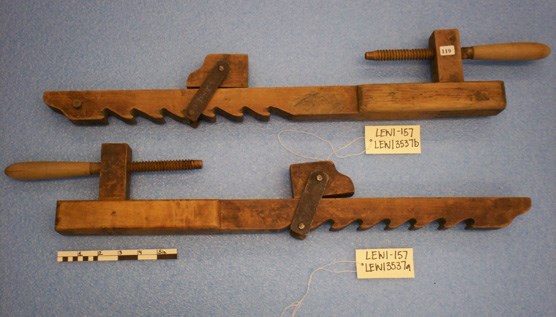 Robert F. Finch Family Donates Historic Woodworking Tool Collection
Lewis and Clark National Historical Park received an amazing historic woodworking tool collection that dates between 1790 and 1806. These tools are representative of the equipment carried by the Lewis and Clark expedition on their journey across the U. S. in 1804 to 1806. The collection was donated as a memorial to the late Robert F. Finch by his family. Mr. Finch was an avid western history and Lewis and Clark enthusiast. He read the entire Lewis and Clark journals word for word, and visited Fort Clatsop at least twice. He was also fascinated by the history of tools and collected more than 1,500 tools during his lifetime. These tools range in age from AD 1200 to the twentieth century.
Dick Basch, Lewis and Clark National Historic Trail Tribal Liaison and Mr. Finch's daughter Susan met last year on an airplane to Denver. This chance encounter and sharing of information between the two on the long flight led Susan Finch to contact friends of her father's to identify which tools in her father's collection would have been used by the Corps of Discovery. They created a collection of 267 tools which the family donated to Lewis and Clark National Historical Park this year.
On September 20, 2008 come and view the collection, learn about the tools of the Lewis and Clark Expedition and this incredible collection. Featured presentations on the tool collection will be at 11:00 AM and 1:00 PM in the visitor center.
Last updated: March 31, 2012