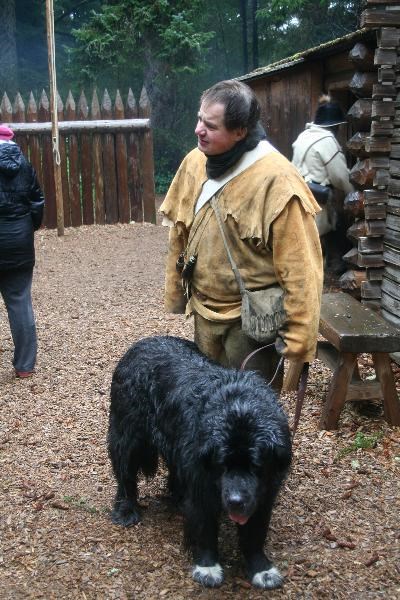 Seaman's Day at Fort Clatsop
Wednesday July 11th, 2018
The 33 people of the Lewis and Clark Expedition wintered at Fort Clatsop in 1805-06. The 34th "member" of this expedition was Seaman, Captain Meriwether Lewis' Newfoundland dog. The 25th annual Seaman's Day commemorating the dog of the Corps of Discovery will be held Wednesday, July 11th at Lewis and Clark National Historical Park, Fort Clatsop.

According to the explorers' journals, Seaman served as a watchdog, hunter, retriever, companion and diplomat during the two-and-a-half year voyage of discovery. The park has invited some guest Newfoundland dogs and their people to volunteer this day. This special event offers visitors an opportunity to learn about Seaman and to meet some modern Newfoundland dogs.

The day's schedule includes:

10:30 Flintlock program
11:00 Netul River Trail walk
11:30 Our Dog Seaman talk
12:30 Meet the Newfoundland dogs
1:30 Flintlock program
2:00 Netul River Trail walk
2:30 Meet the Newfoundland dogs
3:30 Our Dog Seaman talk
4:30 Flintlock program

Kids Corps dog-themed crafts will be available from 11:00 am to 3:00 pm in the visitor center. Costumed rangers will be at the fort during the day to answer questions and share living history.