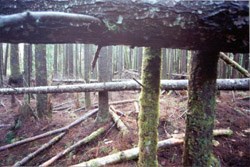 Prior to the early 1800s the Fort Clatsop site was predominantly old growth Sitka spruce forest. Logging removed all of the site's old growth between 1850 and 1900. By 1950 some forest cover had been restored. Most of the originally forested area had been replanted by 1988, primarily to western hemlock and Douglas fir. The return of a mature or old-growth Sitka spruce/western hemlock forest similar to the one encountered by the Lewis and Clark Expedition in 1805-06 is a high priority for the park and an objective listed in the General Management Plan.

Approximately 50% of the park is freshwater or estuarine wetlands. Ten types of wetlands occur within the park, as identified by the National Wetland Inventory.

Water within and surrounding the park has been greatly diverted and altered. The Lewis and Clark River has been extensively diked for flood control, reducing or eliminating fertile floodplains. The former floodplains are now utilized for agriculture and development. Logs, rootwads and other woody debris have been historically removed from the river to improve its navigability, increasing its flow rate and decreasing wildlife habitat quality. Many activities within the Lewis and Clark River drainage may impact Fort Clatsop's water quality and wetlands. These activities include pesticide and fertilizer use, runoff from agricultural and logging operations, potential contamination due to tidal influences (such as oil spills), illegal dumping of household and industrial rubbish and toxic materials, erosion from forest roads and logging operations, and encroaching development.