The Journey of Lewis & Clark
The Journey
Corps of Discovery: The Lewis and Clark Expedition (1804-1806)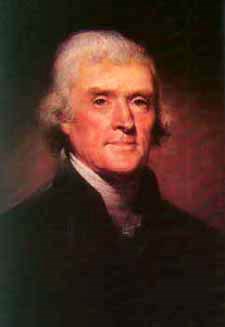 ---
PRELUDE TO THE JOURNEY
---
"The object of your mission is to explore the Missouri river, & such principal stream of it, as, by it's course and communication with the waters of the Pacific ocean, whether the Columbia, Oregan, Colorado or any other river may offer the most direct & practicable water communication across this continent for the purposes of commerce."
President Thomas Jefferson - July 4, 1803
President Thomas Jefferson desired extensive knowledge of the great unknown western domain. His "Corps of Volunteers for Northwest Discovery" was the key element in the fierce struggle for possession of the West and its rich natural resources. Direct and indirect effects on national and international policies were certain. Acquisition of the Louisiana Territory had now doubled the size of the United States. A venture into the heart of the Oregon country would uphold a firmer United States claim to the Pacific Northwest; a claim based on American sea captain Robert Gray's 1792 Columbia River discovery.

Noting that he was "brave, prudent, habituated to the woods & familiar with Indian manners & character." Jefferson placed his full confidence in Captain Meriwether Lewis. In turn, Lewis invited his friend William Clark to become co-captain and join the enterprise: "to participate . . . in it's fatiegues, it's dangers and it's honors." Clark readily accepted. Perhaps no two individuals could have better complemented one another. Sharing mutual trust, confidence and superb leadership, they were totally dedicated to the enterprise.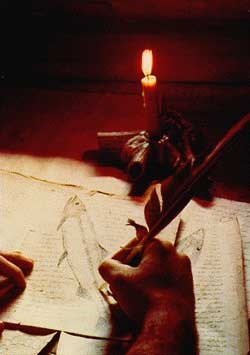 ---
RECORDING THE JOURNEY
---
"Take notice of the country you pass through, it's general face, soil, river, mountains, it's productions animal, vegetable, & mineral so far as they may be new to us & also be useful; the latitudes of places...; the names, numbers, & dwellings of the inhabitants, and such particularities as you can learn of them."
President Thomas Jefferson - April 30, 1793

With determination and perseverance the Corps of Discovery fulfilled Jefferson's numerous objectives. It was an enormous, unbelievable undertaking, starting in May 1804. The corps' primary task was to find the most direct, practical water communication route across the continent for commercial purposes. They contacted American Indians to make peace and gather cultural information, identified and gathered plants and animals, charted rivers and mapped the land. Theirs was the first Government sponsored scientific expedition to the west coast. No other expedition matched the magnitude of responsibility . These inquisitive, determined individuals on this commercial/ military / scientific / literary odyssey filled roles as biologist, botanist, cartographer, diplomat, ethnographer, geographer, geologist, physician, soldier, zoologist and journalist.

A most important task was the writing of the journals. Jefferson insisted that they be "accurate, distinct and intelligible," and required at least two copies. Lewis was the elegant, sophisticated writer. An outstanding character of Clark's literary contribution was his free-style phonetic spelling. Who else could produce twenty-seven variations of "Sioux"? English teachers shudder, but historians delight in his original grammatical style. On record were moments of elation and frustration, exactness and uncertainty, humor and near disaster. Always there was careful, detailed observation, rich in scientific data and human interest. The journals remain as one of America's truly great literary epics.
Last updated: February 28, 2015