Volunteer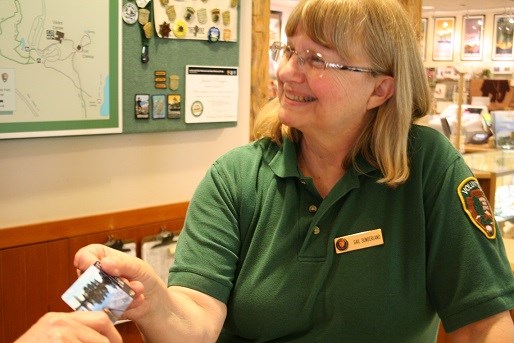 Sunset Beach Cleanup - September 26th, 2023
Sunset beach plays an important role not only as the end of the Fort to Sea trail but as a popular destination spot for both locals and tourists alike. Featuring paved parking for 21 vehicles and an ADA accessible boardwalk this site sees lots of use. If you'd like to help us keep the beach clean for visitors and wildlife alike now's your chance to work alongside likeminded people!

Starting at 10 A.M. at the beach approach, found off Highway 101 down Sunset Beach Lane, Lewis and Clark National Historical Park will be leading a beach clean-up. Gloves, trash pickers, and garbage bags will be provided.

Come dressed for mid 50's to low 60-degree Fahrenheit weather, possible rain, and wind.

Lewis and Clark National Historical Park's Volunteers in Parks
Fort Clatsop has an outstanding team of Volunteers in Parks (VIPs). These VIPs assist the park with a wide variety of tasks. These include greeting and orienting visitors, fee collection, custodial work, conducting foot and kayak tours, invasive plant control, answering visitors' questions, sewing living history clothing, data entry, leading hikes, native plant garden work, answering phones, designing curriculum, library and inventory projects, archive/collections work, conducting living history and education programs, and special events (e.g. monthly 3rd Sunday speaker series, spring and fall elk pellet surveys, summer Newfoundland dog event, and fun runs.)

Volunteers may be fingerprinted and undergo background checks.

Volunteers are encouraged to participate in park training. This includes the annual staff training in June as well as monthly staff safety meetings.

Reservations for a nearby campground can sometimes be arranged for VIPs with distant homes who are scheduled to work a minimum of three days per week for at least one month as Visitor Information or Custodial Associates.
Mission Statement
The mission of the Volunteers in Parks program of Lewis and Clark National Historical Park is to provide individuals opportunities to commemorate, preserve, and communicate the stories associated with the Corps of Discovery and its winter near the mouth of the Columbia River. Volunteers are important team members of the park staff and are encouraged to participate in all trainings, meetings, special events, etc. that are available to staff. This program will affirm their ownership and stewardship of this park and the entire National Park Service and will honor their specific contributions.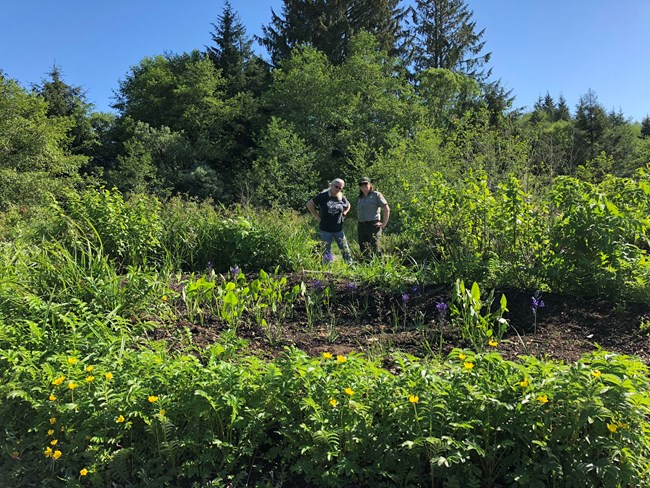 Ethnobotanical Garden Party: TBA
Check back in spring for 2024 Garden Party schedule.
Thank you to everyone who came and helped with the 2023 garden parties!
Join a Resources staff member at Lewis and Clark National Historical Park's Ethnobotanical Garden! Learn about native plants and their traditional uses while we do a little weeding and conversing with a member of the Natural Resource team.

Who: You and your friends/family. Children must be accompanied by an adult and willing to do a little weeding.
What: Hands-on conservation work.
Bring: Gloves, water, snacks, layered outdoor gardening clothes for rain or shine.
When: TBA
Where: Netul Landing, one mile south of Fort Clatsop Visitor Center, off of Fort Clatsop Road.
For more information: Call 503-861-4444 or email us
Volunteer At Lewis and Clark National Historical Park
Interested in volunteering for our parks? Here are the opportunities to consider. Please contact the park at (503) 861-4424 if you have any questions.
Earn your America the Beautiful Volunteer Pass
This pass is for volunteers who donate 250 hours on a cumulative basis. Valid for a year from the date of being awarded, it provides access to, and use of, federal recreation sites that charge an Entrance or Standard Amenity Fee. The pass admits the pass holder and passengers in a non-commercial vehicle at per-vehicle fee areas and admits the pass holder plus three other adults at per-person fee areas. Children under 16 are admitted free.
Interested In Applying?
Check out the current volunteer opportunities listed below, complete an application at
www.nps.gov/volunteer
;
or mail your completed application with your resume to:
Volunteer Program Manager
Lewis and Clark National Historical Park
92343 Fort Clatsop Road
Astoria, Oregon 97103
Current VIP Opportunities
We can always use help of all kinds around the park site, from trail patrol to daily park operations, listed below are the current VIP openings that we need the most help with.


Last updated: September 19, 2023