Water Access and Day Use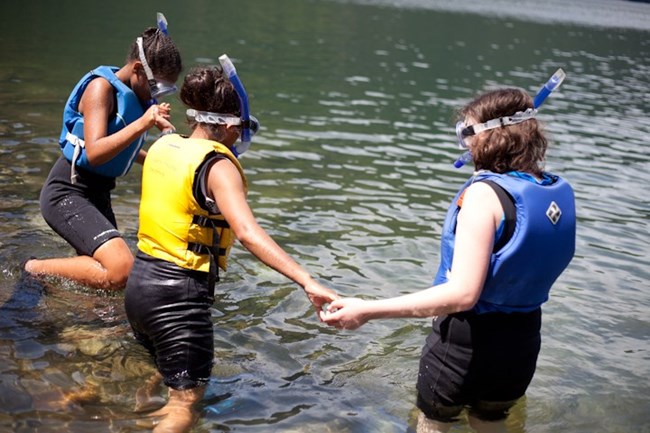 Come sit by the lakeshore, bring your favorite floating lounger or a big picnic basket of snacks.
We have many day use areas along the lake with water access, picnic tables, restrooms, and grassy areas for relaxing in the shade. Find one that will make you kick off your shoes and run for the water!
Designated water access/day use areas
Name
Flush
Toilets
Vault
Toilet
Potable
Water
Cold
Shower
Picnic
Table
Picnic
Shelter
BBQ
Grill
Trail
Evans
X
X
X
X
Marcus Island *
X
X
Kettle Falls *
X
X
X
X
X
X
Bradbury Beach
X
X
X
Cloverleaf
X
Hunters
X
X
X
X
X
Fort Spokane
X
X
X
X
X
X
X
X
Porcupine Bay
X
X
X
X
X
X
Keller Ferry
X
X
X
X
X
X
Spring Canyon
X
X
X
X
X
X
X
* Will not have water when lake levels are below 1275 feet
WATER SAFETY
The American Red Cross and the staff of Lake Roosevelt National Recreation Area encourages all visitors to keep water activities safe and fun by remembering these safety tips:
Choose a safe place for water activities
Use Coast Guard-approved life jackets
Know local weather conditions and how to find out what is forecasted
Know how to prevent, recognize and care for hypothermia & heat emergencies
Never swim alone
Drinking alcohol while participating in water activities is very dangerous
Enter water feet first rather than head first if the depth is unknown Know your swimming limits
Do not try to keep up with someone with stronger skills or ask others to keep up with you
Watch for the "dangerous too's" - too tired, too cold, too far from safety, or too much sun
Protect your skin with a high rating sunscreen, such as SPF15, which protects against both UVB and UVA rays. Reapply often.
For more information and safety tips visit the
Red Cross Summer Safety web site.


Last updated: November 10, 2021