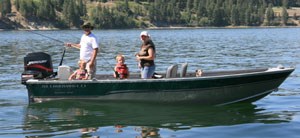 Imagine that we are on a visit to a museum. The exhibits are beautiful and delicate, the surroundings mysterious and fascinating. How would we conduct ourselves? Would we trample through roped areas, break open exhibit cases, or cut apart furnishings and start a fire? On our way out, would we remove a painting as a souvenir? Of course not!

Yet, when we visit lakes and camp along fragile shorelines, some of us, often unconsciously, display similar behavior. Some of us may have removed vegetation for a camping spot that leaves the land barren; dug a hole for a toilet damaging a cultural resource or leaving a smelly mess for the next camper; left garbage in a fire ring that causes animals to gravitate towards campgrounds. For every cause, there is an effect. While these actions may seem harmless at the time, they have a damaging cumulative affect as more and more visitors engage in this behavior. The number of people visiting Lake Roosevelt is growing yearly. Now more than ever we must learn to TREAD Lightly! on the land and water.
If we learn to think of the lake and its associated desert and forest environments as a museum, not with walls and cases, but as a living museum, where the animals are wild and their habitat sensitive we can learn to minimize our impact to that living museum. Tread Lightly is not a set of rules or regulations. Rather, it is first and foremost an attitude and an ethic. Tread Lightly is about respecting and caring for wild lands, doing your part to protect our natural/cultural resources. Below, are the five principles that make up this important ethic.