Pets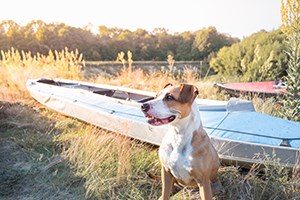 Attention Bark Rangers!
Learn the rules of
B.A.R.K.
to help protect your park!
Bag your poop! Keep our park a clean and healthy place to visit. Bags are provided at the visitor center, parking areas, and some trailheads. Put your bags in the trash when finished.

Always wear a leash! Even a well-behaved dog can get excited when visiting our national parks. Please stay on a leash no more than 6 feet long. This keeps everyone safe, and keeps Bark Rangers from accidentally scaring other visitors.

Respect wildlife! You are visiting the homes of other animals when walking around Lake Roosevelt. Please stay on the trails and be respectful. Please, no chasing any animals you may encounter.

Know where you can go! Dogs are allowed in the park, except in developed swim beach areas, as long as they wear their leash. Remember your manners when exploring so future generations of Bark Rangers can enjoy the park as well..
Barking dogs are considered a nuisances and owners must remove them from the campground.
Never leave your pet in a closed vehicle. Temperatures can soar to 130F (55C) in minutes. Your pet can quickly die of heat stroke in those conditions.
For the exact regulations regarding pets please refer to the Code of Federal Regulations 36 CFR, section 2.15 and the Park Compendium.

If you are concerned about possible toxic algae blooms in the region, check
this link
for current Washington State monitoring data to keep your pet safe.


Last updated: April 27, 2022