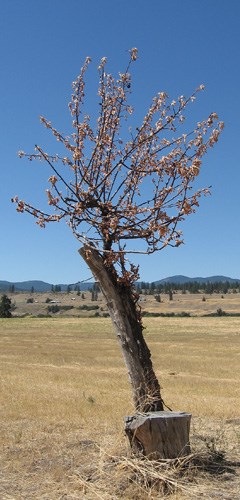 News: Historic Apple Tree Dies at Fort Spokane
June, 2008: One of the Fort's few remaining historic apple trees has died. Planted over 100 years ago by Indian children attending the Fort Spokane boarding school, only a couple of apple trees remain today. The variety of apple is known as the Transparent or Golden Transparent, a once-popular variety that is no longer cultivated. It is not known what killed the tree but the winter of 2008 was one of the coldest in living memory. This was the second apple tree to die in recent years, as another tree had died in 2005.
If you would like to see this historic variety of apple before they are gone, there are a few left by the visitor center parking lot, and one large specimen by the reservoir. Other remnant species found at the Fort include asparagus, plum, and raspberry.