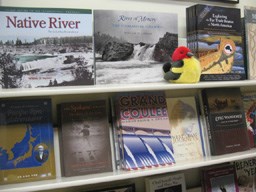 The bookstore at Lake Roosevelt National Recreation Area is run in cooperation with the Discover Your Northwest (DYNW) We offer items relating to Washington and US military history, natural and cultural history, field and regional travel guides, as well as general information. Funds raised through the sale of our publications directly aid the park.
Sales are available seasonally at the Visitor Center at Fort Spokane. Call 509-754-7893 for more information.
Learn how to get 15% off your purchase from ANY Discover Your Northwest bookstore. Schools and libraries receive special discounts. Call 509-754-7893 for information.