This is Part III in a series of posts by Megan Boldenow describing the experience and findings from a U.S. Fish & Wildlife Service shorebird research project near Krusenstern Lagoon.  See also Part I and Part II and stay tuned for Part IV.
Migratory birds time their departure from wintering areas so that they reach breeding areas during the most favorable conditions for breeding (i.e. when weather and food resources allow them to have the best chance of hatching and raising chicks). However the birds that undertake the long flight to the Arctic each spring are not able to get a weather report before departing their tropical, subtropical, or temperate wintering areas, which may be many thousands of miles to the south. These migrants have internal timers (known as their "endogenous rhythm") that have been tuned in to seasonal conditions through natural selection. Local wintering ground conditions in any given year couple with birds' endogenous rhythms and provide them with cues that it's time to go. One of these cues is length of daylight, which is consistent from year to year. Weather and other local environmental variables, and internal factors, may also influence departure date.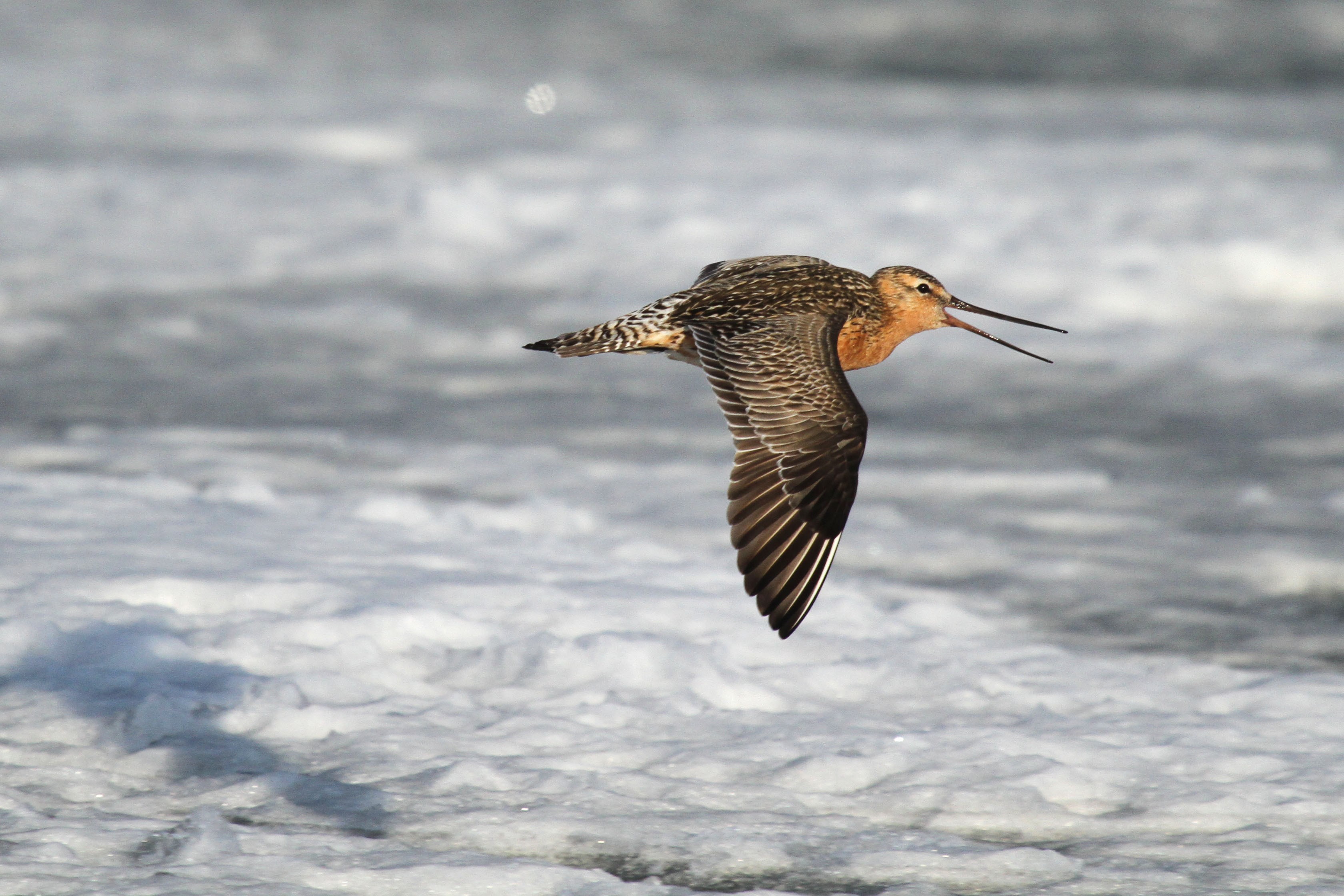 A calling Long-billed Dowitcher flies low over the snow-covered tundra. Photo: Jared Hughey. All rights reserved.
Each year, the shorebird crew tries to time arrival at the study site near Krusenstern Lagoon so that we set up camp before the tundra is fifty percent snow-free. Having only small areas of open tundra causes the returning shorebirds to concentrate in patches, and this helps us to resight birds that were banded in previous years. This is our best chance to observe birds that don't establish nests in a given season, and birds that lose their nests early to predators or bad weather.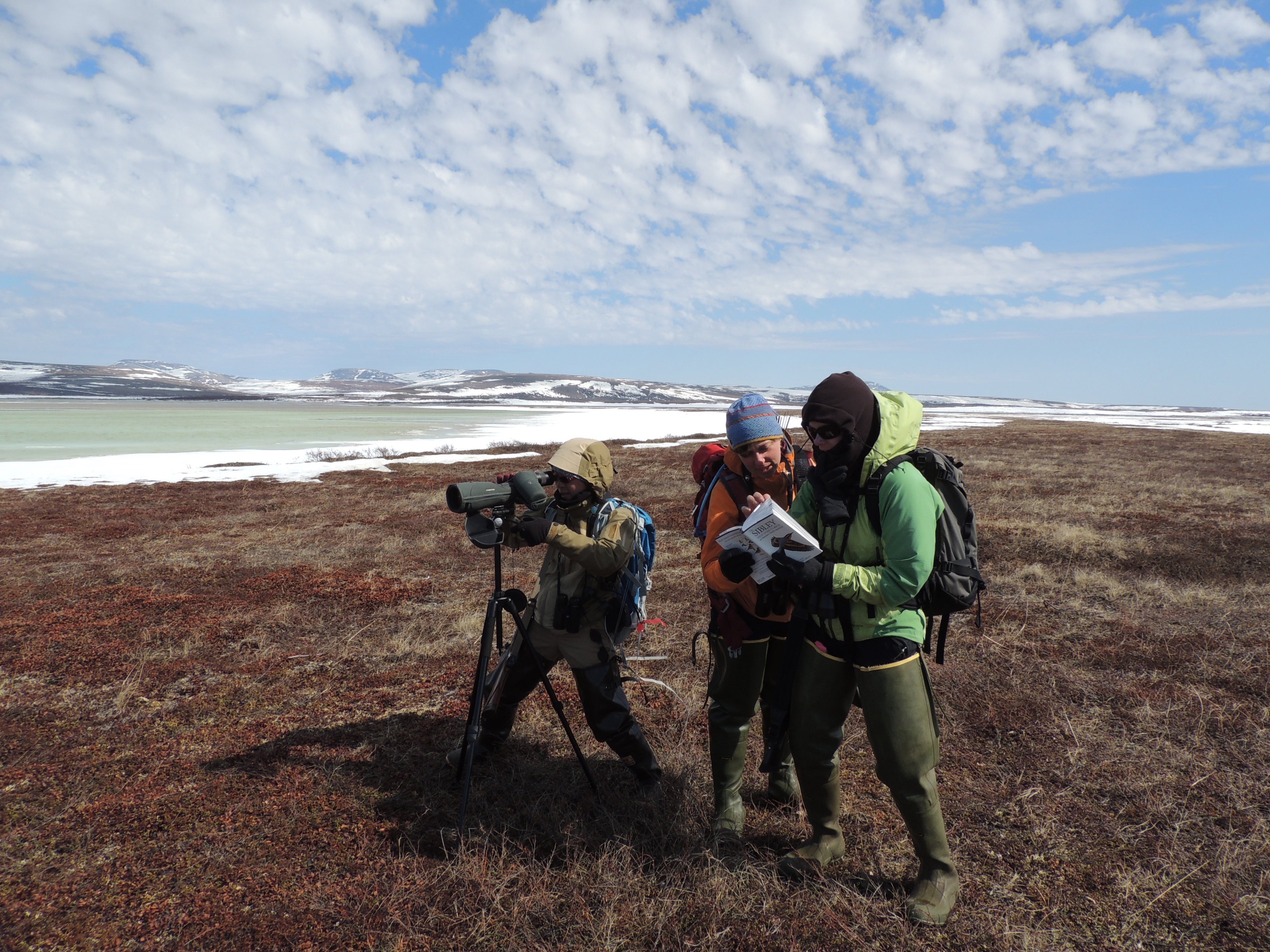 In the early season, the shorebird crew brushes up on bird identification skills while resighting birds banded in previous years. Photo: Jennifer Kardiak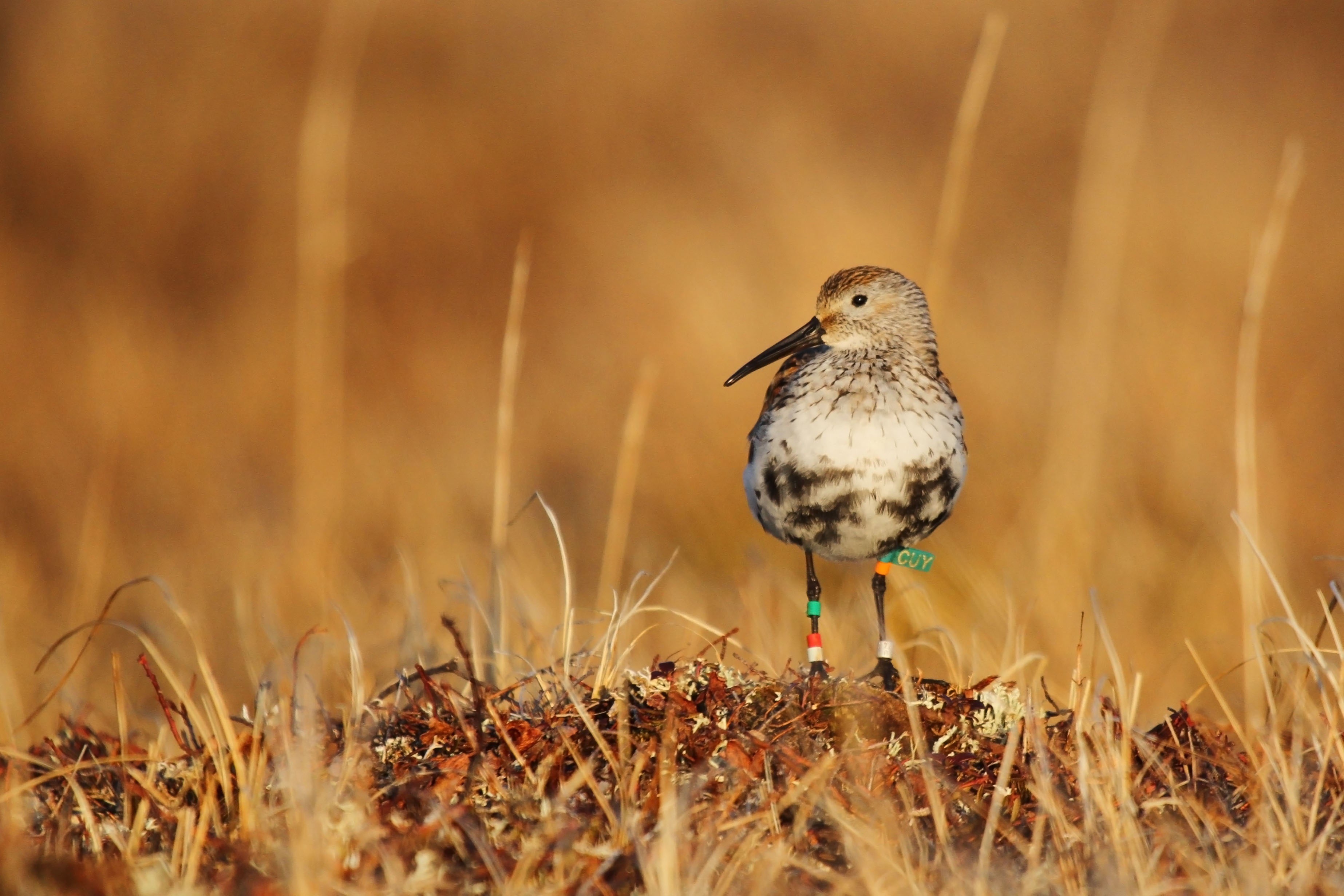 This Dunlin, CUY, stands atop a hummock, allowing us to read its unique color band combination. Hummocks are common patterned-ground features of arctic tundra. They are slightly-raised ridges or mounds, with a different vegetation type than that of the surrounding tundra.  Photo: Jared Hughey
Unlike the shorebirds, we are able to get a weather report before flying out to our remote study site. This can help us time our arrival so that we don't set up our camp too far in advance of the shorebird breeding activities that we are studying. However plane tickets to Kotzebue and helicopters to our remote site are scheduled well in advance of the season; and the helicopter that brings the crew and gear to our site is in high demand, so we only get a little wiggle room. Conditions are different every year, and some years the crew arrives to a very wintery landscape. Other years, wind clears the tundra of snow well in advance of our arrival.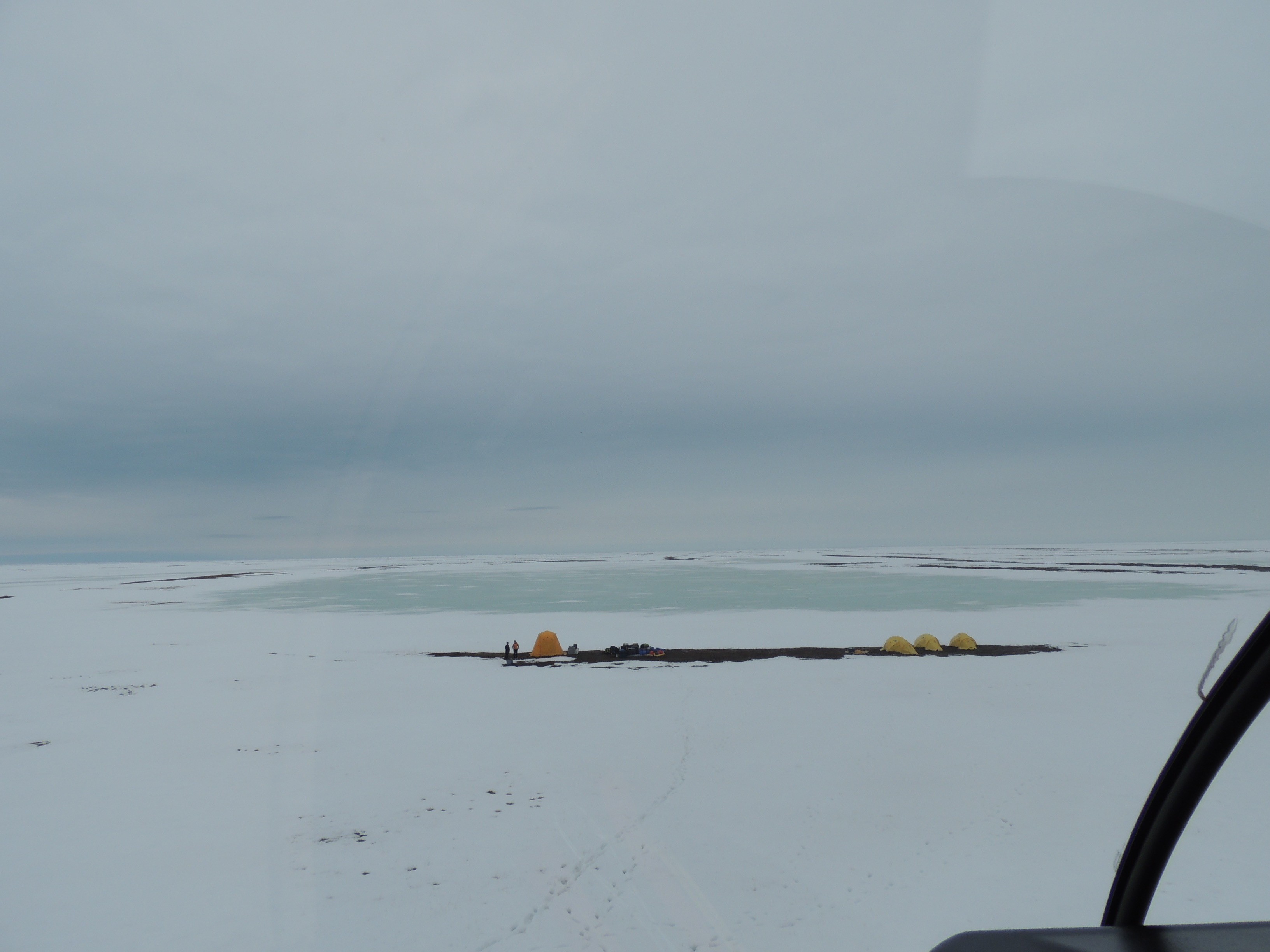 Spring arrived late in the Alaskan Arctic in 2013. When we arrived at our study site near Krusenstern Lagoon on 24 May 2013, only the slightly-raised ridge where we place our camp each year was free of snow. Photo: Jennifer Kardiak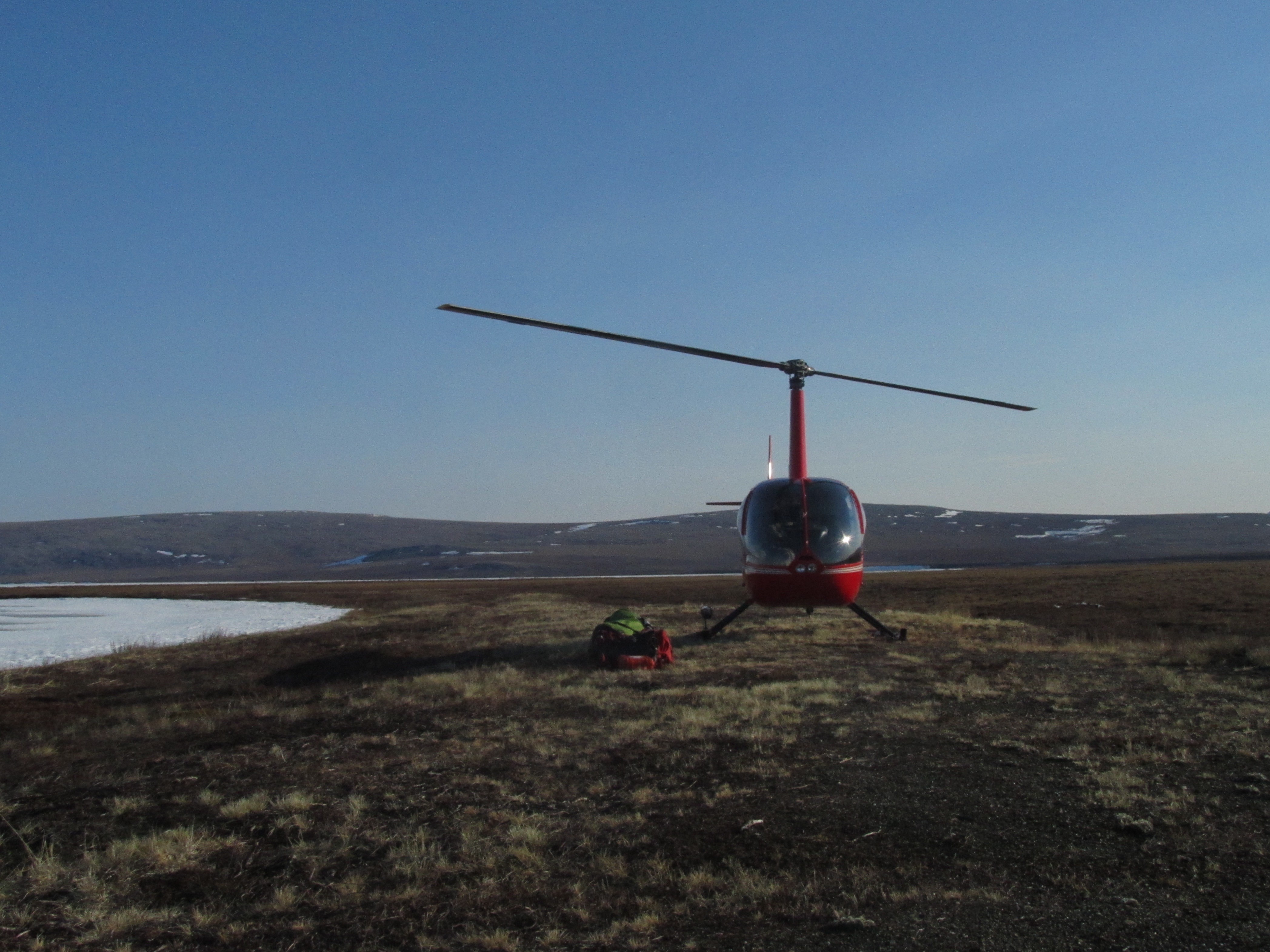 Conditions in the spring and summer of 2013 and 2014 were very different! When we arrived at our study site on 21 May 2014, wind had blown the tundra free of snow weeks before. Photo: Megan Boldenow
References:
Netwon, I. & K. Brockie. (2008). The Migration Ecology of Birds. Amsterdam: Academic Press.
Pielou, E.C. (1994). A Naturalist's Guide to the Arctic. Chicago: The University of Chicago Press.