In the Arctic, there can be very little difference between day and night in the summer and winter months. In summer, this means nearly constant daylight at Krusentern Lagoon in Cape Krusenstern National Monument. Although the human researchers studying shorebirds generally keep a traditional schedule, working during the day and sleeping at night, birds are active around the clock. The shorebird crew learns to identify bird species by their calls, in addition to their physical features. We often find ourselves "birding" from the warmth of our sleeping bags long after retiring for the night, picking out individual calls from the soundscape.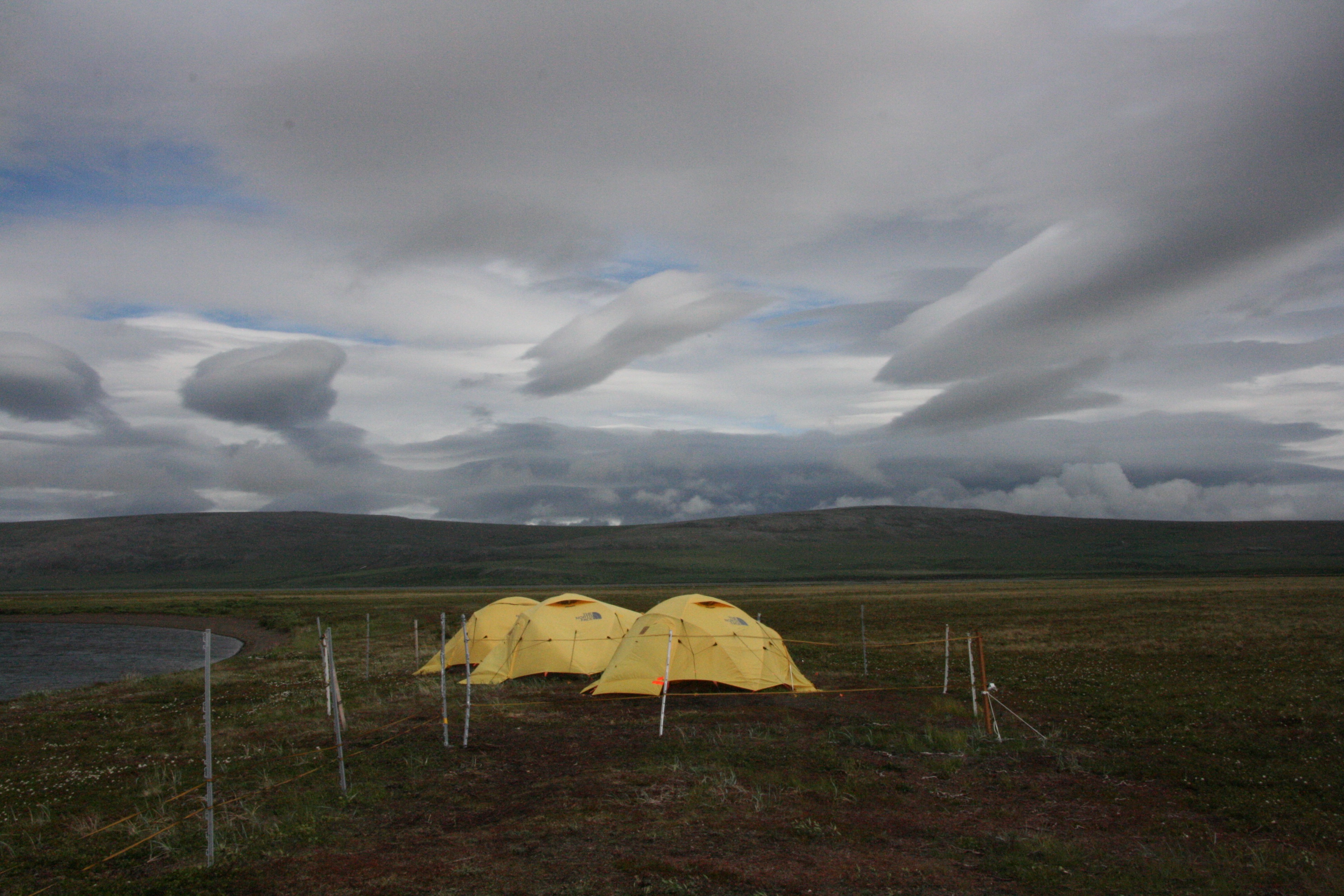 Everyone is tucked in for the night at the Krusenstern Lagoon shorebird camp. Photo: Megan Boldenow.
One crew member said the cacophony of bird noises during the arctic night reminded him of the African Serengeti. Northwest Alaska, including Cape Krusenstern National Monument, is an area of high avian diversity during the summer months, and especially during spring and fall migration. Two major flyways (i.e. broad, traditionally-used corridors of bird migration that stretch from breeding to nonbreeding areas) converge here, the Pacific Americas and East Asian-Australasian Flyways. An additional corridor, the East Asia-East Africa Flyway, also reaches to Northwest Alaska. Both Nearctic (North American) and Palearctic (Eurasian) species contribute to the nighttime symphony, as birds establish territories, try to attract mates, nest in our study site, or pass through on their spring and fall migratory journeys.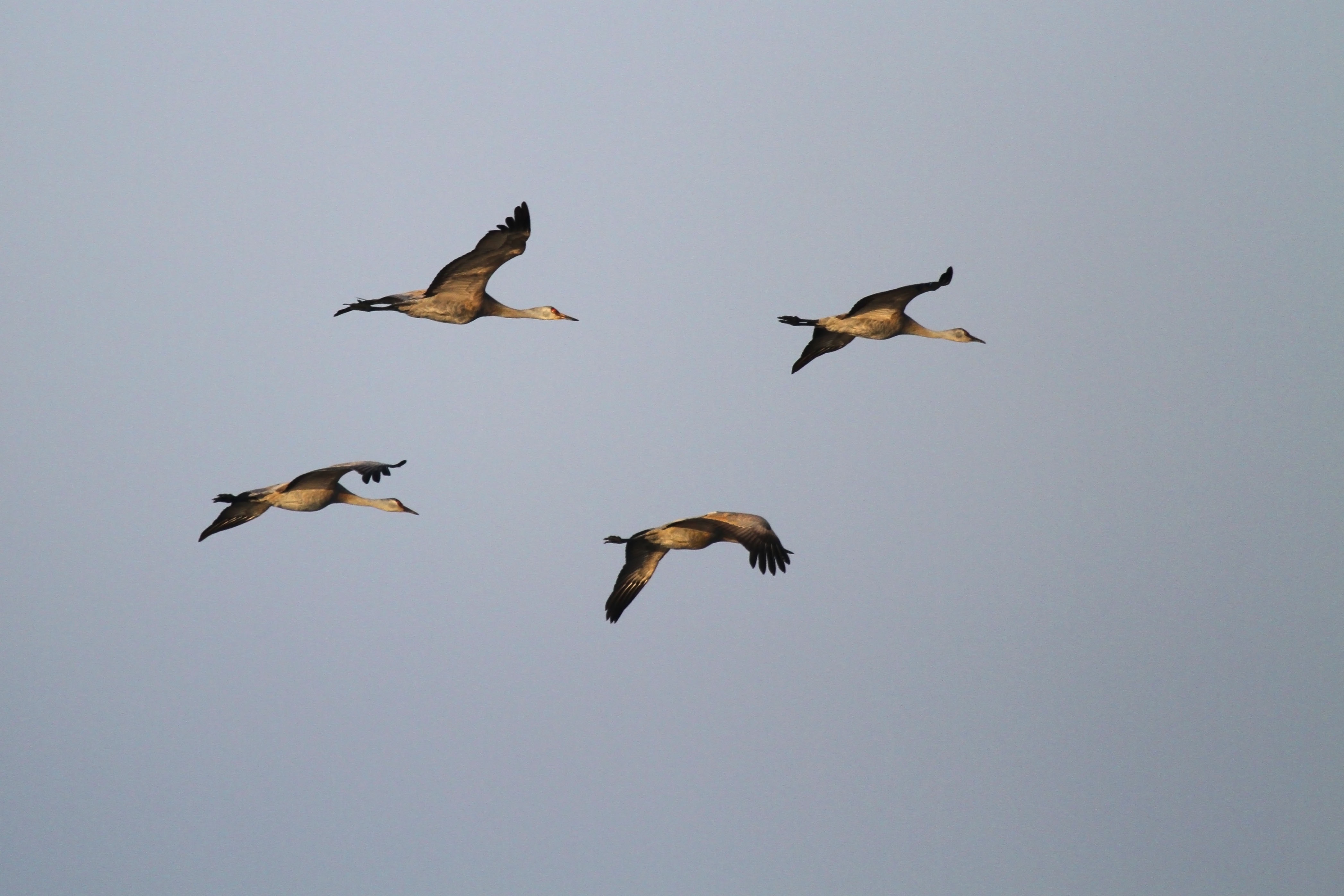 Sandhill Cranes flying over our camp contribute to the nighttime symphony. In some years, this species nests in our study area. Photo: Jared Hughey. All rights reserved.
Our study site is fairly wet, which means most of the birds that stay to nest are waterbirds (i.e. shorebirds, waterfowl, and seabirds). However, in addition to our position at the interface of multiple flyways, our daily species lists are made more interesting because the boundary between the boreal forest and tundra biomes (i.e. treed versus treeless habitats) is relatively near, and we are positioned at the interface between the foothills of the Brooks Range and the Chukchi Sea.  We therefore also have an opportunity to see landbirds (e.g. passerines, or perching birds, including songbirds) as they journey to points farther inland from the coast.
Each night after dinner, the shorebird crew sits down together to compile a list of species seen that day. After one memorable day at our shorebird camp, we noted species that spend their winter months at six out of seven world continents! Here is what our species list looked like that day:
Seabirds
Pomarine Jaeger, Parasitic Jaeger, Long-tailed Jaeger, Arctic Tern, Sabine Gull, Mew Gull, Glaucous Gull
Shorebirds
American Golden-Plover, Black-bellied Plover, Bar-tailed Godwit, Whimbrel, Black Turnstone, Red-necked Phalarope, Red Phalarope, Long-Billed Dowitcher, Semipalmated Sandpiper, Western Sandpiper, Pectoral Sandpiper, Dunlin
Waterfowl
Tundra Swan, Greater White-fronted Goose, Brant, American Wigeon, Mallard, Northern Pintail, Greater Scaup, Goldeneye species, Common Eider, Long-tailed Duck, Red-breasted Merganser, Red-throated Loon, Pacific Loon, Yellow-billed Loon
Passserines
Lapland Longspur, Bluethroat, Northern Wheater, Eastern Yellow Wagtail, American Pipit, Savannah Sparrow, Redpoll species
Other Birds
Northern Harrier, Willow Ptarmigan, Sandhill Crane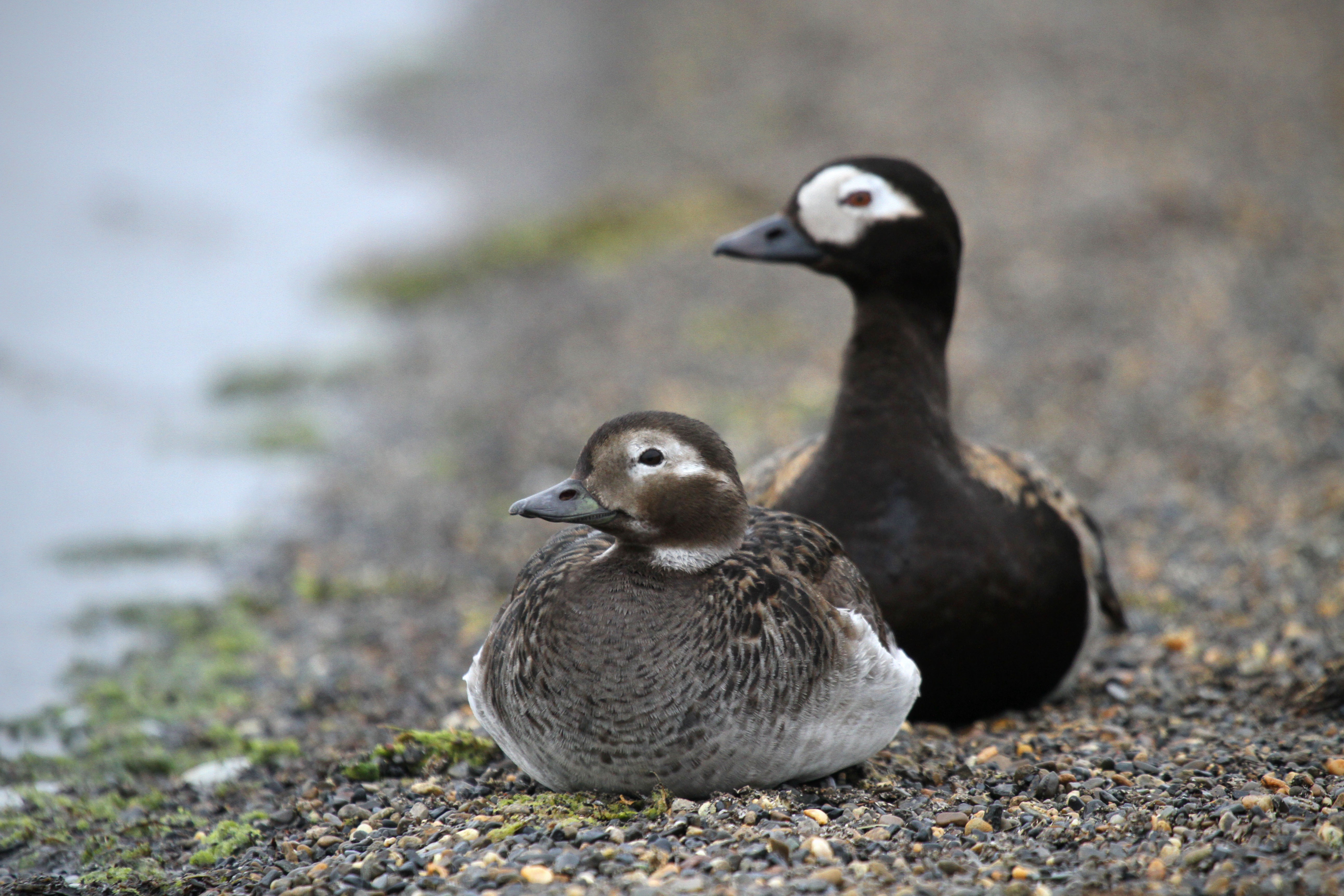 A pair of Long-tailed Ducks loafs on the shoreline of a study site pond. They may have nested nearby. These ducks will spend the winter off the coast of North America, south of Alaska, on the waters of the open ocean or a large freshwater lake. Photo: Jared Hughey. All rights reserved.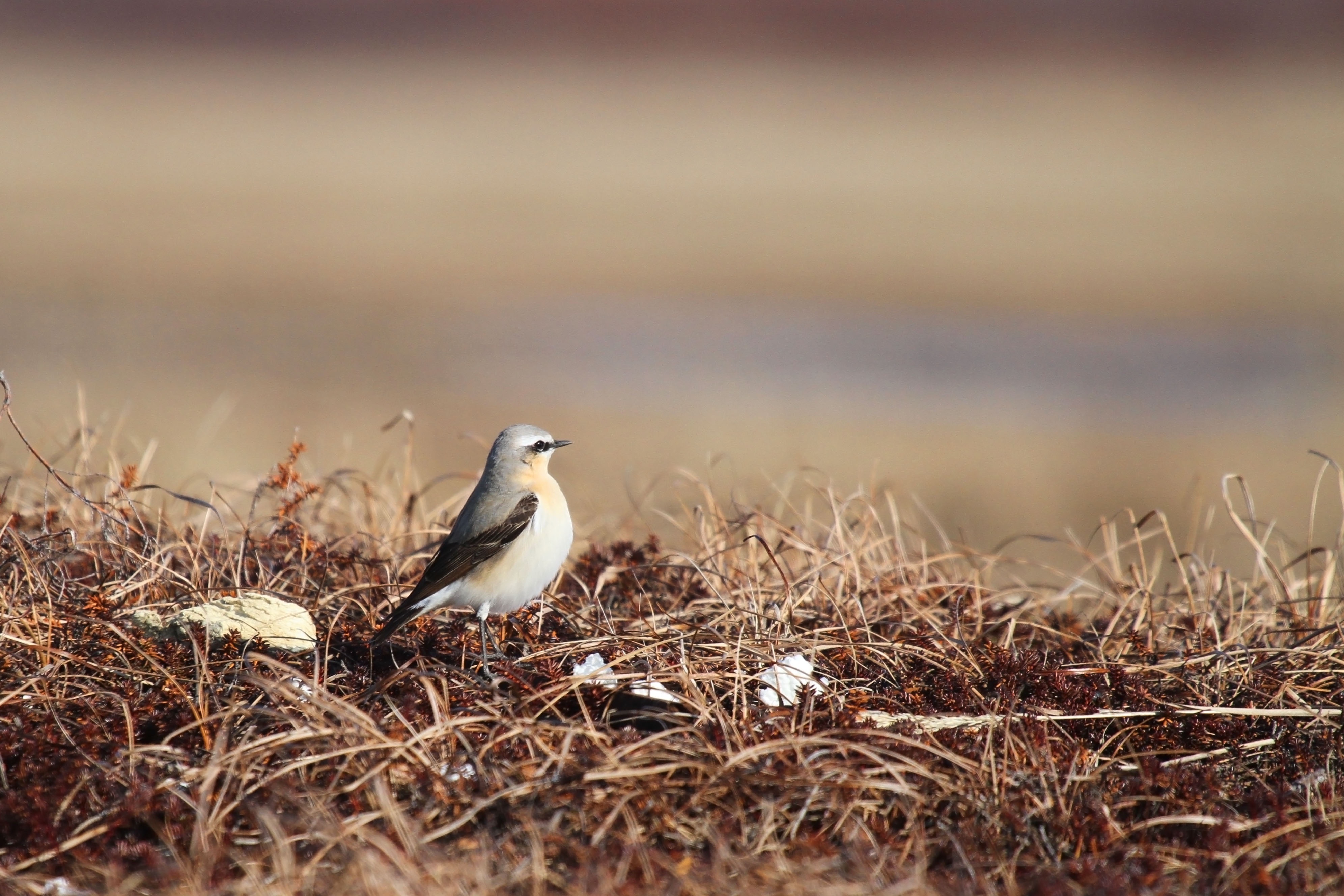 A female Northern Wheatear, a species of Palearctic thrush, makes a short stopover at our study site on her spring migration. She may have nested in the Igichuk Hills or Baird Mountains, just east of Krusenstern Lagoon. In the fall, this bird will migrate all the way to eastern sub-Saharan Africa for the winter months. Photo: Jared Hughey. All rights reserved.
REFERENCES:
BirdLife International. (2010). The flyways concept can help coordinate global efforts to conserve migratory birds. Presented as part of the BirdLife State of the world's birds website. Available from: http://www.birdlife.org/datazone/sowb/casestudy/20. Accessed: 04/07/2015
Boere, G.C. & Stroud, D.A. (2006). The flyway concept: what it is and what it isn't. In: G.C. Boere, C.A. Galbraith & D.A. Stroud (eds). Waterbirds around the world. The Stationery Office, Edinburgh, UK. pp. 40-47.
EEAFP (East Asian-Australasian Flyway Partnership). (2010). Map of nine major migratory flyways around the world, largely based on shorebirds. Accessed: 04/07/2015.
Hochacka, W. (2014). "Migrating Northern Wheatears Go the Distance—And Pack Accordingly." All About Birds Blog. Web. Accessed 6 July 2015.
Robertson, G. J., and J-P. L. Savard. (2002). Long-tailed Duck (Clangula hyemalis).In The Birds of North America, No. 651 (A. Poole and F. Gill, eds.). The Birds of North America, Inc., Philadelphia, PA.
UNEP/CMS (United Nations Environment Program/Convention on the Conservation of Migratory Species of Wild Animals. (2009). A Bird's Eye View on Flyways: A brief tour by the Convention on the Conservation of Migratory Species of Wild Animals. UNEP/CMS Secretariat, Bonn, Germany. 68 pp.
---
Did you enjoy this post?  Please share a comment or question for our guest author below.  Thank you!