"Ice Age Mammal Bones of northwest Alaska" is a series of blog posts written by NPS archeologist Jon Hardes.  Each post highlights bones found in the region, often by local residents.  If you have found an interesting bone, send him a photo, give him a call, or if the find is in your possession, stop in to share it with him at our office in Kotzebue's Northwest Arctic Heritage Center.  But please remember that collecting, disturbing or damaging paleontological resources (fossil bones, shells, plants, etc.) on Federal Lands (such as those managed by the National Park Service, Bureau of Land Management, U.S. Fish & Wildlife Service, etc.) is not permitted.
Jon can be reached via
e-mail
 or phone: 907-442-8342.

Short-faced bear (Arctodus simus) humerus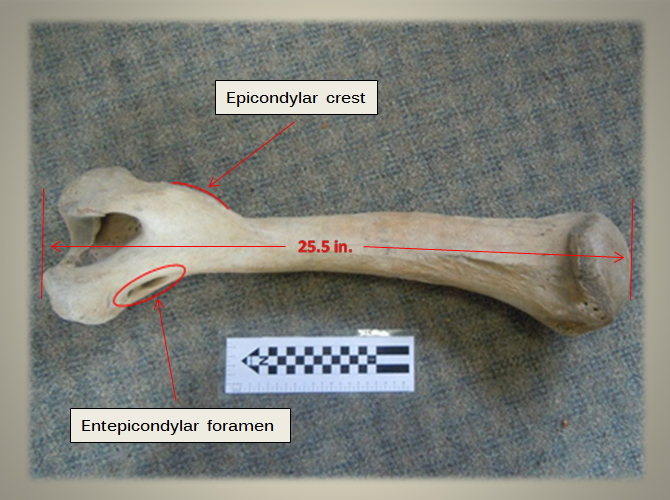 Photo by J. Hardes   
Today's post takes a look at a short-faced bear humerus (upper front leg bone) discovered near Kotzebue, Alaska and housed in the collections of LaVonne's Fish Camp.  The size and overall form, as well the highlighted features help us to determine the bone belonged to a prehistoric bear.  The bone measures 65 centimeters or about 25.5 inches in length. 
Identifying features:  The Epicondylar crest (a ridge-like projection) is a feature common to the humeri of carnivores, including canids (dog-like species, including wolves, coyotes and foxes) and cats.  The crest serves as an anchor point for major ligaments of the front upper limb.  The Entepicondylar foramen is a large opening that serves as a passageway for nerves and arteries.  Though this feature is also common to the bones of certain carnivores, including cats, badgers and seals, it is absent in modern bear species, making it the linchpin of this identification.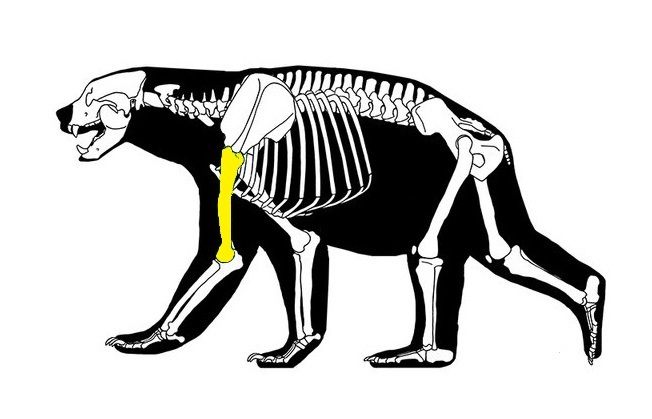 Short-faced Bear skeletal silhouette with the location of the left humerus highlighted   
A very brief history of the Short-faced bear: 
The Short-faced bear lived from around 800,000 years ago until approximately 11,000 years ago.  It was a common bear in its time and was one of the largest mammalian, terrestrial carnivores in North America.  Analysis of nitrogen-15 levels in their bones suggests they were highly carnivorous and required  some 35 lbs. of food per day to support their long-legged, one-ton bodies.  They were also highly sexually dimorphic (a difference in size between males and females of the same species), with males being about 15-20% larger than females.  Rather than having a waddling, pigeon-toed walking gait seen in other bears, the short-faced bear walked with feet pointing frontward. 
Their bones have been found from Alaska to Mexico and from the Pacific to the Atlantic coasts.  The Short-faced bear lived alongside its cousin the brown bear (Ursus arctos), likely coexisting for about 10,000 years, until their disappearance about 11,000 years ago.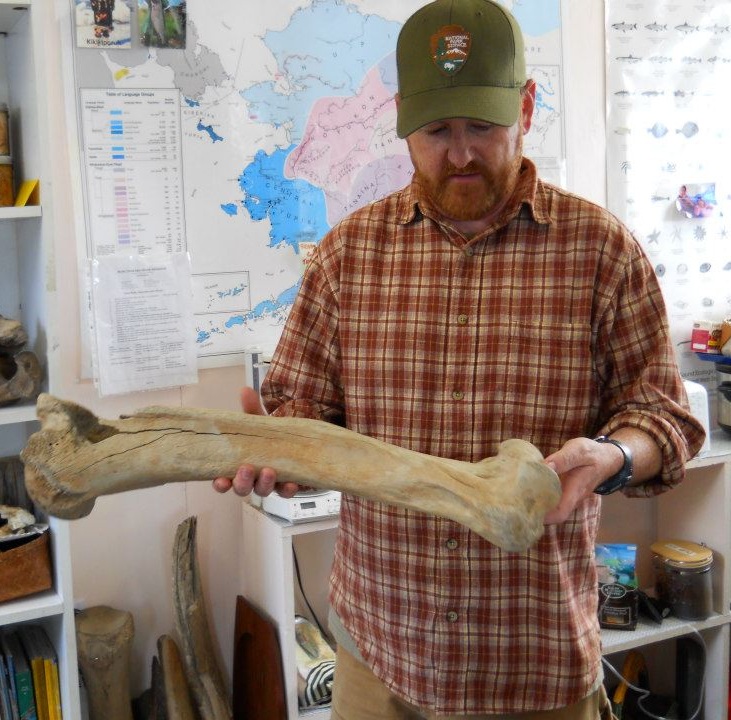 Photo of J. Hardes cataloging the humerus for LaVonne's Fish Camp, Kotzebue, AK   
Links to Further Information: 
National Geographic: Bear Power - Short-faced bear video (03:36)
History Channel: The  Prehistoric Short Faced Bear video (07:07)
Yukon Beringia Interpretive Centre, Whitehorse, YT:  Short-faced bear
BBC Science & Nature:  Giant Short-faced bear
North American Bear Center, Ely, MN:  Short-faced bear     
---
The importance of place:
Paleontological resources provide scientists with a rare glimpse into the prehistoric past.  Ancient environments and their variousforms of plant and animal life can be reconstructed by studying these remains and the unique place in the landscapes in which they were discovered.  Unfortunately these resources are incredibly limited in numbers and once they are damaged, or removed from their original locations, much of their educational and scientific data is lost.
The Paleontological Resources Preservation Act
As these resources are non-renewable, the purpose of this Act is "to establish a comprehensive national policy for preserving and managing paleontological resources on Federal Lands."
"A paleontological resource may NOT be collected from Federal lands without a permit issued under this Act by the Secretary" and resources "collected form Federal lands under the permit will remain the property of the United States."
Damage to paleontological resources can lead to conviction and a class E felony.
Protect Our Nation's Cultural and Natural Resources
1.       Please do not touch, move, collect or otherwise disturb artifacts, cultural features, or paleontological resources.
2.       Record the site location with a GPS unit or by marking it on a topographic map with compass bearings to prominent landmarks.
3.       Provide a detailed description of approximate size, numbers, and position of materials.
4.       If you have a camera, please take photographs of the site area and surrounding landscape.  If possible, include a scale in photos of individual items or specimens.
5.       Report information to:
Park Superintendent or Park Archaeologist/Cultural Resources Manager        
PO Box 1029, Kotzebue, AK  99752
Phone:  (907) 442-3890