As part of the Noatak wilderness survey and video project, Rangers Cait, Emily and Julia flew from the Nakolik strip on the southern boundary of Noatak National Preserve all the way to Copter Peak, near the northern edge of the preserve.
It was a beautiful day for flying – blue skies without a puff of clouds. No sign of wildlife beyond a bevy of swans floating on one of the big lakes. Getting to fly across the entire length of Noatak National Preserve was a cool experience; we could really see the landscape change the further north we went. The fireweed was in full bloom and huge patches of the tundra have been turned pink by its flowers.

After hiking along the Nakolik River, it was cool to see it from the sky. NPS Photo/Cait Johnson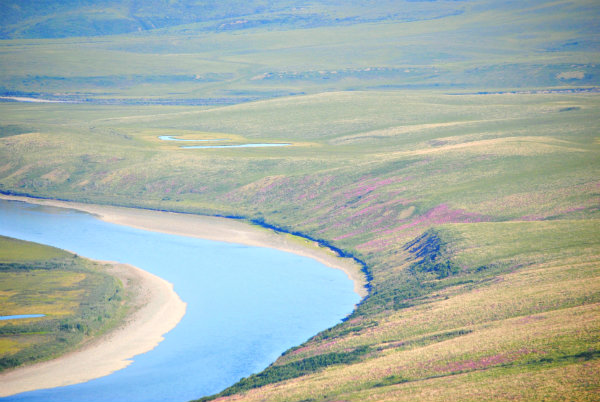 Patches of bright pink fireweed growing on the tundra in Noatak National Preserve. NPS Photo/Cait Johnson
Fireweed, that iconic, bright pink flower found growing all over Alaska in late summer, is often one of the first plants to return to burnt or otherwise damaged land. Fireweed only grows in abundant sunlight and is crowded out by larger plants, but the seeds remain viable in the soil for years and will quickly begin to grow again once fire or some other disturbance restores their access to sunlight. It was one of the first plants to reappear on the slopes of Mt. St. Helens after the eruption and is known as bombweed in Britain because it quickly colonized bomb craters during World War 2. In Northwest Alaska, fireweed is a colorful reminder of fire, be it the large wildfires that ignite on the tundra during the summer or a small fire at a campsite.