History & Culture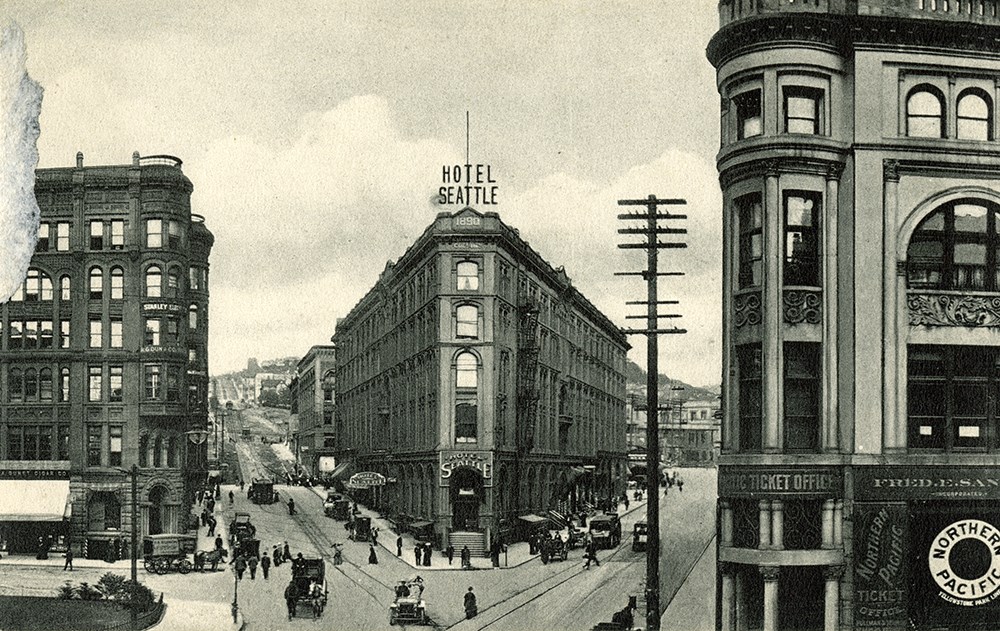 A Short History of Seattle
Euroamerican Settlers Arrive
Although people had inhabited the Puget Sound area for thousands of years, the first non Native American settlers -12 adults and their 12 children- didn't arrive until 1851. They settled briefly at Alki Point, in today's West Seattle, before moving to a more hospitable area a few miles away on the eastern coast of the Sound-now the Pioneer Square Historic District adjacent to downtown Seattle. They named their village after a friendly tyee, or chief, of two local Native American tribes.
Among the original settlers were Arthur Denny and David S. "Doc" Maynard, soon joined by Henry Yesler who sought a site for a steam engine-powered sawmill. Denny and Maynard gave him a strip where their land holdings joined along the Seattle waterfront. Yesler reciprocated by turning the nascent city into an important lumber producer. Aided by animals, wood cutters slid, or "skidded" timber down a greased log road to the sawmill. In time, this "skid road" separated Seattle's respectable and wide-open neighborhoods. "Skid road" evolved into "skid row," a term that refers to the seedy part of a city.
A Growing Town
Despite early problems such as skirmishes with the original inhabitants, floods, and economic insecurity, Seattle slowly grew. In 1860, the first federal census of Washington Territory counted 302 people in King County, most of them in Seattle. By 1870 Seattle's population had topped 1,100, and in 1880, 3,500. Cultural and social advances accompanied population growth. In 1861 the "Washington Territorial University" - today's University of Washington- opened although 15 years would pass before it granted Clara McCarty its first baccalaureate degree. The city's first newspaper, the Gazette, creaked off an old press in 1863. And in 1864 the first 11 " Mercer girls" arrived. These young women, recruited in the east by Asa Mercer, the Territorial University's youthful president, added substantially to the pool of marriageable women in a frontier society where men outnumbered women by a 10-to-1 ratio. Mercer brought another contingent of 34 marriageable young women to Seattle in 1866.

The Great Seattle Fire
A devastating fire in 1889 destroyed the city's commercial district. Rebuilding started immediately, the burned wooden structures replaced with more fire resistant brick and stone buildings. Many of the buildings from this time are still in use. The former Cadillac Hotel, built during this time, is now home to the Seattle unit of Klondike Gold Rush National Historical Park.

By 1890 Seattle's population had reached 42,000, an astonishing 12-fold increase since 1880. Contributing to this growth was railroad building, the construction frenzy set off by the 1889 fire, demand for lumber, development of the port, and increased shipping activity. Even greater growth lay ahead.
A Fever is Ignited
On July 17th, 1897, the steamship
Portland
docked in Seattle from St Michael, Alaska, carrying 68 prospectors and what newspapers said was "a ton of gold." Two days earlier a similarly laden ship had arrived in San Francisco from Alaska. What had been a just a few hundred prospectors sailing from Seattle each week, soon turned into a stampede of thousands. Newspapers spread word that a great quantity of gold had been found along a remote river in what is today the Yukon Territory of Canada. The
Klondike Gold Rush
had begun.
Seattle merchants quickly exploited their port status. Advertisements far and wide declared Seattle as the "Gateway to the Gold Fields" - the place where all one's Klondike needs, from food and warm clothing to tents and transportation-could easily be fulfilled. As a result, some 30,000 to 40,000 of the estimated 70,000 stampeders, who outfitted to go to the Klondike, bought their "ton of provisions" in Seattle. The city prospered.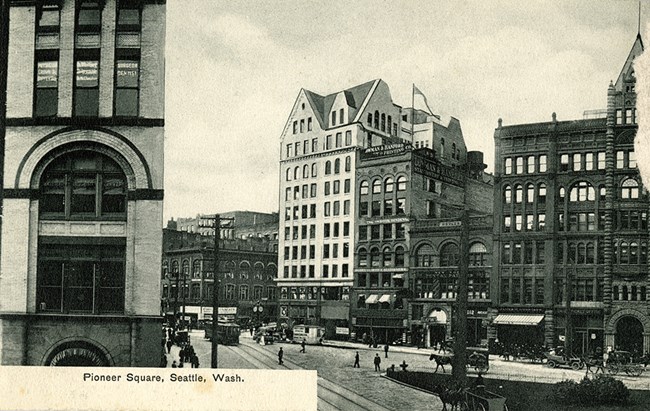 After the Gold Rush
In 1900, Seattle's population had nearly doubled from 1890, to 80,000. Despite occasional downturns, economic and population growth continued in the 20th century, and into the 21st. Shipbuilding was a major industry early in the 20th. In 1916 William Boeing launched the company bearing his surname, now the world's largest aircraft manufacturer. In the 1980s Microsoft Corporation led the way in Seattle's becoming a world-wide computer technology center. The city's port evolved into a major depot for container ships, a grain exporting center, and in the early 2000s a summer base for Alaska-bound cruise ships. The University of Washington advanced to leadership among the country's research institutions. By 2012, with a population of 634,000, the city was the core of a growing metropolitan area totaling some 3.5 million people.
Learn more about the maritime, industry, agricultural history of King County 4 Culture's website
Destination Heritage
.


Last updated: July 17, 2018