Two-Day: Keweenaw County and Isle Royale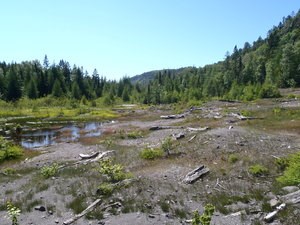 Distance: 64 miles
Drive Time: 2+ hours
From Calumet, head north on US-41. In Ahmeek, bear left onto scenic Cliff Drive. Here you will find the historic Cliff Mine site, which runs along the left hand side of Cliff Drive. Cliff Mine was the most productive copper mine in the United States from 1845 to 1854 and was the first profitable copper mine in Michigan. This land is open for exploration, but use caution; there are numerous streams, ponds, and hazards at this site. Cliff Drive will intersect again with US-41.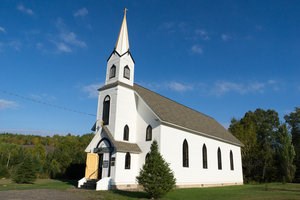 Continue north on US-41 to the town of Phoenix. The Phoenix Church, originally St Mary's, was built in 1858 for the residents of Clifton. The church will be on your left on US-41, just past the M-26 intersection. The Phoenix Church offers interpretive signs and exhibits.
As you leave the Phoenix Church turn right to head north on M-26 towards Eagle River. Shortly after turning, Bammert Blacksmith Shop complete with historic tools will be on your right. Continue on M-26 to Eagle River.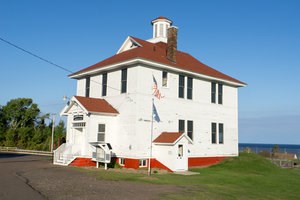 As you enter Eagle River, the monument to Douglass Houghton will be on your left. Douglass Houghton was Michigan's first geologist and helped to spark Michigan's rich mining history. A few blocks further up M-26 is the Eagle River Museum complete with exhibits. It will be on your right, at the corner of M-26 and 4th St.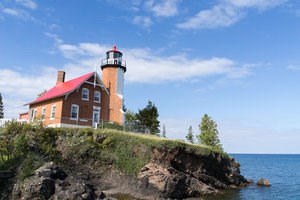 Continue on M-26 to Eagle Harbor. As you enter the town of Eagle Harbor, continue straight when M-26 turns to the right. This will put you on North St. Turn left on Lighthouse Rd where you will find the well appointed and extensive Eagle Harbor Lighthouse Museum Complex (Eagle Harbor Lighthouse Museum, Commercial Fishing Museum, Keweenaw History Museum and Maritime Museum). Be sure to allow enough time at this location to see everything!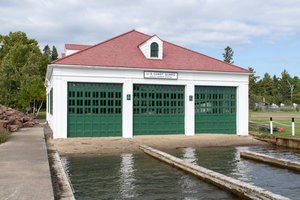 Drive back down North St and turn left on Front St (M-26). Take the first right (Center St). The Rathbone School is at the corner of Center and 3rd. This one room school served the community from 1853 to 1872. Continue down Center St to 5th St and turn left. Bishop Baraga, The Snowshoe Bishop, founded Holy Redeemer Church located at the junction of 5th and South St. From here, head down South St back to M-26.
Follow M-26 as it turns to the left. Drive about a mile past the bathing beach and turn left on Marina Rd to arrive at the U.S.C.G. Life Saving Station Museum located across the harbor from the lighthouse. The museum is located inside the boathouse.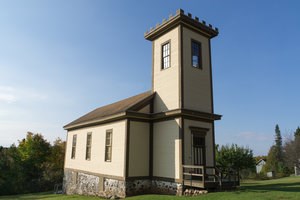 Return to M-26 by taking a right and heading back towards Eagle Harbor. Turn left onto the Eagle Harbor Cut-Off Rd. At US 41, turn left.One mile north on US-41, turn left on Central Rd to visit the Central Village and Mine Visitor Center where you can view exhibits, tour historic buildings and hike a trail to explore the historic village of Central.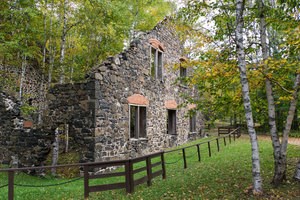 Proceed north on US-41 towards Copper Harbor. The Delaware Mine will be about 6 miles north on US-41 on the left. The Delaware Mine operated from 1847 to 1887, today you can take an underground self-guided tour and explore extensive above ground ruins.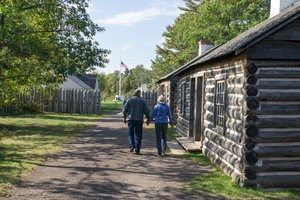 Continue north on US-41 to Copper Harbor. Follow US-41 through town to Fort Wilkins Historic State Park where history comes alive. Seasonally, costumed interpretive staff reenacts what life would have been like at Fort Wilkins in 1870. Fort Wilkins State Park also offers camping, hiking, paddling, fishing and sightseeing. Copper Harbor offers an abundance of camping and lodging, food and shopping options.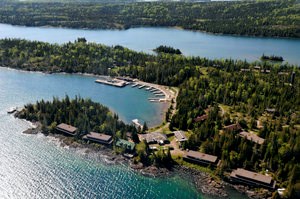 The Isle Royale Ferry departs at 8AM from the Copper Harbor Marina. Reservations are highly recommended. It is just over 3 hours by boat ride to the island. For a same day return, the boat departs at 2:45PM. Overnight lodging and camping options are available on the island to enjoy even more of the majesty of Isle Royale National Park.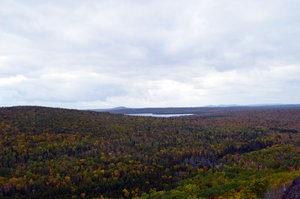 Upon returning to Copper Harbor, head northwest out of town, past the US-41 turn off, onto M-26.Turn left on Brockway Mountain Dr to enjoy beautiful vistas and sunsets. Along the drive you will find several interpretive signs to orientate you and inform you of the area's cultural and natural history. At the end of Brockway Mountain Dr, bear left onto M-26 south. Enjoy more breathtaking views of the sun setting over Lake Superior as you wind your way along to coast through Eagle Harbor and Eagle River back to US-41 in Phoenix. Turn right and follow US-41 back to Calumet.
Last updated: May 11, 2022