Operating Hours & Seasons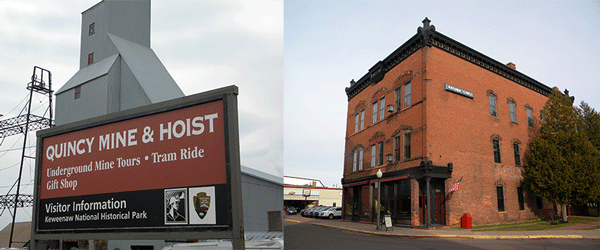 Hours
Memorial Day (May 27) - Labor Day (September 2): Monday - Saturday 9:00 a.m. - 5:00 p.m. EST

Please call ahead to confirm hours of operation at (906) 483-3176

This facility is located at the entrance to Historic Downtown Calumet in the Union Building, a former lodge hall for various fraternal organizations. The address is 98 Fifth St, Calumet, MI 49913. Visitors are able to experience extensive interactive exhibits on what life was like for people in the mining community from its establishment through the boom times to the closure of the Calumet & Hecla Mining Company in 1968. The facility provides a staffed information desk and sales outlet for the Isle Royale and Keweenaw Parks Association. The information desk at the visitor center can be reached at (906) 483-3176 during hours of operation.
Keweenaw National Historic Park Headquarters
The administrative headquarters building is open Monday-Friday 9:00 am - 5:00 pm. The welcome desk can be reached at (906) 337-3168.
Keweenaw Heritage Sites
Most visitor services for Keweenaw National Historical Park are provided through the park's partners, known as Keweenaw Heritage Sites. Hours and days of operation at these sites vary with the season: check the park newspaper for hours and days of operations for the heritage sites. Most of the sites close for the winter by late October and reopen for the summer in late May. Contact the park at (906) 483-3176 for specific details.


Last updated: June 6, 2019