Half-Day: Quincy Unit, Hancock, and Houghton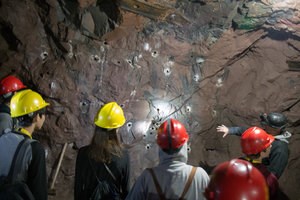 Distance: 32 miles
Drive Time: 2-4 hours
From Calumet, head south on US-41 to the Quincy Unit and Mine just north of Hancock. For an underground mine tour, inquire in the gift shop. Outside exploration of the grounds is free of charge. After visiting the mine, continue south on US-41 about one mile and turn left on White St. Turn right on Finn St and proceed onto Finlandia University to visit the Finnish American Heritage Center.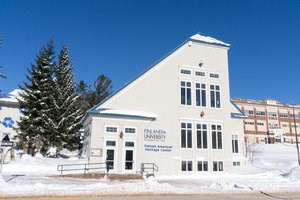 The Center has become a community focal point, offering a multitude of exhibits, lectures, plays, musical programs, and community events each year. Exit the campus on the west side using Scott St heading south (downhill). Cross Quincy St and turn left on Hancock St (US41 South). Cross the lift bridge and continue following US-41 south to Michigan Technological University to visit the Michigan Technological University Archives and Copper Country Historical Collections in the basement of the library building. Extensive local and historical records are available for researchers here.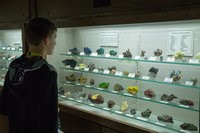 Turn right on MacInnes Dr and proceed up the hill approximately one mile to A.E. Seaman Mineral Museum, located at 1404 E. Sharon Avenue, where one of the finest collections of minerals in North America is on display. From Michigan Tech, head north on US-41. When the road divides, turn into the Public Parking area on the right, just past the Keweenaw Chamber of Commerce. This offers a great vantage point for the Quincy Smelter Ruins across the Portage. The Quincy Smelter was one of numerous locations where copper was refined, poured into ingots, and shipped throughout the Great Lakes. Take the stairs or ramp down to the water front to visit the Isle Royale National Park Headquarters.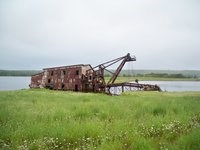 Continue north on US-41 back across the bridge and bear right onto M-26. Follow this north about 6 miles to the Quincy Dredge in Torch Lake. Companies, such as Quincy, used dredges to vacuum waste sands from the lake to recover copper that was missed in earlier years. Continue north on M-26 to return to the Stamp Mill Ruins of the Ahmeek Mining Company in Tamarack. Dozens of these stamps in many different mills would have been hammering the ore to separate the copper from the mined rock. Only one stamp remains in the Keweenaw. Continue north on M-26 to return to Calumet.
Last updated: May 11, 2022