Full-Day: Hancock, Houghton, and Sites South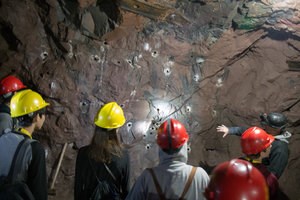 Distance: 80 miles
Drive Time: 8 hours
Leaving Calumet, take US-41 south to the Quincy Mine. Here the Quincy Mine Hoist Association provides the opportunity to take an underground mine and hoist house tour led by guides. You may also wish to explore the surface ruins of the site, which includes the Miner's Memorial House, home of the Joshua Martin family from 1913 to 1925.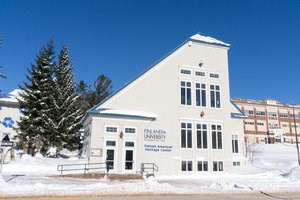 Your next stop on this route is Finlandia University; continue south on US-41 about one mile. Turn left on White Street, then turn right on Finn Street and follow it onto the campus. Finlandia University is home to the Finnish American Heritage Center, which houses the University's archives and museum, a theater, an art gallery and offices to The Finnish American Reporter. When you are ready, exit Finlandia on the west side of campus via Scott Street and cross Quincy Street. Continue by turning left on Hancock St (US-41 south) and follow it south across the lift bridge, over the Portage Canal and continue following US-41 south to downtown Houghton.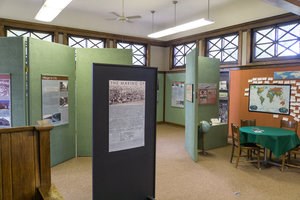 Turn left on Huron Street and the Carnegie Museum will be on your left, on the corner of Huron and Montezuma Streets. This museum features rotating exhibits about local history, natural history, science and culture.
In downtown Houghton, you will find a great vantage point for the Quincy Smelter from the Public Parking area at Franklin Street and US-41. While in Houghton visit Isle Royale National Park Headquarters, which is dockside along Lakeshore Drive. Here you will find information about trip planning to Isle Royale, park history and resources, as well as an Isle Royale and Keweenaw Parks Association sales outlet.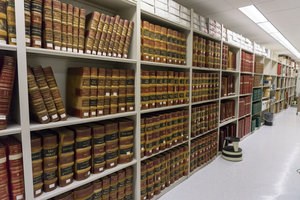 Continue south on US-41 as it cuts right through Michigan Technological University. Here you will find the Michigan Technological Unviersity Archives and Copper Country Historical Collections in the Van Pelt Library. The A.E. Seaman Mineral Museum is located off of MacInnes Drive on campus. Both facilities welcome visitors and provide insight to the areas rich history and geology.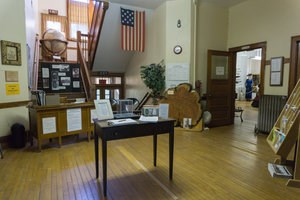 After visiting Michigan Tech, follow US-41 south out of Houghton. As you enter Chassell , turn right on 2nd Street; the Chassell Heritage Center will be on your left. Here you will find exhibits spanning from the community's logging days to today. From here, head out of Chassell on US-41 south. Turn right on Arnheim Road after 8.8 miles;at the intersection with Askel Road, Arnheim turns into Tower Road. Follow Tower Road to the Hanka Homestead, a wonderful stop while visiting the Copper Country. Hanka Homestead Museum is the home site of Herman Hanka; he and his family settled here after he became disabled in a copper mining accident.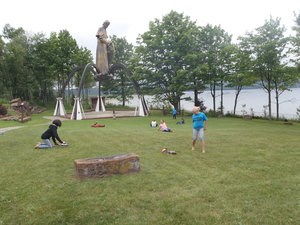 Follow Tower Rd back up to Amheim Road, stay straight onto Amheim Road following it to the intersection with US-41. Turn right and follow US-41 south. Go through the community of Baraga and on the southeast corner of L'Anse Bay, on the outskirts of L'Anse, you will find the Bishop Baraga Shrine overlooking the bay. Watch for the entrance sign on the right at Boyer Road and follow the signs back to the Shrine. Frederic Baraga is well known as the Snowshoe Priest who became the first Bishop of the Upper Peninsula.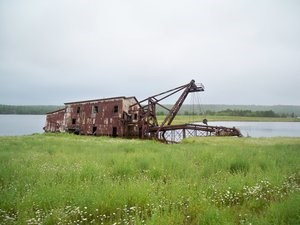 Follow US-41 north, back towards Houghton and across the Portage Lake Lift Bridge; bear right onto M-26. Follow MI-26 north towards Lake Linden. The Quincy Dredge will be on your right a few miles up. The Dredge was used to suck up tailings and pump them to an onshore reclamation plant. Continue north on MI-26. The Stamp Mill Ruins of the Ahmeek Mining Company will be on your right in the community of Tamarack City.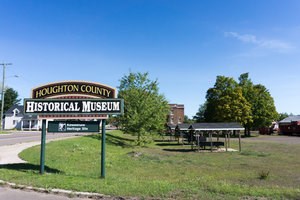 Continue north on M-26. Just as you enter Lake Linden, the Houghton County Historical Museum will be on your right. Here you will find a seven building complex, including a museum containing numerous artifacts. From here you can continue to follow M-26 through Lake Linden and back to Calumet.
Last updated: May 11, 2022