Full Day: Calumet, Laurium, Lake Linden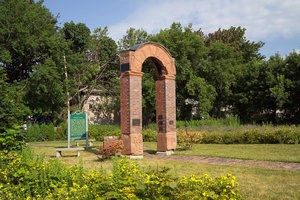 Distance: 1 mile walk + 12 miles driving
Drive Time: 5-7 hours
Travel north on 5th Street from the Keweenaw National Historical Park Visitor Center. Take in the historic shopping district of Calumet, where you can still find unique shops, local foods and stunning architecture. Head to the Italian Hall Memorial Park by turning left on Elm Street and proceeding to 7th Street. Turn right and the park will be on your left. An archway marker was erected to memorialize the Christmas Eve tragedy that took place here in 1913, which took the lives of 73 individuals.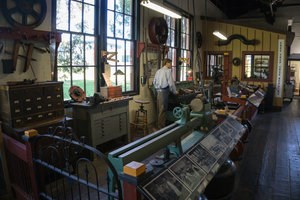 From here, head back on Elm Street to 6th Street. On the southeast corner your will find the Calumet Theatre. Stop in for a guided or self-guided tour of this beautiful theatre. Be sure to get some pictures! Just south on 6th Street and across the street is the Copper Country Firefighters History Museum. This museum has displays on the history of fire fighting in the Upper Peninsula, including numerous fire trucks from various eras. Continue south to Scott St and turn left. The Keweenaw Heritage Center located at St Anne's Church will be on your right. Stop in and view their exhibits, which often change from year to year. Turn right on 5th Street, passing the Union Building on your left, and proceed one block to Coppertown Mining Museum. The museum is located on your right, on the southeast corner of Red Jacket Road and Armory St. Coppertown is housed in the former Calumet & Hecla pattern shop.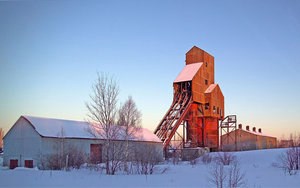 Osceola #13 mine site is a short drive from downtown Calumet. Proceed east on Red Jacket Rd to US-41 (Calumet Ave). Turn right and follow US-41 south. Bear right onto Church St just before the Holiday Gas station. (If you miss it, turn right instead on Millionaire St and right again on Church). Turn on E St. Osceola #13 will be on your left. This was the site for one of the last operating shafts of the mighty Calumet & Hecla Mining Company.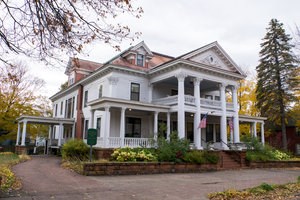 Now head back up US-41 to Calumet.Turn right on M-26 to Laurium. Turn left on Tamarack St and head to the Laurium Manor Mansion, it will be on your right between 3rd and 4th. This mansion was completed in 1908 for Thomas H. and Cornelia Hoatson at a cost of $50,000! Take the self-guided tour of the mansion and grounds; you won't be disappointed.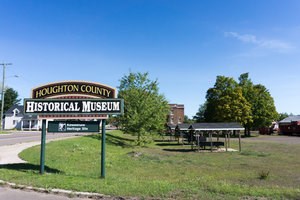 Return to M-26 and head southeast (left) towards Lake Linden. On the south end of the downtown area you will find the Houghton County Historical Society complex on the left. The society has much to offer including exhibits, a school house and a train ride! Continue south on M-26 through Hubbell. Adjacent to the City Children's Park in Tamarack City is the last of eight stamp ruins of the Ahmeek Mill. Continue south on M-26 to see the Quincy Dredge in Torch Lake. It will be on your left.
Last updated: May 11, 2022