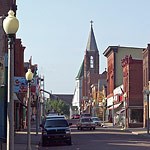 Scope of the Report
This combined Cultural Landscape Report and Environmental Assessment (CLR/EA) for the Calumet Unit of Keweenaw National Historical Park provides guidance for treatment and use of the above-ground resources associated with the significant historic landscapes in the project area. Cultural landscape reports (CLR) serve as the primary guides to treatment and use of cultural landscapes within the National Park Service. They prescribe treatment an management approaches for the physical attributes, biotic systems, and human use of the resources. An environmental assessment (EA) provides an analysis of the possible impacts-positive or negative-that a proposed project may have on the environment, including collectively the natural, social and economic aspects. By combining the CLR and the EA in one report, the potential impact of the treatment alternatives can be considered in the process. This approach streamlines the project process and integrates the environmental information into the devlopment of the treatment alternatives.
A thorough investigation and evaluation of the historic landscapes was conducted in September and October 2010 using National Park Service (NPS) and the United States Secretary of the Interior's guidelines. The documentation of historic significance and evaluation of integrity of the historic landscapes serves as a framework upon which treatment recommendations are developed. This report provides park managers with a comprehensive understanding of the physical evolution of the historic landscape and guidance for future landscape management. The report has been prepared by a project team composed of staff members from Quinn Evans Architects (QEA), Wolpert, Inc., and Keweenaw National Historical Park to fulfill a contract wit Midwest Regional Offices of the National Park Service.
Purpose
The purpose of the combined CLR/EA is to document and record the history and current conditions of the historic landscapes within the Calumet Unit of Keweenaw National Historical Park and to provide guidance for the future treatment and use of these landscapes. The document informs preservation of significant cultural and natural resources while providing guidance for developing opportunities and facilities for visitor education and use. Keweenaw National Historical Park is a partnership park, with the majority of the land and resources within the Calumet Unit owned by entities other than the Federal government. This document is meant to help inform the National Park Service, the Keweenaw Heritage Site (KHS) partners in the Calumet Unit, and other individuals and organizations that own or manage properties within the Calumet Unit regarding the historical development of the physical landscapes and its significance. It also provides guidance for future treatment of the landscape.