High School Local History Smackdown Sample Questions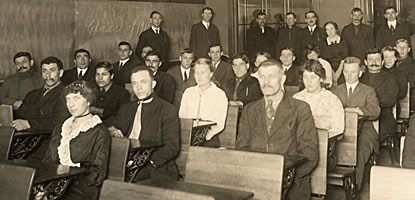 2018 Smackdown! Sample Questions
1. QUESTION: This maritime museum was once a life-saving station and once launched lifeboats to save capsized or shipwrecked mariners. It's now part of a Keweenaw Heritage Site that partners with Keweenaw National Historical Park. name this Heritage Site.
ANSWER: Keweenaw County Historical Society

2. QUESTION: There are two state parks in Houghton County. Name one.
ANSWER: Twin Lakes or F.J. McLain

3. QUESTION: Name one of the two state parks located in Baraga County.
ANSWER: Baraga or Craig Lake

4. QUESTION: In 1910, Painesdale High School was built next to what mine?
ANSWER: The Champion Mine

5. QUESTION: What town in Ontonagon County shares its name with the state tree of Michigan?
ANSWER: White Pine

6. QUESTION: Which Copper Country county would you be visiting if you saw the Delaware Mine and a giant snow thermometer?
ANSWER: Keweenaw County

7. QUESTION: Valued for their experience working underground, what "immigrant elite" was first to be employed by mining companies as skilled miners, bosses, captains, or agents?
ANSWER: The Cornish

8. QUESTION: The entrance to a mine can be by shaft or an adit. How are these entrances different?
ANSWER: A shaft enters a mine vertically and an adit enters a mine horizontally

9. QUESTION: A Methodist church in Keweenaw County was built in 1868 by Cornish immigrants. Although no longer active, the church hosts an annual reunion for the descendants of this congregation. Where is this church located?
ANSWER: Central

10. QUESTION: Victoria Dam creates a reservoir by damming the "west branch" of what river?
ANSWER: The west branch of the Ontonagon River
Last updated: March 2, 2018