Researcher Information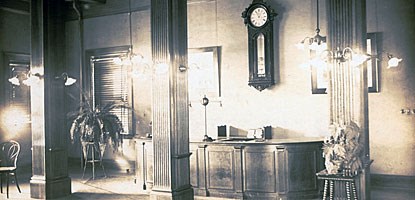 Keweenaw National Historical Park's museum and archival collections are accessible to researchers by appointment only. At least twenty-four hour advanced notice is required, but does not guarantee staff availability. No rush orders will be accepted. Please contact Museum Services staff for more detailed information regarding research in the museum collection. The collections are closed on all federal holidays and weekends.
Please Note:
The Keweenaw History Center, home of the park's museum and archival collections, is a historic structure that is not accessible to wheelchair users at this time. Future projects for the building will provide for universal accessibility.
Research Requests
To access Keweenaw's museum and archival collections, researchers must complete and sign the following forms: Access Policy, Researcher Registration form and Copyright Waiver. You may submit your request electronically to park archivist, Jeremiah Mason, who will respond with the email address for sending in your forms, or you may mail the forms to:

Keweenaw National Historical Park
Attention: Park Archivist
25970 Red Jacket Road
Calumet, MI 49913
For further information, please contact the park archivist at:
(906) 483-3032
Additional Area Resources for Researchers
Listed below are other institutions or organizations that manage museum collections or archives and provide services for historical research.
The Michigan Technological University Archives and Copper Country Historical Collections houses a wide variety of print, graphic and manuscript resources. Subject coverage includes University and campus life, towns and cities throughout the Keweenaw Peninsula, and the companies, social organizations, events and personalities of the Copper Country and Michigan's Upper Peninsula.
The Finnish American Historical Archive houses the largest collection of Finnish-North American materials in the world. Along with archival materials, the collection includes genealogical resources, information about Finnish culture, artifacts, and North America's largest collection of Finnish-American artwork.
Last updated: June 8, 2022