Keweenaw People - Maggie Walz
Maggie Walz made a name for herself by helping others.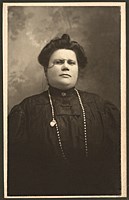 Born Margareeta Johanna Konttra Niiranen in Tornio, Finland, in 1861, Maggie Walz came to the United States at the age of twenty. After arriving in Michigan's Upper Peninsula, she took a job as a domestic servant for the Jacob Ojanpera family in Oskar, near Houghton. Walz had other aspirations, however. She learned to speak English by attending night school after her workday was done. Like many immigrants of the day, Walz changed her name to be more readily accepted in mainstream American society. She then took a job selling sewing machines, pianos and organs door-to-door. Later, she worked as a sales clerk. These experiences helped her master her language skills and taught her the elements of commercial trade.
Walz set her sights beyond the Finnish immigrant community, but she was also very active within it. She attended the Finnish Apostolic Lutheran Church, and was a founding member of Pohjantahti (Northern Star), a Finnish temperance society established in Hancock in 1885. She also helped the local Finnish community grow: in 1887, she returned to Finland and came back to the United States with fourteen young women immigrants. Walz helped more Finnish women come to the U.S. by underwriting their passage, teaching them English, and helping them find employment. This endeavor led to other business opportunities. She became a ticket agent, a notary public, and opened a currency exchange. She also provided interpretation services for Finnish-speaking immigrants in business, legal, and other transactions for which English was essential.
During this era in the Copper Country, women did not typically pursue the professions that Walz chose. By establishing herself as an independent businesswoman, she challenged the notions of women's proper role in late 19th century society. She was often described as unladylike, if not downright masculine. "She may wear skirts, but she's no lady!" was an expression commonly quoted in her regard. Others said "she had a voice like a sea-captain's."

Walz's independent approach to her professional life applied to her personal activities as well. Along with a group of friends, she attempted to establish a women's suffrage organization in 1888; their efforts did not meet with much success. Yet Walz was well-regarded, especially in the Finnish immigrant community. Many people owed her a debt of gratitude for helping them make a start in their adopted country long after they had repaid the financial investment she made in their interest.
Walz left the Keweenaw to earn a degree in business from Valparaiso College in Indiana. When she returned in 1894, she successfully organized the
Calumet Suomen Nais-Yhdistys
(Calumet Finnish Women's Society), which was dedicated more broadly to the general advancement of women, rather than to suffrage alone. It later became a national organization. The society published a newspaper – the
Naisten Lehti
(Women's Paper) – that was eventually distributed nationally. Walz was largely responsible for its publication, serving at various times as business manager, editor, and publisher. At times, Walz produced the paper entirely by herself, and at her own expense. In addition to her work with the
Naisten Lehti
, Walz was the business manager for another major Finnish-American paper, the
Amerikan Suometar
, which was also published in Calumet and distributed nationally.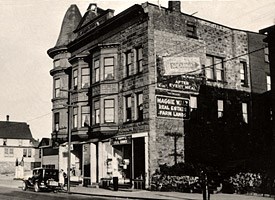 In 1902, Walz built a stately, three-story business block on Pine Street, the commercial center of Calumet's Finnish community. Charles K. Shand, the architect who designed the Red Jacket Opera House (now known as the Calumet Theatre) also designed Walz's building. The Walz Block housed businesses in two storefronts and other rooms on the ground floor, including the
American Suometar
business office, and a clothing store operated by Walz herself. Meeting rooms, offices and apartments occupied the upper floors. The pediment of the building announced itself boldly in a stylized inscription designed to look like Walz's signature, a personalized touch which, though unusual, was perfectly in character for Walz.
Walz did not limit herself to the Copper Country: in 1903, at her initiative, she became the federal land agent for Drummond Island, a large island in Lake Huron at the eastern end of the Upper Peninsula. She founded a Finnish colony there in 1905, based on the ideals of temperance, cooperative capitalism, and Christianity. In her honor, the community was named Kreetan, a shortened form of Margareeta, similar to "Maggie" in English. Walz traveled back and forth across the Upper Peninsula for a number of years, maintaining business interests in Calumet as well as on Drummond Island, where she was the postmistress. However, she disassociated herself from the colony when a group of socialists took it over in 1914.

By that time, attitudes about women's rights were shifting. Instead of describing her as unladylike, a Detroit newspaper declared that Walz was "a fine type of independent womanhood, about 40 years of age. She has a good physique and possesses a frank, friendly manner, inspiring confidence in her ability. She is actuated by a desire to benefit her countrymen." The article goes on to list her many business and social accomplishments. This change in perception indicated the arrival of a more modern age that Walz herself may have helped create.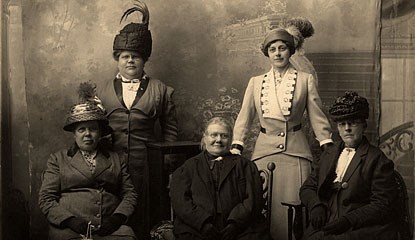 Over the next few years, Walz traveled around the United States, establishing branches of Calumet's Suomen Nais-Yhdistys in other areas. She was active in the Michigan Women's Christian Temperance Union, and was the American delegate to the International Women's Christian Temperance Union meeting in Glasgow, Scotland in 1910. She subsequently participated in a women's delegation to the Coolidge administration in Washington, D.C. As she became increasingly well-known around the country, newspapers began profiling her. Sometimes they referred to her (presumably with the best of intentions) as the "angel of the roundheads," as Finnish immigrants were somewhat disparagingly known. She was also called the "Jane Addams of Northern Michigan" for her community work.

Maggie Walz died in 1927 at the age of 65 at Memorial Hospital in Laurium, where she was being treated for pneumonia. Whether people viewed her as an angel or pioneer of social welfare, one thing is certain: Walz determined her own path in life. After making her way to an unfamiliar country, she proceeded to establish herself in the community. She worked to better the lives of her fellow Finnish immigrants and women in Calumet and beyond. She acted locally, nationally, and internationally to advance women's rights, and was a powerful advocate for new American citizens.
Last updated: January 23, 2018