Timeline of Michigan Copper Mining 1951 to Present

1955
Copper Range opens the White Pine Mine, which mines copper sulfide instead of native copper. After working through the difficulties presented by this different kind of mine, White Pine becomes the major producer of copper in Michigan.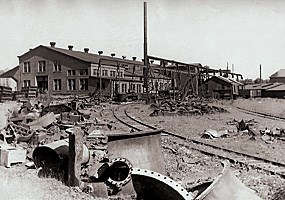 1968
C&H closes. Since the Korean War, C&H's profits from its mines were small, but it continued to keep some small operations open while waiting to find another big lode. Earlier this year C&H was bought out by Universal Oil Products.
Between the mid-1840s and 1968, Keweenaw Peninsula mines produced an estimated 10.5 billion pounds of copper.
"The company had been going for over a hundred years, and the workers just didn't feel like they would possibly shut it down. I think we had something like fourteen hundred people on our payroll at that time. But when you can't make a profit, it's the only alternative that you have."
- Director of Geology, Randall Weege, describing the 1968 closure of C&H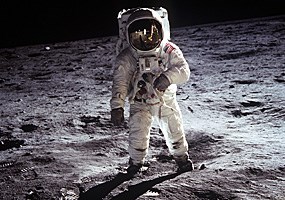 1969
On July 20th, astronauts Neil Armstrong and Buzz Aldrin are the first humans to step onto the surface of the Moon.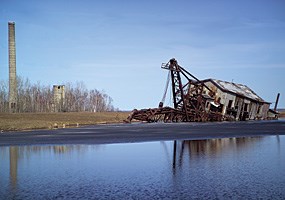 1986
The Environmental Protection Agency places several sites along Torch Lake and the Quincy Smelter on the National Priorities List, making them eligible for cleanup through the Superfund program. For nearly 100 years, copper company mills and smelters produced mill tailings (also known as stamp sands) containing metals that contaminated the lake sediments and shoreline. About 200 million tons of tailings were deposited in Torch Lake alone, displacing about 20 percent of the lake's original volume. Remediation of the environmental impacts will begin in 1998 and continue until 2004.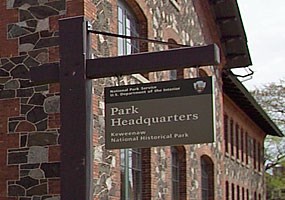 1992
With his signature of approval on October 27, 1992, President George H.W. Bush creates Public Law 102-543, establishing Keweenaw National Historical Park.
... to preserve the nationally significant historical and cultural sites, structures, and districts of a portion of the Keweenaw Peninsula in the State of Michigan for the education, benefit, and inspiration of present and future generations.
- from Public Law No: 102-543
1997
The White Pine Mine in Ontonagon County suspends underground operations, closing the last industrial copper mine on the Keweenaw Peninsula.
2006
Kennecott Minerals Company submits a permit to mine a nickel and copper deposit located in Michigamme Township, about 25 miles northwest of the city of Marquette.

The growing economies of China, India and other industrializing nations, raises the demand for and price of copper.
Last updated: April 10, 2015