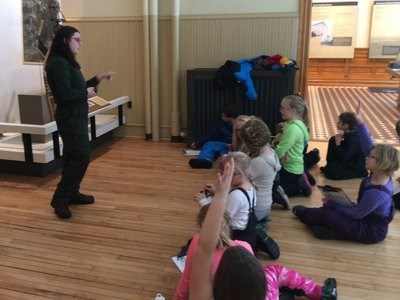 Calumet Visitor Center Field Trips
The Calumet Visitor Center at Keweenaw National Historical Park has three floors of exhibits that are geared toward multiple learning styles and age groups. Explore how copper influenced the history of the area and continues to today. Plan to spend at least an hour at the Visitor Center, but your class may need more.
1. Field trips are based on availability Monday - Friday during the school year.
If you would like to request a field trip to the Calumet Visitor Center, please submit this form online.
2. Transportation costs to the Calumet Visitor Center can be reimbursed by the Keweenaw National Historical Park Advisory Commission.
To request or receive reimbursement, follow the directions on this form.
3. Keweenaw National Historical Park offers
curriculum materials
that can be utilized in the classroom and/or during a Visitor Center visit for select grades.
If you have questions regarding field trips, please contact Katie Keller, Education Technician at (906) 483-3175 or kathryn_keller@nps.gov.