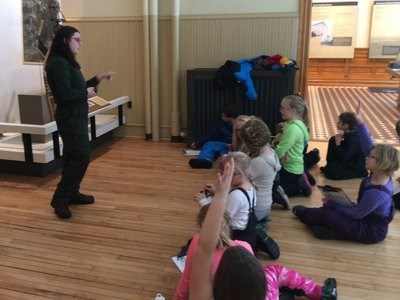 Visit the Calumet Visitor Center
The Calumet Visitor Center at Keweenaw National Historical Park has three floors of exhibits that are geared toward multiple learning styles and age groups. Explore how copper influenced the history of the area and continues to today. Plan to spend at least an hour at the Visitor Center, but your class may need more.
1. The Calumet Visitor Center has the following operating hours for the 2017-18 school year:
Through September 30
: Monday - Saturday 9:00 a.m. - 5:00 p.m.
October 1 - October 31
: Wednesday - Saturday 9:00 a.m. - 5:00 p.m.
November 1 - May 25
: Friday - Saturday 10:00 a.m. - 3:00 p.m.
If you would like to visit the Calumet Visitor Center during one of the above dates and times, please
submit this form online
.
If you would like to visit the Calumet Visitor Center on a different date or time, please contact Katie Keller, Education Techinician at kathryn_keller@nps.gov or call (906) 483-3175.
2. Review the Pre-Visit Letter for teachers.
Please Note:
Larger groups need to be
divided into smaller groups of 15 or less
during their visit. This allows students more opportunities to interact with the exhibits, and other visitors in the museum to be less impacted. There needs to be at least one adult with every smaller group of students. Groups will be assigned to different areas of the visitor center throughout the visit.
3. Transportation costs to the Calumet Visitor Center can be reimbursed by the Keweenaw National Historical Park Advisory Commission.
To receive reimbursement, follow the directions on this
form.
4. Keweenaw National Historical Park offers curriculum materials that can be utilized in the classroom and/or during a Visitor Center visit for select grades.