An Immigrant Story - John Petermann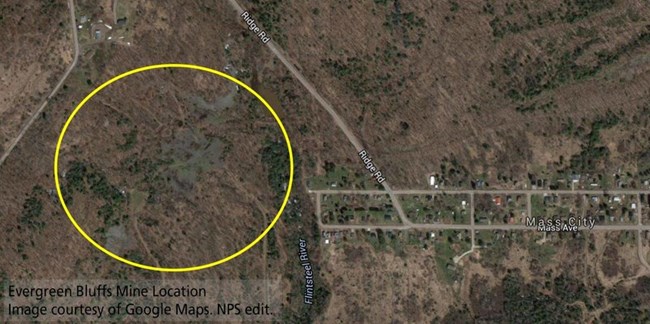 The Evergreen Bluff Mining Company near Mass City was incorporated in 1853. For John Petermann, late of Württemberg, Germany, the mine would play a role in an immigrant story.
John arrived in the Copper Country with his wife Elizabeth Marie and infant daughter Christina after residing for several years in New York. Other family members accompanied them to Michigan: in 1860 John, Elizabeth, and Christina were living with John's mother, Eve Barbara Petermann, his sister Fredricka (Petermann) Rehfus, Fredricka's husband John Rehfus, and John's father Caspar Rehfus in Ontonagon. It was not uncommon for extended families to make a home together. During the week, John and his brother Ferdinand boarded at the Charles Witt family home near Mass City, where they worked for the Evergreen Bluff mine.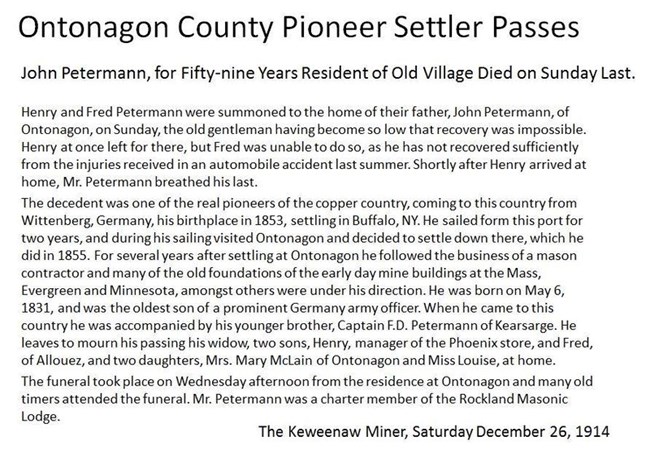 By 1880, John had left his work at the mines behind. He found work in town and the family had a small farm in Ontonagon, which consisted of seven acres tilled, five of orchard, and two of woodland. There he lived until his death in 1914 at the age of 83. His surviving children also lived and worked in the Copper Country. John Petermann Jr. followed his father's trade, becoming a mason and plasterer. Fred Petermann became a storekeeper for his entrepreneurial cousin Ferdinand, Jr. at the Petermann Store in Allouez, Keweenaw County. Henry Petermann managed another Petermann store in nearby Phoenix. Daughter Louisa Petermann waited tables at Richard Burge's hotel in Red Jacket in Houghton County and never married. Her sister Mary wed a McLain, who left her a 35-year-old widow with six children in 1899.
Last updated: January 5, 2018