An Immigrant Story - John Kohtala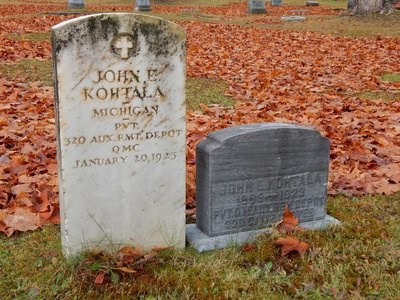 John Emil Kohtala came with his mother and sister from Vaasa, Finland to join father Victor in 1906. Victor had found employment at a Portage Township copper mine, and the family saved up for a farm near Chassell.
In 1917, John was a young farmer of 21 who described himself as slight, of medium height, and fair-haired on his World War I Draft Registration card. He was drafted in 1918 and served as a Private in the Auxiliary Remount Department (320 Mobile Veterinary Section) of the Quartermasters Corps of the U.S. Army. His experience as a farmer would have been valuable to his section.
Discharged from service after the Great War's end, John soon himself facing another battle--this time against tuberculosis. His death in late 1923 at the age of 28 would likely be preventable today.
Last updated: April 4, 2018