An Immigrant Story - Helmi Jokelainen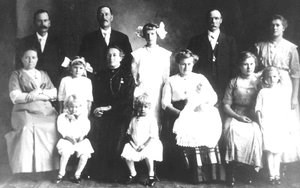 Helmi Jokelainen was born in Kemi, Finland about 1887. She began
an immigrant story
in 1905, coming to the United States aboard the S.S. Caronia with her aunt and uncle, Nanny and Carl Haapala. They were headed for Ironwood, Michigan, where they would join Helmi's aunt and Nanny's sister, Olga Bostrom. Five years later, the 1910 census shows Helmi living with Olga and her husband John in their apartment above the family's general store at Norrie Location.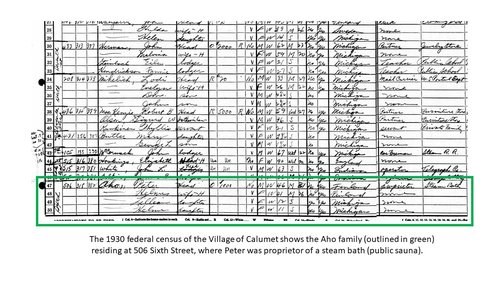 Migration was fluid between the copper and iron mining ranges of the Upper Peninsula. About a decade after Helmi's 1915 marriage to fellow Finnish immigrant Pekka Aho, the couple moved to Calumet. They operated a public sauna at 504-506 Sixth Street, behind today's Harter's Party Store. In addition to running the bathhouse, Pekka (Anglicized to Peter in the U.S.) was a lay preacher and musician.
You can hear Pekka and their daughter Lillian in one of Alan Lomax's 1938 recordings
, courtesy of the Library of Congress.
Last updated: March 13, 2019