Things To Do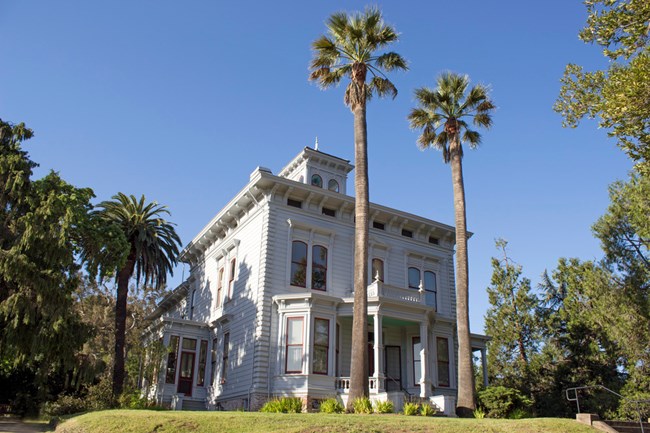 Visitor Center and Muir/Strentzel Home
Begin your exploration of John Muir's life and legacy at the visitor center, located at 4202 Alhambra Avenue in Martinez, California. NOTE: The park film is currently not being shown. Watch the 20-minute film, A Glorious Journey, to gain an in-depth view of Muir's contributions to conservation. You may explore the Muir/Strentzel house and the grounds on your own. Admission to the park and home are free and no reservations are required for general visits. For large groups, please visit our Permits and Reservations page.
Ranger Programs
NOTE: We are currently not offering guided tours
Join a ranger or docent-led tour of the first floor of the Strentzel-Muir House all week at 2 p.m., with additional 11 a.m. tours on Saturdays and Sundays. If you'd like a tour of the grounds, please refer to the Cell Phone Tour information below. If you need to schedule a large group tour, please call (925) 228-8860.
Mount Wanda Hiking and Exploring
Named after his eldest daughter, Mt. Wanda is 326 acres of oak woods and grasslands. The Muir family never used it for fruit production, but as an escape for the daughters to take nature walks with "Papa".

Explore the hills where John Muir hiked with his two daughters, Wanda and Helen. Mount Wanda is open daily sunrise to sunset. Please come prepared, as no water or toilet facilities are available. Pets are permitted on a leash. Bicycles and horses are allowed on fire roads only. To access Mt. Wanda, travel ¼ mile south from the visitor center on Alhambra Avenue to the trail head parking lot next to Franklin Canyon Road.
The Strentzel/Muir Family Gravesite Tour
Enjoy this video (Youtube) about the Strentzel/Muir Family Gravesite opening.

The gravesite where John Muir is buried along with family members is open to the public and is self-guided Monday through Friday from 10:30am to 4:30 pm. Ranger led tours of the site are available on Saturday and Sunday when staff is available. Reservations are required due to limited seating for transportation. Call 925-228-8860 extension 0 for reservations.

Note: There is uneven ground at the site, and no amenities, so please wear comfortable shoes and bring water. Conditions can get muddy and heavy rain will cancel the tour.
Cell Phone Tour of Grounds
Take a self-guided cell phone tour of the park grounds. Numbered wooden posts located on walking paths contain the phone number to dial as well as sequential stop numbers. There are no cell stops inside of the Muir home, but rangers or volunteers can answer any questions you have. Also, we provide guided tours of the bottom floor of the Muir home at 2 PM each day.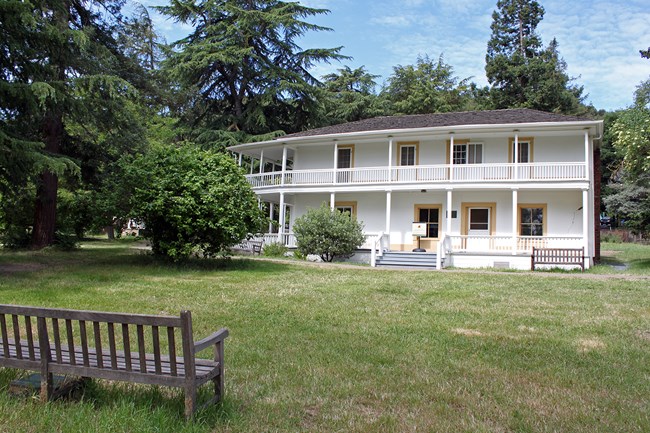 Martinez Adobe
The Martinez Adobe, located on the western edge of John Muir's historic orchards, features bilingual exhibits for the Juan Bautista de Anza National Historic Trail. Come learn the story of the Anza Expedition, when Spanish Lt. Colonel Juan Bautista de Anza led 240 men, women and children up the California coast in 1775. For more information, vist the Juan Buatista de Anza website.
Picnicking
Enjoy a picnic atop Mount Wanda or beneath the shade of redwood and pecan trees in John Muir's historic orchards. It is required for all groups to take any supplies or trash with them when they leave.
Seasonal Programs
Seasonal wildflower walks, campfire programs, bird walks and full moon walks are available on Mt. Wanda. Check the "Calendar" section on our website for current seasonal tour information, or call the park for more information at: (925) 228-8860 x0.
Become a Junior Ranger
Children of all ages - and children at heart - can obtain a Junior Ranger activity booklet from the front desk. Complete the booklet to earn your official Junior Ranger badge!


Last updated: August 16, 2021