Plan Your Visit
Who Was John Muir?
John Muir was a writer, a lecturer, a geologist, a botanist, a glaciologist, an explorer, a school teacher, an inventor, a fruit rancher, a husband, and a father.
Muir was perhaps this country's most famous and influential naturalist. If it weren't for John Muir and his writings, we probably would not have Yosemite National Park as we know it today. He was also involved in the creation of the Grand Canyon, Kings Canyon, Petrified Forest, and Mt. Rainier National Parks. Additionally, his writings about Alaska led to further preservation of the landscape over time. Because of his influential writings and role in the creation of multiple parks, he is often called "The Father of Our National Park System."

John Muir National Historic Site is located in the Alhambra Valley, just 2 miles south of Martinez, California and approximately 30 miles east of San Francisco. The historic home of the United States' most influential preservationist and naturalist is open seven days a week from 10 am to 5pm. There is no entrance fee!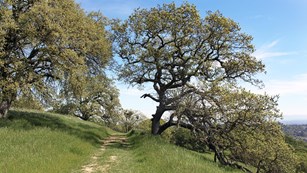 Things to Do!
Click here to learn about the ways you can enjoy the John Muir National Historic Site.
Last updated: March 24, 2021