People
John Muir Audio Quotes

Enjoy 16 of John Muir's famous quotes, in audio format. We can't claim that Muir recorded them, himself, but there's certainly a familiar Scottish accent. You may download the file to your device or computer and listen to them offline.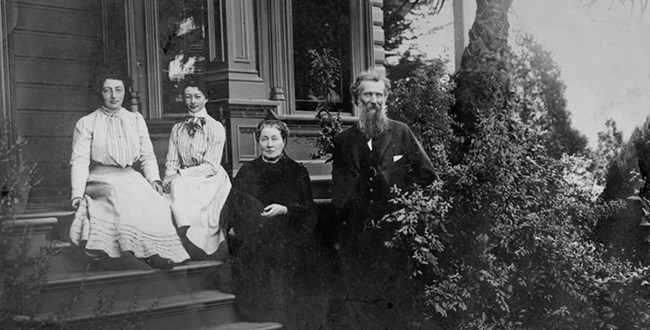 John Muir: A Passion for Nature
"When we try to pick out anything by itself, we find it hitched to everything else in the Universe." - John Muir
En español
A leaf, a flower, a stone - the simple beauty of nature filled John Muir with joy. Muir shared his love of nature through writing and inspired people to protect our country's wild places, fueling the formation of the National Park Service and the modern conservation movement. Muir loved all things wild and saw humans as one small part of nature. He valued the natural world not only for economic gain, but for its beauty and healing powers. Muir championed the revolutionary idea that wild spaces should be set aside for all to enjoy.
Life in the Wild
"Tracing the ways of glaciers, learning how Nature sculptures mountain-waves in making scenery…beauty that so mysteriously influences every human being, is glorious work." - John Muir
Muir's passion for nature brought him to every continent except Antarctica. He experienced fantastic adventures - climbing a 100-foot tree in a thunderstorm, inching across a narrow ice bridge in Alaska, and spending a night in a blizzard on Mt. Shasta. Muir transformed his adventures into articles and books that sparked peoples' interest in nature.
Muir's grandfather helped kindle Muir's love of nature at an early age by taking him on walks through the Scottish countryside. In 1849, when Muir turned 11, his family moved to Wisconsin and started a farm, where his nature lessons continued. As a young man, Muir studied biology, botany and geology at the University of Wisconsin before venturing to see nature's wonders.
With a plant press in his backpack, Muir walked more than 1,000 miles from Kentucky to the Gulf of Mexico, gathering specimens along the way. His curiosity carried him further to California and Alaska, where he tracked the movements of glaciers. He discovered glaciers in Yosemite and was the first to suggest that ice shaped its valleys.
Sharing a Progressive Vision
"No amount of word-making will ever make a single soul to 'know' these mountains. One day's exposure to mountains is better than a cartload of books" - John Muir
Muir's descriptions of glaciers and sequoias brought the beauty of nature to readers nationwide. His ideas on saving land changed how the United States viewed wilderness. As increased settlement ended the western frontier in 1890, people began to worry about using resources wisely.
Muir urged people to write politicians and "make their lives wretched until they do what is right by the woods." In 1890, unchecked grazing, logging and tourism were damaging Yosemite. Muir's articles "The Treasures of Yosemite" and "Features of a Proposed Yosemite National Park" appeared in Century Magazine, which boasted more than one million readers. A month later, Congress designated Yosemite a national park.
Friends and family encouraged Muir to write. He struggled with writing yet recognized the power of prose and worked tirelessly in his "Scribble Den," his upstairs office in his Martinez home.
Writing for a Cause
John wrote and had published over 300 magazine articles and 12 books. These books and articles bubble over with his love of adventure, nature, wildness and the inter-connectivity of it all. At the time of his death he was working on a book about his travels in Alaska. He had plans and enough material in his notebooks for ten more books.
Picturesque California-1888
Mountains of California-1894
Our National Parks-1901
Stickeen-1909
E.H. Harriman-1911
My First Summer In The Sierra-1911
The Yosemite-1912
The Story of my Boyhood and Youth-1913
Travels In Alaska-1915
A 1000 Mile Walk To The Gulf-1916
Cruise Of The Corwin-1917
Steep Trails-1918
Words into Action
"The battle for conservation must go on endlessly. It is part of the universal warfare between right and wrong." - John Muir
Muir's popular writings caught the attention of President Theodore Roosevelt, who invited him camping in Yosemite. Roosevelt left behind reporters and his Secret Service agents for the company of two park rangers, an army packer, John Muir and the wild. They spent three days exploring meadows and waterfalls and three nights discussing conservation around campfires. One night, five inches of snow fell, and the president arose to white flakes on his blankets. Inspired by his trip with Muir, Roosevelt set aside more than 230 million acres of public land - an area bigger than the size of Texas - that included five national parks and 18 national monuments.
Muir's advocacy helped create several national parks, including Sequoia (1890), Mount Rainier (1899) and Grand Canyon (1908). He wrote "only Uncle Sam" could save our country's land for future generations to enjoy, an idea that led to the creation of the National Park Service in 1916.
Muir and other concerned citizens also founded the Sierra Club, a nonprofit organization promoting outdoor recreation and environmental advocacy. With more than one million members, this grassroots group continues Muir's work to this day.
Muir's Conservation Legacy
Thanks to Muir's vision, you can visit over 400 National Park Service sites. Called "America's Best Idea," the United States' unique system of protecting natural and cultural heritage spurred other countries to do the same. Muir's writings and the places he fought to protect continue to inspire people worldwide to discover and connect with nature.
Muir's conservation legacy lives on at the John Muir National Historic Site and in our daily actions. There will always be a need for people to stand up and change their communities for the better.
| | |
| --- | --- |
| 1838 | April 21, John Muir born in Dunbar, Scotland. |
| 1841 | Began school at the age of three. |
| 1849 | Immigration to Wisconsin at the age of 11. |
| 1860 | Left home to exhibit his inventions at State Agriculture Fair in Madison, Wisconsin; brief jobs; enrolls at the University of Wisconsin. |
| 1861-1862 | Attends University of Wisconsin for 2-1/2 years, teaches school during the winter, forms a friendship with the Carr's. |
| 1863 | Left the University; foot tour of Wisconsin, Iowa, Illinois, and Canada. |
| 1866 | Indianapolis: worked for manufacturer of carriage parts. |
| 1867 | Eye injury. Begins 1000 mile walk to Florida and then to Cuba. |
| 1868 | Voyage to California: landed in San Francisco, March 28, and walked across the valley; worked at ranch of Pat Delaney. |
| 1869 | Summer sheepherder in high Sierra;returned to live in Yosemite to work for Hutchings, to operate sawmill; began exploration for signs of glaciers. |
| 1871 | Met Emerson in Yosemite. |
| 1872 | Began to publish articles in leading magazines. |
| 1873 | Continuous residence in Yosemite ended. |
| 1874 | Met the Strentzels in Alhambra Valley. |
| 1875 | Lived in Bay Area writing magazine articles; trips to mountains; Utah. |
| 1879 | Proposed to Louie Strentzel; First Alaska trip with S. Hall Young; discovery of Glacier Bay, Muir Glacier. |
| 1880 | April 14: Marriage of John Muir (42) and Louie (33); Second trip to Alaska, adventure with Stickeen. |
| 1881 | John Swett bought ranch adjoining Muir holdings.Birth of Wanda Muir; third trip to Alaska aboard the Corwin. |
| 1880-1882 | Construction of the mansion. |
| 1882 | Beginning of extensive ranching period. |
| 1886 | Birth of Helen Muir. |
| 1888 | Trip to Mt.Rainier; editor and contributor of Picturesque California, two volumes. |
| 1890 | Alaska trip to Muir Glacier; death of Dr. Strentzel;Muir family move to mansion. |
| 1890 | Yosemite becomes a National Park. |
| 1892 | Founding of the Sierra Club, end of ranching career for John Muir. |
| 1893 | Trip to Europe with William Keith. |
| 1894 | Mountains of California published. |
| 1899 | Mt. Rainier National Park established; member of Harriman Alaska Expedition. |
| 1901 | Our National Parks published. |
| 1903 | Theodore Roosevelt visited Yosemite. |
| 1904 | World tour. |
| 1905 | Helen ill, Adamana, Arizona for recovery; death of Louie Strentzel Muir, August 6. |
| 1906 | San Francisco earthquake, repair of house, marriage of Wanda to Thomas Hanna. Petrified Forest becomes a national monument. |
| 1907 | Fight to save Hetch-Hetchy Valley. |
| 1908 | Grand Canyon National Park established. Muir Woods National Monument established. |
| 1909 | Stickeen Published (John's only children story). |
| 1910 | Helen married Buel Funk. |
| 1911 | My First Summer in the Sierra Published. |
| 1911-1912 | Trip to South America and Africa (73 years old). |
| 1912 | The Yosemite Published. |
| 1913 | The Story of My Boyhood and Youth Published. |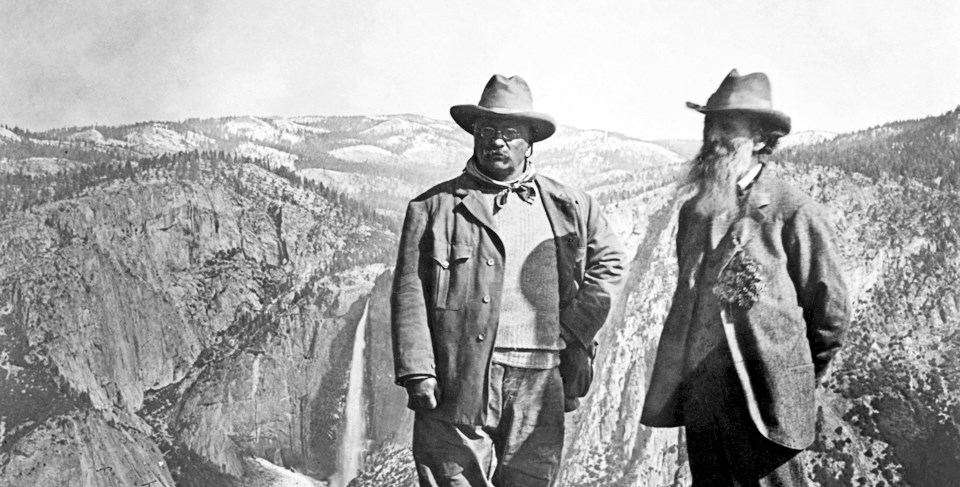 John Muir and President Roosevelt
In 1903, Roosevelt visited Muir in Yosemite. Guided into the Yosemite wilderness by naturalist John Muir, the president went on a three-day wilderness trip that started at the Mariposa Grove, and included Sentinel Dome, Glacier Point, and Yosemite Valley among other points of interest in Yosemite National Park. Muir seized the opportunity "to do some forest good in talking freely around the campfire," and the President, referring to John Muir, is quoted as saying "Of course of all the people in the world, he was the one with whom it was best worthwhile thus to see the Yosemite."
Roosevelt and Muir camped the first night, May 15, at the Mariposa Grove under the Grizzly Giant, with the President bedding down in a pile of about 40 wool blankets, and the second night was spent in the vicinity of Sentinel Dome during a snowstorm that left five inches of new snow on top of the existing five feet of snow. The third night of camping was at the edge Bridalveil Meadow in Yosemite Valley, where President Roosevelt was Muir's captive audience to hear a convincing plea for Yosemite wilderness and for setting aside other areas in the United States for park purposes. That night, during the campfire discussion, Muir's main focus of conversation was not only the need for forest preservation but also his concern that the California State Grant of Yosemite Valley and the Mariposa Grove, surrounded in 1892 by Yosemite National Park, be receded to the United States for inclusion in the park. Roosevelt agreed that two controls made for "triple troubles." Eventually, their discussion prompted the Presidential signature on the Yosemite Recession Bill in June 1906. This Joint Resolution accepted the recession by the State of California of the Yosemite Valley Grant and the Mariposa Big Tree Grove, now the Mariposa Grove of Giant Sequoias, which withdrew them from state protection and put them under federal protection, making them part of Yosemite National Park.
"There can be nothing in the world more beautiful than the Yosemite, the groves of the giant sequoias...our people should see to it that they are preserved for their children and their Children's children forever, with their majestic beauty all unmarred," said Theodore Roosevelt.
During his presidency, Theodore Roosevelt signed into existence five national parks, 18 national monuments, 55 national bird sanctuaries and wildlife refuges, and 150 national forests (Source for forgoing: "100th Anniversary of President Theodore Roosevelt and Naturalist John Muir's Visit at Yosemite National Park" - National Park Service Press Release (May 15, 2003).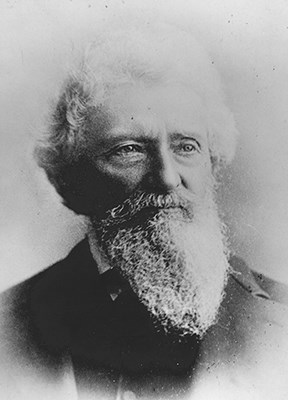 Dr. John Theophile Strentzel
John Muir's Father-in-Law. Dr. John Strentzel was born in Lublin, Poland, November 29, 1813. His family was well-to-do, and able to provide a life of "being attended with all desirable comforts". At age six, he was sent to school along with the sons of officials and nobility. In 1830, he joined in an attempted overthrow of the Russian domination of Poland. When the revolution failed the following year, John Strentzel was forced to flee his homeland and move to Hungary. Here he gained knowledge of vineyard culture and the wine trade. He also began his medical studies at the University of Pesth, Hungary, and received his diploma in 1839.
Dr. Strentzel immigrated to the United States in 1840 and moved west to Texas where he settled and married Louisiana Erwin in 1843.Their first child, a daughter named Louisa (Louie), was born in 1846, and a son, John, in 1848. The family moved to California during the 1849 Gold Rush, enduring many harrowing experiences before settling along the Tuolumne River and establishing a ferry, a hotel and a general store. Later, they took up farming along the Merced River but lost the farm in a flood. A second daughter, Lotta, was born in 1851 but lived only four months.

Seeking a quieter life, the Strentzels moved to the Alhambra Valley near the town of Martinez, California, in 1853. The doctor bought 20 acres of land and used his Hungarian vineyard knowledge to begin experimenting with a wide variety of grapes, fruit and nut trees, as well as ornamental plantings. Importing seeds and cuttings from around the world, Dr. Strentzel employed new scientific methods in horticulture, exhibiting oranges and award-winning wines as early as 1861.

Dr. Strentzel's fortunes increased over the years as demand for his produce grew. He bought additional land and planted large vineyards and orchards that included Muscat, Zinfandel and Tokay grapes, and over 50 varieties of pears. People came to view and write about the famous "Alhambra gardens" of Dr. Strentzel.
Eventually, Dr. Strentzel tried over 1,000 varieties of fruit trees and ornamentals, earning a solid reputation as a pioneer and authority on California horticulture. He contributed articles on his research to numerous publications, gave college lectures on agriculture, and helped establish and lead state and local Grange organizations to promote agricultural interests. He also found time to be a school trustee and president of the Martinez Gas and Electric Company.
The death of the Strentzel's son, John, in 1857, was a crushing blow to the family. Their only remaining child, Louie, received an extensive education and became a pianist of concert caliber. She was devoted to her parents, however, and chose to remain with them on their fruit ranch, helping them run their large and thriving business. Muir and the doctor were mutually impressed with each other, and a warm friendship began. The Strentzels were delighted when Muir proposed to Louie in 1879. Dr. Strentzel gave the newlyweds 20 acres of land and the Strentzel home to live in when they were married the following year. At age 67, Dr. Strentzel gained the son he had always wanted.
In 1882, Dr. Strentzel built a 17-room mansion on a knoll overlooking his vast orchards, about a mile from his original home. John Muir took over as ranch manager, overseeing the 2,600-acre operation when the doctor's health began to fail. Capitalizing on cash crops already established by his father-in-law, Muir secured his own modest fortune over the next ten years, enabling him to resume his writing and conservation career later on.
Dr. Strentzel continued his horticultural work and practiced his medical skills whenever required. On one occasion he saved the life of a man who had been struck in the head with a pickaxe. Strentzel never forgot his Polish heritage. He kept several scrapbooks on Polish achievements and entertained many Polish artists and writers, among who were Henry Sienkiewicz, author of Quo Vadis, and the famous Polish actress, Madame Modjeska. In 1880, a commemorative committee presented Dr. Strentzel with a document honoring him for his participation in the 1830 Polish National Uprising. Perhaps Dr. Strentzel's last years can best be described in his own words. He wrote in a short autobiography: "My faithful companion (Louisiana) and I live very comfortably and quietly in our declining years. We have a commodious house with pleasant surroundings, in the midst of orchards and vineyards in full view of Martinez and Benicia...".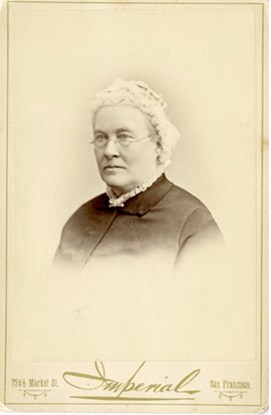 Louisiana Erwin Strentzel
John Muir's mother-in-law, Louisiana Erwin Strentzel, demonstrated the spirit and courage women needed to survive life as American Pioneers. While she suffered great losses, illnesses, and hardships, she protected and supported her family on its journey to a life of contented prosperity. Like her Victorian peers, Louisiana documented her experiences in letters and journals. She bore three children with her husband, Dr. John Strentzel, whom she married in 1843: a daughter, Louisa "Louie" Elizabeth Wanda (1846), a son, John "Johnny" Erwin Burcham (1848), and another daughter, Carlotta "Lottie" (1851). Lottie only lived 4 months and Johnny passed away at age 9.

Drawn by the gold rush in 1849, the Strentzels packed up their belongings and children and joined a wagon train along a harrowing journey west to California. Once here, the family established a ferry, hotel, and store along the Toulumne River serving men heading to and from the gold fields. Later, they took up farming along the Merced River, but lost the farm in a flood. Around the same time, Louisiana fell ill and was bedridden for over 3 years.

In 1853, the family moved to the Alhambra Valley near the town of Martinez, California. Dr. Strentzel bought 20 acres of land to experiment with a variety of fruit-growing techniques. Louisiana helped run the family business by managing the Chinese workers who cooked the meals and worked in the orchards. She made sure her only remaining child, Louie, received an extensive education and pursued her talent as a pianist.


Louisa "Louie" Muir
John Muir's Wife. Louisa Wanda Strentzel was born in Texas in 1847. She came to California in 1849, the same year that John Muir was coming to Wisconsin from Scotland. So much has been made of Muir's life that Louie's life and contributions are hardly known. This brief paper is a tribute to Louie and to the help and support she gave her husband in his work. Louie was a wonderful musician, wife, mother, ranch manager and helpmate. Muir did not relegate Louie to an anonymous life in the background -- this is what she herself preferred. She stayed close to home because she wanted to, preferring not to be away more than a day or two. Certainly, she was not inclined to camp out on an Alaskan glacier or even to take a walk in the hills nearby their Alhambra Valley home. Daughter Helen's July 1963 letter contains a rare look at Louie and forms much of what we know about Louie.
In 1849 the Strentzel family came to San Diego, California by covered wagon and then settled along the Merced River. The family operated an inn and then a farm where Louie's father, John Strentzel, began horticultural experiments. After three years in that area, they moved to Arroyo el Hambre (Valley of Hunger)* in 1853 and camped out until their first house could be built. Louie's mother, Louisiana Strentzel, disliked the name of the valley (Spanish soldiers had been unable to find food and nearly starved) and renamed it Alhambra Valley for the popular story published in the mid-1800s by Washington Irving about the Alhambra palace in Spain.
In 1859 Louie's formal education began as a day student at Miss Atkins Young Ladies Seminary across the Bay in Benicia. The Young Ladies Seminary (YLS) opened with 25 students in 1852, founded by local citizens. Miss Mary Atkins became the principal in 1854 and was placed in full control in January 1855. Later in 1855 she paid $2495. for the buildings and property and became owner as well as principal. Mary Atkins was born in Jefferson, Ohio, in 1819 and was an 1845 graduate of Oberlin College. She came to California via Panama in 1853. The seminary was located in an old residence built by a Captain Randall at 153 West I Street between First and Second Streets. Young ladies in search of culture and grace arrived by steamship and horse from various cities in the U.S. including the gold mining towns and from South America, Hawaii, and Mexico. At YLS a neat personal appearance was important notwithstanding the admonition that "no student is to tarry before a mirror for more than three seconds." The 1863 YLS catalog lists departments in English, Language (Latin, French, German, and Spanish) and Fine Arts (Music, Painting, and Drawing). The 1868 commencement audience included Samuel Clemens.
Cyrus Mills, a graduate of the Union Theological Seminary in New York, met Miss Atkins in Hawaii while the latter was on vacation there. Apparently, she wanted to sell the school, for Mills inspected the property later and purchased it for $5000. on October 7, 1865. By that time Benicia had four schools: the Episcopal School for Boys, the Catholic School for Girls, C.J. Flatt's Benicia College, and the Young Ladies Seminary. Mills' friend Dr. I.E. Dwinell, pastor of the Sacramento Congregational Church, accompanied Mills on his inspection visit to YLS. In 1880 Dwinell married Louie and John. Mills had purchased property in Alameda County and in 1870 broke ground for Mills College there. In May 1870 he announced that the next YLS semester would begin August 2 at the new location. Eventually Dr. Dwinell became a trustee of Mills College.
In 1877 Mary Atkins returned to Benicia from Ohio and reopened the old Randall house as a school for girls. This year there were 25 students, the same as when the school first opened in 1852.
Louie Strentzel took the ferry "Carquinez" each day over and back. At the YLS she studied everything from English to Entomology and became a music scholar on the piano. Each day each student was graded, and Louie's report from March 12, 1860, by Mary Atkins, survives. Louie was graded on 22 different subjects and scored a perfect 10 on virtually all of them. Miss Atkins noted that the "Examination passed very creditably. It was an honor to the school."

Among the classical piano pieces Louie learned was Beethoven's Sonata Pathetique. This piece requires considerable musical talent, and we can appreciate the skill on the piano which Louie possessed. If Louie hadn't married Muir, she possibly could have had a career in music had she wanted to. What we know about Louie's music comes from her mother's diary and from some of Louie's sheet music returned to the John Muir National Historic Site by granddaughter Jean Hanna Clark. Louie graduated in May 1864. A copy of the Strentzel's invitation to the Annual Examination of the Pupils survives.

For the next fifteen years after graduation from YLS in 1864 Louie was at home with her parents. During that period, she learned a great deal about fruit ranching, hybridizing, and flowers, and she continued her study of the piano.

Louie first met John Muir on September 15, 1874, at the home of Dr. and Mrs. Carr in Oakland. That same year Dr. Strentzel was organizing the Alhambra Grange, an association of local farmers. In 1876 he built Granger's Wharf and warehouses into the Carquinez Straight portion of the Sacramento River off the Martinez shore. Music was a central theme at the semi-monthly Grange meetings on the first and third Saturdays at 2 pm in the Hall, and Louie played from the Grange song book at those meetings and for her father. One song he particularly liked was named "Hold the Fort." The melody for that song was used in England by the Transport Workers Union and known as "Storm the Fort, Ye Knights of Labor," and by the labor unions in the Eastern US in the 1800s.

On June 1, 1878, Louie played the piano for the Strentzel family and John, and they all sang several Grange songs. Muir commented to Mrs. Strentzel that they almost made a Granger of him that day, and she recorded that in her diary. But in 1882 Muir stated his opposition to the Grange.

Between 1875 and 1879 Mrs. Jeanne Carr was a frequent visitor to the Strentzels. Mrs. Carr was the wife of one of Muir's professors at the University of Wisconsin and the two corresponded for several decades. She had for years been trying to match up Louie and John, and in 1879 the pressure became intense, with Mrs. Carr working over the two of them separately. Eventually Muir gave in to her perseverance and on June 17, 1879, they became engaged, the day before Muir's first trip to Alaska. On a very stormy April 14, 1880, they were married in the Strentzel's white house with white Astrakan apple blossoms decorating the home. A copy of their Marriage Certificate, signed by Dr. Dwinell and witness Mrs. M.A. Hatch, survives. Dr. Dwinell was known to both families: He founded the Sacramento Literary Institute to which Muir lectured in 1876 and 1879; and he was a good friend of Cyrus Mills who purchased the YLS from Miss Atkins in 1865 and who later founded Mills College in Oakland. Muir would have liked Dwinell because of his literary and scientific interests -- he also founded the Agassiz Institute in 1872 following a visit of Louie Agassiz to Sacramento.

The Muirs' daughter Wanda was born March 25, 1881, and daughter Helen on January 23, 1886. Helen's room overlooked the train track, tunnels, and trestle, on the side of Mt. Wanda. She became fascinated with trains and plastered her room with posters from the train companies, learned the timetables, and watched for expected trains coming around the mountain. Both girls accompanied their father on walks in the nearby hills, and Muir named two of the peaks Mt. Wanda and Mt. Helen.

Eventually the girls wanted music lessons. They were interested in the violin, guitar, and piano and needed to practice. Muir was distracted easily from bookmaking in the upstairs Scribble Den and couldn't stand the sounds of nearby practicing. Eventually he relegated the girls' practicing to the soundproof brick room supporting the water tank at the rear of the house. Later that became known facetiously as the Music Room. Probably Louie couldn't play the piano when he was working, and likely she did most of her playing while he was gone. Also, while Muir was gone, Louie managed the fruit ranch very capably, handled the finances and bookkeeping, and even sent checks to cover Muir's hotel bills.

In 1884 Louie accompanied her husband to Yosemite Valley. It was her first and only trip there and was a mistake from the start. She mistook trout for catfish, didn't like hiking about, and saw bears behind every tree. Muir also grumbled about the cost of transporting her several trunks of clothes.

At the end of the '80s when Muir had been home quite a bit of the time, his literary output vanished, and so did his enthusiasm for most everything else. He needed more time in the mountains, away from civilization. Louie recognized this and unselfishly encouraged him to follow his heart. Among her letters which encouraged John back to the mountains is the one from August 9, 1888, letter which he received in Seattle just after a climb of Mt. Rainier:

"Dear John, A ranch that needs and takes the sacrifice of a noble life, or work, ought to be flung away beyond all reach... The Alaska book and the Yosemite book, dear John, must be written, and you need to be your own self, well and strong to make them worthy of you. Ever your wife, Louie." Soon Louie began to sell off the ranch property to lessen the burden.

Louie Muir died on August 6, 1905, and is buried with John, her parents, a brother, a sister and Uncle Henry in the Strentzel/Muir cemetery about a mile from the National Historic Site.

*"Mexican soldiers, disappointed by the lack of game, had dubbed this valley the Arroyo el Hambre, or valley of hunger...In April 1853, the Strentzels began acquiring lands of the deceased Don Martinez, until they owned a main ranch covering 856 acres in the valley and surrounding hills and an extended estate of 2,665 acres, including rangelands in the nearby Briones Hills. Louisiana Strentzel renamed the Arroyo el Hambre the Alhambra Valley, after the sumptuous citadel of the Moorish kings of Spain..." (Worster 279).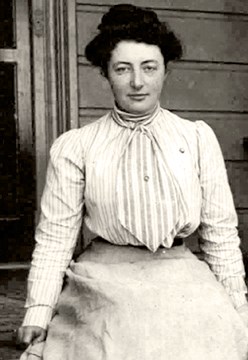 Wanda Muir-Hanna
John Muir's Daughter (1881-1942). Wanda Muir was the eldest of John Muir's two daughters, sister of Helen Muir. Wanda married Thomas Hanna in 1906. She had six children:
John Hanna - lives in Napa, CA (as of 2004)
Ross Hanna - lives in Dixon, CA (as of 2004)
Richard Hanna - deceased 5/9/92.
Strentzel Hanna - deceased.
Bob Hanna - deceased.
Jean Hanna deLipkau Clark - deceased. (Only granddaughter)

The Muir's first daughter, Annie Wanda, was named after her grandmother, Anne Gilrye Muir. Her friends and family called her "Wanda" after her mother's middle name. When she was born in 1881, Muir wrote, "I am now the happiest man in the world." Shortly after Wanda's birth, and at Louie's persuasion, Muir left for Alaska writing the first of many letters to her demonstrating his longing for home and family.

After her sister Helen's birth, Wanda adopted the role of protective older sibling. Her letters to her father often included updates about the family and life on the fruit ranch. She continued the role as caretaker throughout her life. Wanda loved to hike in the hills, play the violin, and was an active member of Gamma Phi Beta Sorority at the University of California, Berkeley. After her marriage in 1905 at age 24, Wanda moved into the adobe house on the property with her husband and college sweetheart, Thomas Hanna. Here in Martinez, they cared for their 6 children and 3 adopted children, maintaining a close relationship with Muir. He joined the family for breakfast every morning, until his death in 1914.

Wanda participated in many civic activities, following in her grandmother's and mother's footsteps. She worked for the school board and headed various women's clubs; was an active Sierra Club member and opened the family home to the city's youth. Today, many of her descendants continue her legacy of service through involvement in environmental organizations.

Wanda wrote to her mother in 1902 from a Sierra Club outing with her father, "Yesterday we had a meeting of college women here in camp...isn't it a fine answer to the people who say that college girls are weak and good for nothing generally? For there wasn't one of us that could not walk comfortably twenty miles, or if necessary, do anything that has to be done around a camp from cooking a camp meal to packing a mule."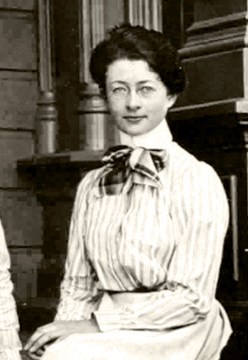 Helen Muir-Funk
John Muir's Daughter. The youngest of John Muir's two daughters. Her sister was Wanda Muir Hanna (1881 - 1942). She was born January 23, 1886 in Martinez, California. Helen married Buel Alvin Funk in October 1909. Together they had four sons:
Muir Haley Funk - b. February 2, 1911. d. Dec. 28, 1978
Stanley Muir (born Stanley M. Funk) - b. July 17, 1912. d. August 17 1962
John Muir (born Buel Funk) - b. June 28, 1914. d. April 23, 1973
Walter Muir (born Walter Muir Funk) - b. May 27, 1916, d. December 9, 2004

Although several illnesses throughout her life kept her mostly at home, in her heart she had an adventurous spirit. She enjoyed hiking, climbing, riding her horse, reading about football, playing her guitar, and observing plants and animals. Most of all she enjoyed watching the trains come through the Muir property. She bought numerous train magazines and hoped to one day become a mechanical engineer. Unfortunately, her poor health made attending school difficult. She spent the majority of her time at home, often helping her father by typing his manuscripts. She also enjoyed writing her own stories and her father hoped that she might follow in his footsteps. After bouts of pneumonia and tuberculosis, Helen moved south to Daggett, CA. Her doctor insisted that a drier climate was the only cure. There she met her husband, Buell Funk, and together they had four children. They bought and sold real estate in addition to running an alfalfa ranch. A friend said that Helen had a convertible that she drove "quite fast" along the dry washes in the desert. After her husband's death, she moved to Spokane, WA. When the National Park Service began restoring the Muir-Strentzel House, she was very helpful in sharing memories of what the house looked like in the early 1900s.
After Funk died in a tragic automobile accident at the age of 47, (1934) Helen and three of her sons changed their name from Funk to Muir - in 1940. The oldest son, Muir Funk, did not because his first name was Muir. Another son, Walter, who died in 2004, told an interviewer that he had every book written by his famous grandfather and many written about him by other authors. He told the interviewer, "The more I study him and the things he did, the more amazed I am. He had the most incredible way of describing things, in words I wouldn't even think of."

Helen died in Spokane, Washington, on June 17, 1964. She is buried next to her husband, Buel Alvin Funk in the Bellevue Memorial Cemetery in Ontario, California.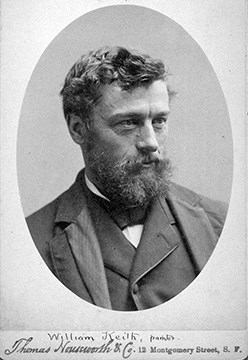 William Keith, a Friend of John Muir
by Steve Pauly
John Muir developed a diverse set of longtime friends from many different walks of life: educators, scientists, writers, philosophers, artists, mountaineers, and confidants. In this issue we discuss one of these friends, landscape artist William Keith.
Muir and Keith met in October 1872 in Yosemite Valley. Keith carried a letter of introduction from a mutual friend, Jeanne Carr. Floy Hutchings led Keith and two other painters to Muir who was at his cabin below the Royal Arches. Keith inquired whether Muir knew of any views that would make a picture. Muir replied that he did, and two days later led the a group of five (Muir, Keith, Irwin Benoni, Thomas Ross, and Merrill Moores) to the upper Tuolumne River area. As it turned out, Willie and Johnnie, as they soon called each other, were born in the same year in Scotland. They became close friends for the next forty years, until Keith's death in 1911. Keith wrote in his journal that "When we got to Mount Lyell, it was the grandest thing I ever saw. It was late in October, and at an elevation of 10,000 fttet. The frost had changed the grasses and a kind of willow to the most brilliant yellows and reds; these contrasting with the two-leafed pine and Williamson spruce, the cold gray rocks, the colder snow, made a glorious sight." Muir reported the outing rather differently, writing that when they rounded a corner and Mt. Lyell came into view, "Keith dashed forward, shouting and gesticulating and waving his arms like a madman." Keith, an epicure, also wrote that Muir was a poor provider on their outings, and that he tired of bread, dried meat, and sugarless coffee.
Muir and Keith enjoyed serveral other outings together, including the Tuolumne Canyon (with Mrs. Carr and Albert Kellogg, 1873); Yosemite Creek, Lake Tenaya, past Mt. Hoffman, Tuolumne Meadows, Soda Springs, Mts. Dana and Gibbs, and down Bloody Canyon to Mono Lake (with John Swett and J.B. McChesney, 1875), Mt. Shasta (1888), and Muir Woods (1908).
The two Scots had differing opinions on many topics. For example, in Keith's early career, he included great detail in his paintings and worked hard, following John Ruskin's admonition "to copy nature," to recreate the scene with great accuracy. Naturally, Muir approved. In later years, Keith avoided detail and became more impressionistic. Muir chided him to put the detail back in. For his part, Keith kept after Muir to take the detail out of his writing.
In 1876 when Muir was highly nervous over his first public lecture in Sacramento, Keith knowing this loaned one of his paintings, The Headwaters of the Merced, telling Muir to take it to the Congregational Church and "Just look at the painting Johnny. You'll think you're back in the mountains. You'll relax and be fine." Muir did take the painting to Sacramento and placed it in the church before the guests arrived. The painting did rescue Muir from a dismal, aploogetic, beginning, and during the lecture, Muir pronounced it "as topographically correct as it is beautiful and artistic."
Several Keith paintings hung in the Muir ranch house, including Yosemite, Tuolumne Meadows, Mt. Shasta, Sierra Scene, Yosemite (on a cigar box lid), Mt. Rainier, a sketch of Wanda, The Berkeley Oaks, and portraits of Dr. Strentzel and Mrs. Strentzel. The Strentzel portraits hang in the County Museum in Martinez. The ranch house has photographic reproductions of several of these, and the originals are in the homes of the descendants. The Hearst Art Gallery at St. Mary's College in Moraga has a collection of 150 Keiths, and a permanent exhibition of a small portion of these can be seen in the Keith room at the Gallery. Keith's Mt. Lyell, painted from sketches done on the 1872 trip to the upper Tuolumne area with John Muir, is in the St. Mary's collection.
(From the February, 1996 issue of The View from John Muir's Window, the John Muir Memorial Association Newsletter.)
More biographical information on William Keith, from the Sierra Club website.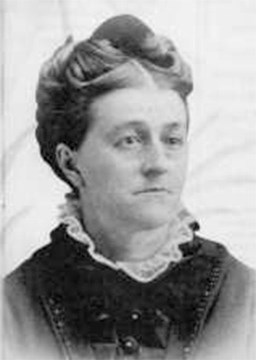 Jeanne C. Carr
John Muir's friend and mentor. Jeanne Carr was an amateur botanist and lover of nature. Her husband, Dr. Ezra Carr, was one of Muir's professors at the University of Wisconsin. Dr. Carr later became a professor at University of California, and California State Superintendent of Public Instruction. John Muir left for Madison, Wisconsin, in 1860 to exhibit his inventions at the Wisconsin State Agricultural Society Fair. Muir and Jeanne Carr met at the fair, where Carr was greatly impressed by Muir's inventions.
Jeanne Carr was Muir's mentor shortly after they met at Madison. They began correspondence in 1865. Much of their correspondence is recorded in Letters from a Friend. Jeanne Carr introduced Muir to many influential people (including Ralph Waldo Emerson and his future wife Louie Wanda Strentzel) and sent on his letters to publishers, advancing Muir's literary career.

John Muir:
Born:
April 21, 1838 in Dunbar, Scotland.
Father:
Daniel Muir died 1885.
Mother:
Ann Gilrye Muir died 1896.
Married:
Louie Wanda Strentzel on April 14, 1880.
(Louie died in 1905 at age 59)
(John Muir died in 1914 at age 76)

John Muir's Children:
Wanda: March 25, 1881 - July, 1942 (age 60)
Helen: January 23, 1886 - June, 1964 (age 78)

John Muir's Grandchildren:
Wanda: Married Thomas Hanna in 1906 and had six children
John Hanna: Lives in Napa, CA (as of 2004)
Ross Hanna: Lives in Dixon, CA (as of 2004)
Richard Hanna: Deceased 5/9/92.
Strentzel Hanna: Deceased.
Bob Hanna: Deceased.
Jean Hanna deLipkau Clark - deceased. (Only granddaughter)
Helen married Buel Funk and had four children (Helen and three
of her sons changed their name from Funk to Muir in 1940)
Walter Muir -Stan Muir - deceased.
John Muir - deceased.
Muir Funk - deceased.
John Muir's Brothers and Sisters:
Margaret
(1834-1910) Married John Reid in 1860.
Children:
May. (Married Arthur Coleman)
Sarah
(1836-1932) Married David Galloway in 1856.
Children:
Anna (Married Eastman)
George (Died 1884 or 1885)
Cecelia
David
(1840-1916) Married Katie Cairns 1862-65
Married:
Juliette Treadway in 1890.
Children:
David Wilberforce Muir.
Daniel
(1843-?) Married Emma Kenaston in 1871.
Children: Mabel.
Annie
(1846-1907) did not marry.
Mary
(1846-?) Married Willis Hand in 1884.
Children:
Helen (Married Moore)
Grandchildren:
Ramona Hand Newman.
Joanna
(1850?-?) Married Walter Brown in 1881.
Children:
Ethel.
John Muir Quotes
1. "Climb the mountains and get their good tidings. Nature's peace will flow into you as sunshine flows into trees. The winds will blow their own freshness into you and the storms their energy, while cares will drop off like autumn leaves." Our National Parks
2. "The clearest way into the Universe is through a forest wilderness." Wilderness World of John Muir
3. "Civilization has not much to brag about. It drives its victims in flocks, repressing the growth of individuality." Son of the Wilderness
4. "I might have become a millionaire, but I chose to become a tramp!" Son of the Wilderness
5. "After a whole day in the woods, we are already immortal." John of the Mountains
6. "Therefore we are all, in some sense, mountaineers, and going to the mountains is going home." Steep Trails
7. "Everybody needs beauty as well as bread, places to play in and pray in, where Nature may heal and cheer and give strength to body and soul alike." The Yosemite
8. "It's always sunrise somewhere; the dew is never all dried at once; a shower is forever falling; vapor is ever rising. Eternal sunrise, eternal sunset, eternal dawn and gloaming, on sea and continents and islands, each in its turn, as the round earth rolls." John of the Mountains
9. "But in every walk with Nature one receives far more than he seeks." Steep Trails
10. "I have always befriended animals and have said many a good word for them. Even to the least-loved mosquitoes I gave many a meal, and told them to go in peace." John of the Mountains
11. "It is by far the grandest of all the special temples of Nature I was ever permitted to enter." Letters to a Friend, July 26, 1868 (about Yosemite)
12. "Both ocean and sky are already about as rosy as possible the one with stars, the other with dulse, and foam, and wild light." Steep Trails
13. "It is a vast wilderness of rocks in a sea of light, colored and glowing like oak and maple woods in autumn, when the sun gold is richest." Steep Trails (about the Grand Canyon)
14. "The sun shines not on us but in us." John of the Mountain
15. "The battle for conservation must go on endlessly. It is part of the universal warfare between right and wrong." Son of the Wilderness
16. "I only went out for a walk and finally concluded to stay out until sundown, for going out I found, was really going in." John of the Mountains
Last updated: August 4, 2023