Firearms Policy
Firearms in the National Parks
As of February 22, 2010, a new federal law allows people who can legally possess firearms under applicable federal, state, and local laws, to legally possess firearms in this park. The new law states that NPS areas will follow the laws of the state in which they are located with regard to the carrying and possession of weapons on park lands, except for designated areas.
It is the responsibility of visitors to understand and comply with all applicable state, local, and federal firearms laws before entering this park. As a starting point, please visit our state's website. Georgia laws regarding carrying concealed weapons can be found at www.atf.gov/publications/firearms/state-laws/29th-edition/index.html or www.lexis-nexis.com/hottopics/gacode/default.asp.

Federal law also prohibits firearms in certain facilities in this park; those places are marked with signs at all public entrances.
What does this mean for the Jimmy Carter National Historic Site?
Simply put, this means that persons with concealed weapons permits may carry concealed weapons along trails and in parking lots of the park. However, those persons are prohibited from carrying concealed weapons into marked areas.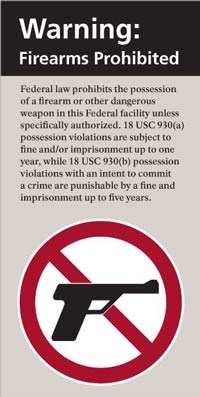 In what areas of the park are weapons prohibited?
All firearms are strictly prohibited from the following areas, regardless of whether the visitor has a valid concealed weapons permit:

The Plains High School and Museum
The Berry House- Ranger Station at Boyhood Farm
All of these areas will be identified with an NPS-approved "No Firearms Allowed" decal or placard.
Can government employees with a concealed weapons permit carry weapons while at work?
No. 43 CFR 20.511 prohibits Department employees from carrying firearms while on duty unless specifically authorized to do so (law enforcement and certain resource management positions). Employees with concealed weapons permits must abide by the same rules as the general public.
What if I am traveling through Georgia? Is my state's concealed carry permit recognized in Georgia?
If you are traveling through Georgia, click here to view Georgia's reciprocity agreements.

Last updated: April 14, 2015