Trading Cards
The National Park Service Civil War to Civil Rights Trading Card program is a way to enhance the conversation and personal interactions between park employees and visitors. The program is part of the way that the park service is reaching out to children and their families to learn more about a particular site and make connections that will stimulate deeper quests for knowledge.
Kids, join the growing number of youth in collecting these trading cards which are available at select National Park Service sites. The cards are free and are a memento of your quest for a connection with Your National Parks.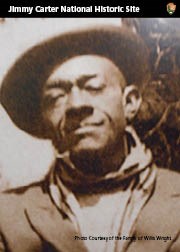 One Man, One Vote
Mr. Willis Wright

Willis Wright, a close friend of the Carter's, was the first African American to successfully register to vote at the Webster County courthouse in 1960 after seeking advice from then Senator Jimmy Carter. Starting in 1958, the Georgia General Assembly required registrants to answer thirty challenging legal questions. The questions were used to screen voters and suppress the African American vote.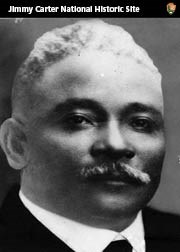 Bishop William Decker Johnson
Johnson Home Industrial College
William Decker Johnson was described by Jimmy Carter as "a pioneering black leader" who helped to transform Carter's life. He was a bishop in the African Methodist Episcopal Church for five Midwestern states and founded the Johnson Home Industrial College- a private African American primary, vocational, and high school that served farm children around Archery, Georgia.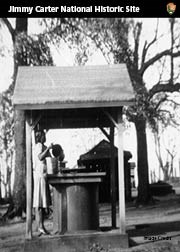 Archery, Georgia
African American Community
The Carter family farm was located in Archery, Georgia, an African American community rooted in faith and farming. A member of one of the only white families around, Carter's experiences were different from most whites. The impacts of inequality, racism, and segregation shaped his beliefs and a political agenda to end segregation and advance human rights.
Last updated: October 22, 2015