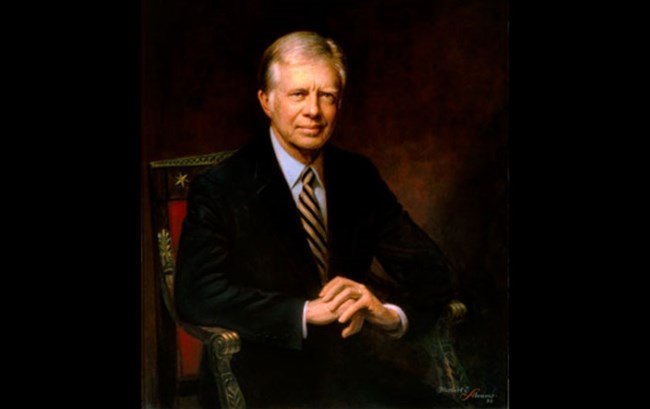 "I say to you quite frankly that the time for racial discrimination is over."
-Jimmy Carter, from his Inaugural Address as Governor of Georgia, 1971

James Earl "Jimmy" Carter, Jr., 39th President of the United States, was a very unique leader who brought about change, compassion and a belief that a government is only as good as its people. He was the first President to be born in a hospital on October 1, 1924, in the small rural town of Plains, Georgia. He later moved to a farm in the community of Archery at age 4 and spent most of his time working and playing with the African-American children whose families were the bulk of the community of Archery. Living and working with the families in Archery, he saw segregation first hand and noticed that the lives of the African-American families were drastically different from the lives of the white families in the area. The lessons he learned in Archery had an influence on his life from a young age.
From the time he spent in the Navy to his post-presidential years, Jimmy Carter's life shows his dedication to public service. This dedication is no more evident than the fact that he is one of four presidents to have been awarded the Nobel Peace Prize, and the only one who received it after he left office. His dedication to human and civil rights is another example of his dedication to public service. He and Mrs. Rosalynn have traveled around the world and have seen the pain and suffering of others. Discover more about the 39th President as you learn about the people, places and events that have shaped their lives.