Efforts to Build a Town 1660 - 1699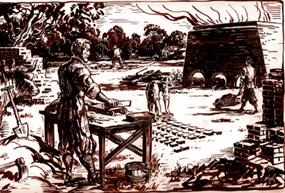 Although no artifacts associated with this four-dwelling brick rowhouse provide a definite date of construction, historians conjecture that it was built in accordance with an act passed by the Virginia Assembly in September 1662, which stated:
That the towne to be built shall consist of thirty two houses, each house to be built with brick, forty foot long, twenty foot wide, within the walls, to be eighteen foote high above the ground, the walls to be two brick thick to the water table, and a brick and a halfe thick above the water table to the roofe, the roofe to be fifteen foote pitch and to be covered with slate or tile.
It is likely that this rowhouse was standing by September 1668, when the justices of James City County asked permission to use "one of the Countrie Brick houses" as a prison. Perhaps the quartered left leg and pelvis excavated from an abandoned well behind one of the houses is a gruesome souvenir from "that house where the goale was kept."
In 1676, the entire row was badly damaged by Nathaniel Bacon's burning of Jamestown and was "lyeing in ruins" by 1680. Although one or two units were repaired and altered shortly thereafter, the whole row was abandoned after the capital moved to Williamsburg in 1699.
Last updated: February 26, 2015