Probable Site of Home and Shop of a Gunsmith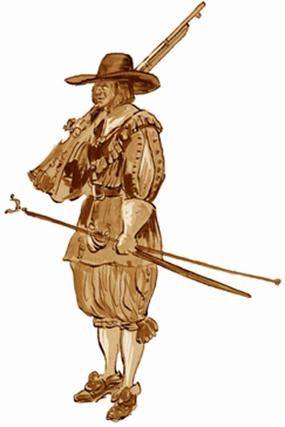 "Jackson the smith was at work in his shop"
(minutes of the General Court, 1623)
Protection was of the utmost importance in the early years of Virginia, as archeological evidence bears out: Jamestown has yielded perhaps the largest collection of late 16th- and 17th-century English weapons used in America. Gunsmiths such as early settler John Jackson were invaluable members of the community.
Appearing in Virginia records as early as 1623, Jackson patented a 3/8-acre waterfront lot in New Towne. Archeologists believe that they have located this site, where Jackson lived with his family and plied his trade. Quantities of lead sprue, gunflints, worked chert, scrap metal fragments, iron ore limonite, slag, and lead shot recovered from around the hearth of the two-room structure suggest a workshop for Jackson's smithery. Hot and messy activities were probably performed outside somewhere nearby.
In addition to providing the colonists with weapons for hunting and defense, Jackson also served Virginia in more pacific ways as assemblyman and churchwarden. That he and his family were enjoying a good standard of living is borne out by such artifacts as window glass, an ivory cribbage board, curtain rings and a copper upholstery tack.
Last updated: February 26, 2015