May-Hartwell Site 1660 - 1699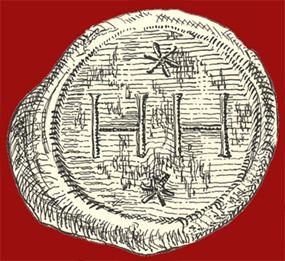 Evidence from wills, deeds, land plats, patents and court cases increase the Jamestown knowledge base. When scientists digitalized two 17th-century land plats and superimposed them on a modern map of Jamestown, they positively identified a framed structure that stood near here as belonging to a series of owners, beginning with William May in 1661.
By the 1660s, Jamestown had become a thriving port city, as well as serving as the colony's center of government. Many colonists invested in town lots, as well as undeveloped land in Tidewater Virginia. William May would purchase more Jamestown acreage before bequeathing his holdings to fellow attorney Nicholas Meriwether in 1671. Meriwether also patented large holdings in several Virginia counties.
In 1688, Henry Hartwell, who owned adjoining lots, acquired the Meriwether house and acreage. Although archeologists commented on the dearth of artifacts associated with the house, nearby areas yielded a number of wine bottle seals marked "HH," which likely belonged to Hartwell.
By 1745, Yorktown merchant Richard Ambler had acquired the property. He would build the nearby mansion that now stands in ruins, transforming the old Jamestown townsite into his family seat and a thriving plantation.
Last updated: February 26, 2015