Efforts of a Virginia Tradesman - 1670s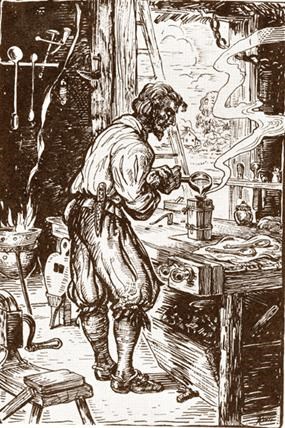 In 1655, Ann Talbott patented a one-acre lot. Nearly three centuries later, National Park Service archeologists excavated a fragment of a brick-paved structure located in one corner of her property. Adjoining the structure's large hearth may have been a brewer's copper; there is also evidence of a bread oven opening into the fireplace. Flat tiles located nearby may have come from the roof.
Artifacts associated with the site include high-quality architectural hardware such as cock's-head hinges, butterfly hinges, strap hinges, lock plates, keys and escutcheons, indicating that the structure may have been a fairly impressive one.
Archeologists, however, are far more impressed by a simple pewter spoon found in the vicinity. Although only the spoon's handle has survived, its 1675 maker's mark identifies it as the work of Joseph Copeland, a craftsman who worked at nearby Chuckatuck. Although a few artisans such as the Jamestown Potter produced local goods, most colonists succumbed to the lure of the quick profit tobacco cultivation promised.
Last updated: February 26, 2015