An Upper-Class Neighborhood 1630s - 1699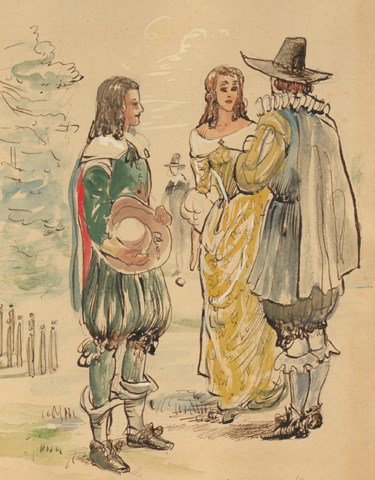 … there are twelve houses and stores built in the Towne, one of brick by the
Secretayre, the fairest that was ever knowen in this countrye for substance and
Uniformitye….,
Governor Sir John Harvey, 1639
From the 1630s to the end of the seventeenth century, Jamestown boasted a number of fine homes, several of which stood near here along Back Street.
Richard Kemp, Virginia's Secretary during Harvey's term as governor, supported local merchants, proposed construction of a customhouse and encouraged free trade. The house he built nearby in 1638-39, praised by the governor in the quotation above, was Virginia's first all-brick house. Its plan was identical to that of another Kemp home at Rich Neck Plantation, near present-day Williamsburg.
A second all-brick structure was erected by 1676-77 in this vicinity over the fire-damaged ruins of an older frame building, probably burned during Bacon's Rebellion. Councilman William Sherwood's new home included features such as a large cellar and a porch tower. Cooking took place in a separate kitchen; there is mention of a "Dining-Room," a rare and very fashionable feature in a Virginia home of the 1670s. Sherwood had bought another nearby structure from Colonel John Page before 1682; Lord Howard of Effingham, a Virginia governor, would lodge at one of the two homes; he and other governors would assemble their councils there regularly until the capital moved to Williamsburg in 1699.
Last updated: February 26, 2015