A Jamestown Warehouse 1630s - 1699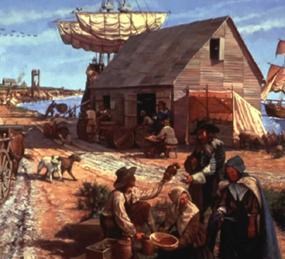 Jamestown remained a major Virginia port until the eighteenth century. Settlers relied on the water for a good deal of their personal travel, as well as the transportation of tobacco and other crops for export. In 1633, legislation had been passed that created five different inspection points, including one at Jamestown, where tobacco was to be brought for examination and grading.
The port of Jamestown was a bustling place. In 1649, the author of A Perfect Description of Virginia revealed "at last Christmas we had trading here ten ships from London, two from Bristoll, twelve Hollanders, and seven from New-England." Vessels such as these would bring goods from many lands; archeologists have uncovered artifacts of items from Spain, Germany, Holland, England and even China.
In order to house imported and exported items, Jamestown had its share of warehouses along the waterfront. Governor John Harvey would report in the 1630s that "there was not one foote of ground for half a mile together by the Rivers side in James Towne but was taken up and undertaken to be built…." Merchants had patented three of five waterfront lots; known waterfront features in the 1630s include a warehouse on the property of merchant William Parry, located near here. Brick foundation fragments found along the riverfront area may have been portions of similar buildings. Timber storehouses might well have been constructed that have now vanished without a trace.
Last updated: February 26, 2015