A Diverse Jamestown Household 1620 - 1640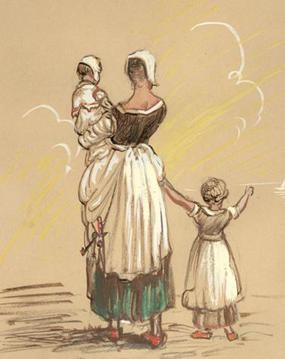 By 1624, Captain William Peirce had built a house near here described by a contemporary as "one of the fairest in Virginia." A wealthy, influential planter and merchant who had arrived in Virginia in 1610, Peirce also owned a store in Jamestown.
A "beloved friend" of Governor Francis Wyatt, Captain Peirce was the colony's cape merchant and also served as lieutenant governor and commander of Jamestown Island. He was responsible for the island's two blockhouses and appointed captain of the governor's guard. A member of the Council from 1632 to 1643, Peirce was amongst those who thrust Governor John Harvey from office.
Captain John Smith would praise Peirce's wife Joan, describing her as "an honest and industrious woman" who maintained "a garden at Jamestown containing 3 or 4 acres." The Peirces' daughter, also named Joan, would marry John Rolfe, the widower of Pocahontas, in 1617.
In August 1619, Captain Peirce and John Rolfe ventured to Old Point Comfort to meet the Treasurer and the White Lion, aboard which were the first Africans recorded to have arrived in Virginia. By 1625, Peirce's Jamestown household included an African woman named Angelo who reportedly had come to Virginia aboard the Treasurer.
Last updated: February 26, 2015